10 Best Baby Moccasins For Girls And Boys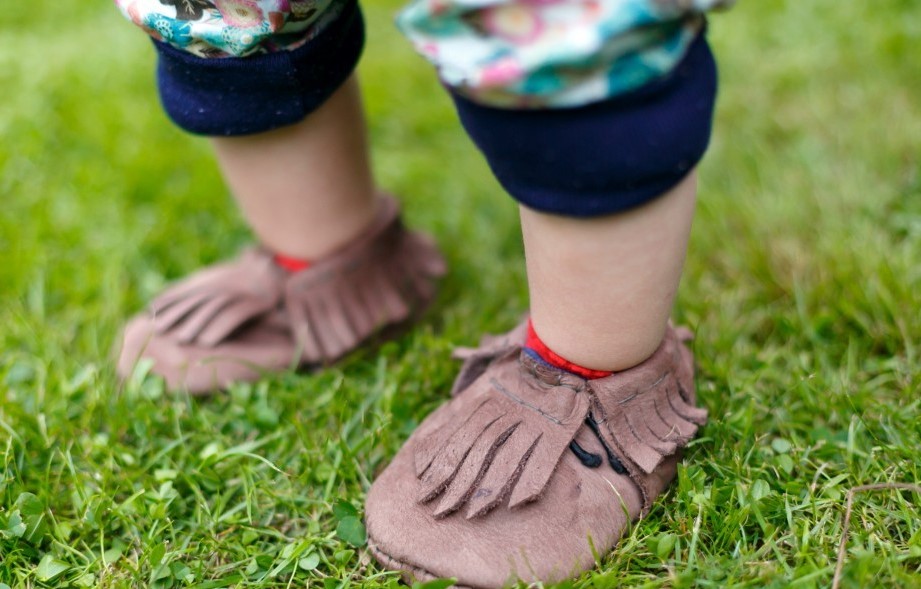 It is difficult to see something more adorable than baby feet; however, the pair of baby moccasins surely comes close. These small, stretchy baby footwear come in punchy patterns, colors, and styles and also add the ideal exclamation point to the infant's outfit of the day. No surprise, they encourage us to buy the little ones their own footwear wardrobe.
These cute shoes are excellent for infants of all ages. Soft leather and elastic materials like fabric mimic a baby's bare feet to provide simple steps and help develop and grow the baby's feet—just ensure that you choose the baby moccasins with soft non-slip soles to give your early walker enough traction. So we have gathered up some of the best baby moccasins that will up infant's shoe game to next-level cuteness.
First Pair of Baby Moccasins
Freshly Picked appears to have begun the current baby moccasins fashion; it has the most swoon-worthy newborn gifts. The First Pair line is a baby-shower attraction; once you see the small (size 0) leather moccasins for infants. The baby fringe shoes come in solid shades (white, black, or pink).
TOMS Cuna Infant Crib Shoes
This boot is designed with the faux-fur lining that is ideal for colder months. Moreover, you can feel great about each pair you purchase: For every shopping of vegan-friendly shoes, the company donates a pair of shoes to the child in need.
Suede Baby Moccasins
The sweet suede baby moccasin is a dream shoe for any baby girl. The delicate Italian suede leather is safety-tested to make sure that these shoes are baby-friendly. These shoes also feature a non-slip sole and elastic hole for simple on-off. The side fringe and top bow add finishing fashion-forward touch.
Classic Minnetonka Baby Moccasins
Minnetonka has been around since the 1940s; no surprise they have been famous with our grandparents and parent's generations. Now this brand has created the tiny pair of leather moccasins, the signature style for baby. The shoes come in beautiful colors, including purple, pink, and turquoise; however, you cannot go wrong with traditional taupe for baby boys or girls. Moreover, these leather moccasins for babies feature rubber soles that offer durability once the little one starts to walk.
Robeez Classic Moccasin Crib Shoe
This company has always made soft leather toddler moccasins in the wide variety of styles that includes solid patterns and kid-loved motifs like (kitties, construction trucks, dinos —you name it, they will design it). However, if you are searching for the all-purpose pair that matches and mixes well with baby, then you can go for blue-hued camo baby moccasins.
Mejale Soft-Sole Leather Baby Moccasins
If you need to minimize the addiction to little shoes, then you go for these affordable baby moccasins on Amazon. This company offers genuine suede leather soles with leather moccs for better grip for less than $15.
Little Pitterpat Organic Baby Shoes
This vegan-friendly toddler moccasin is handmade from hundred percent organic cotton with velour lining or organic cotton knit certified from GOTS. These sport fabric soles are best for pre-walkers. It comes with a beautiful feather pattern; however, they also have tons of cute fabrics and prints to pick from.
CherubinShoes White and Blue Ikat Leather Baby Moccasins
The Missouri-based company makes a wide range of styles, and these products are all made in the United States by local artists. Though you cannot get sufficient of this gender-neutral ikat design, there are lots of other unique choices to pick from.
Augusta Baby Loafer Moccasin with Gommino Sole
These shoes come with rubber soles, and it is made of leather, they are best for toddlers who are using more time standing and provide sizes that go up to playground-age. Moreover, the colors come with black, metallics, and basic white; every child will have the pair of happy feet.
TOT Moccasins
Shoes for babies are wonderful fashion accessories. The hot pink kids moccasins surely make the statement; however, they are designed to help small ones learning to walk. They are simple to slip off and on but stay tight in place and feature unique soles with rubberized "pebbles" for better traction.
Final Words
Whether you are searching for the daily shoe or for a special occasion, then check out the baby moccasins on this list. There is something for everyone. Moreover, check out some of the best baby hairbrushes to remove cradle cap. If you find this information useful, drop a comment below this section.