Best Baby Powders That Are 100 Percent Natural and Organic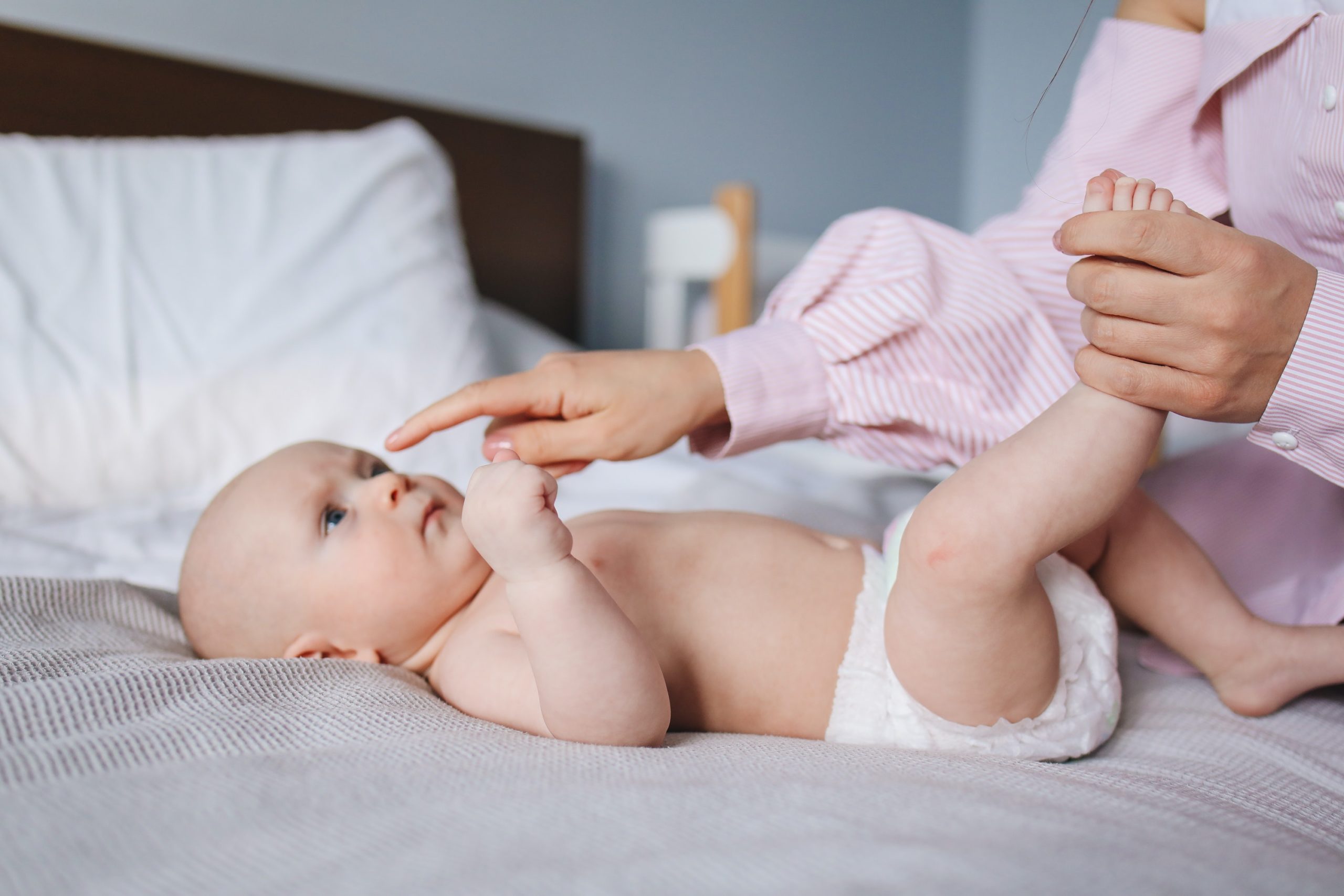 We bet you all love the scent of freshly powdered babies. Not only does baby powder make the baby smell fresh, but it also keeps the bottom of your little one dry, which is essential to prevent diaper rash. In this article, we will tell you all about the best baby powder available in the market.
There are plenty of powder options, but not every product is formulated using natural ingredients. Your baby's skin is very sensitive and needs special care in choosing the right product. Baby powders that contain organic and natural ingredients will not only prevent rashes but will also be gentle on baby's bottom. This is why we have listed only natural and organic baby powders in this post to help you pick the best one.
Best Baby Powder To Heal Diaper Rash
This list contains certified brands that produce natural and organic products for babies. All these powders are free of synthetics and chemicals and are completely safe to use on a baby's skin.
Era Organics Organic Baby Powder
If chemical-based talcum powders scare you, then this is the best organic baby powder to add to your baby's diaper bag. Era Organics Organic Baby Powder is made with a special blend of natural ingredients that feel soothing on the skin and relieve diaper rash. This baby powder promotes healing, and the best part is that it is USDA-certified organic.
This baby powder ingredients contain arrowroot, cornstarch, kaolin clay, calendula, and rosemary. Cornstarch dries and soothes the skin, whereas kaolin clay creates a dry environment without stripping the natural oils from the little one's skin.
Arrowroot has anti-inflammatory properties and is rich in antioxidants which encourages healing and soothes irritated skin. It also acts as an antiseptic ingredient to cleanse the bacteria from the diaper area. Rosemary rehydrates the skin and promotes healing while preventing further infection. Calendula reduces inflammation and redness. It also prevents bacterial growth and infection due to its antiviral and antibacterial properties.
This organic talc-free baby powder is free of toxins, perfume, dyes, parabens, sulfates, alcohol, petroleum, and mineral oil. Era Organics is the brand that you can trust with your eyes closed.
Pros
Free of dyes, fragrance, and other harmful ingredients
Gets absorbed into the skin properly
Dries down without stripping the skin of natural oils
Formulated with natural ingredients that dry, soothe, and promote healing
Era Organics brand offers a money-back guarantee for 60 days
Cons
A bit expensive for the size of the product
Grittier texture as compared to other baby powders
Caldasene Medicated Protecting Powder
If your baby has super sensitive skin, then you should try Caldesene medicated powder. This is one of the best baby powders with a fine texture that protects the skin from chafing, diaper rash, and irritation.
Caldesene medicated powder is made with cornstarch, chamomile, aloe vera, which work together to nourish and soothe the skin. Zinc content provides medicated properties to encourage healing and prevent infection.
Thi baby powder is ideal for treatment and protection uses from diaper rash. It has a fresh scent that may be overpowering to sensitive noses. The good is that this is talc-free baby powder.
Pros
cornstarch and zinc oxide repel moisture
Very effective in calming diaper rashes and sore bottoms
Chamomile and Aloe vera nourishes the skin
Prevents chafing
Cons
When it comes in contact with moisture, it gets cakey
The bottle is only half-filled
Strong fragrance that can irritate the sensitive nose
Read More:- Best Baby Hair Moisturizers To Grow Baby Hair
Made Of Calming Baby Powder
For babies with sensitive skin, "Made Of Calming Baby Powder" is the best baby powder to prevent irritation using vegan and natural ingredients. The brand is certified by Leaping Bunny and is committed to producing cruelty-free products.
This baby, powder ingredients list contains cornstarch, arrowroot, baking soda, and kaolin clay. This powder helps in drying without ripping the natural oils and also nourishes the little one's skin at the same time.
Baking soda acts as a natural deodorizer, and arrowroot powder is antibacterial that prevents bacterial growth and infection. Some other ingredients are aloe vera, Vitamin E, and argan oil. These ingredients do not cause irritation on the skin, unlike plant extracts. Additionally, they also help in soothing redness, promoting healing the rashes.
One good thing about this product is that it is talc-free, paraben, sulfates, and synthetic fragrance-free baby powder. It is also suitable for babies with allergies as it is nut-free and soy-free.
The packaging of the product clearly mentions each and everything and as well as the certifications earned by the company. This gives a sense of confidence in what you are using on your baby. We do not like about Made of Calming baby powder because the bottle is rather very small and can be used only on occasional diaper rash. The product may be expensive for some parents for regular usage in comparison to other brands.
Pros
Nut and soy-free
Certified by leaping bunny
Ingredients nourish and dry the little one's skin
Vegan
Clear labeling
Cons
Expensive for the size and amount of product
Bee All Natural Organic Baby Powder
Another popular and best organic baby powder is from Bee All Natural. The brand provides the best ingredients free of any added scents, preservatives, mineral oil, and petroleum.
This baby powder is made from all "food grade" organic ingredients like- Calendula, Arrowroot, Marshmallow Root Powders, and Plantain Leaf. All the ingredients are USDA Certified Organic by OEFFA. Also, this is a talc-free baby powder that is safe to use on cloth diapers as well.
The size of the bottle is very small (4 ounces), making it perfect for travel diaper bags.
Pros
Free of any scents
Nourishes and absorb moisture
Contain food-grade organic ingredients
USDA Certified Organic by OEFFA
Cons
Small 4 ounces bottle (travel-size)
Expensive for the amount of product
Nature's Baby Organics Silky Dusting Powder, 2 Pack
This dusting baby powder is truly unscented and is made with tapioca starch instead of cornstarch. Tapioca scratch acts like a drying ingredient that naturally absorbs moisture. The powder also contains chamomile and organic aloe, which are known for their soothing properties and calming irritation or redness.
This is an organic baby powder made using USDA-certified ingredients. Also, the product is free of any synthetic chemical and is 100 percent vegan. It is a little more expensive than other brands, and the design of the container is also a downside. It contains small as well as large holes for an application that is not appropriately sized.
The consistency of the product is a plus point; it is not as fine as talc, rather has a very pleasant texture. It will not create a cloud of powder-like any traditional talcum. Also, it is completely fragrance-free and is perfect for people with sensitive noses.
Pros
Comes in a set of 2
Does not creates a cloud of powder
Contains only certified organic ingredients
Fragrance-free formula
Contains tapioca starch and not cornstarch
Cons
The application can be a little difficult due to container design
Pricier than some other baby powder brands
Johnson's Baby Powder with Aloe and Vitamin E
Johnson company is a household name and is used by every parent at least once. The brand has been in business for more than a century now; no wonder people trust Johnson with their eyes closed regarding their babies.
Johnson Baby Aloe and Vitamin E powder are based on cornstarch. The formula is free of harmful chemicals, dyes, sulfates, parabens, and phthalates.
The aloe vera and vitamin E ingredients make your baby's butt super soft. The brand reformulated the powder to use fewer ingredients that are safe on little one's skin. Additionally, this powder is hypoallergenic.
This baby powder has a smooth texture with several uses, like getting rid of sand on beach outings and absorbing oils similar to dry shampoo. If you love the scent of Johnson's product, then it might break your heart to know that it does not have that fragrance anymore. It has a slight scent of aloe extracts that is very pleasant and will not irritate the nose.
Pros
This baby powder has multiple uses
Smooth texture that feels soft on the skin
Contains natural ingredients and fragrance
Free of parabens, dyes, phthalates, and sulfates
Hypoallergenic powder
Cons
No scent of original baby powder
Not sticky like other powders
Burt's Bees Natural Dusting Powder
Burt's Bee company is popular for providing high-quality natural products. This natural dusting powder from the brand meets those standards and is one of the best baby powders in the market. It is rich in natural ingredients that nourish the baby's sensitive bottom.
Its main ingredients are the clay, cornstarch, and bark powder that help in drying the skin without ripping off natural oils. The powder also contains rose and myrrh extracts and natural oils known to antibacterial and moisturizing properties.
This product does not contain phthalates, parabens, SLS, and petrolatum. Even though all the ingredients are natural, they are listed by their scientific names, which makes it difficult to understand.
If you are a parent who is worried about choosing a good quality baby powder, then Bert's Bees is the right pick for you. All the products are pediatrician tested and are gentle on the baby's skin. The dusting powder has a fine consistency that sticks well, which means you can apply it in a thick layer to suck in the moisture. This product contains a natural fragrance that is lightly scented and very pleasant.
Pros
Tested by a pediatrician for safety and effectiveness
Dries down without sucking the natural skin moisture
Free of harmful synthetic and chemical ingredients
Stick week and has a fine texture
Cons
The fragrance of this powder can be too sweet for some people
Plant extracts can be a little harsh on babies with sensitive skin
Johnson's Lavender Baby Powder with Naturally Derived Cornstarch
Another one on our list of best baby powder is Johnson's Lavender powder. This contains naturally derived cornstarch and is dermatologist tested for safety on sensitive skin.
This product contains lavender for a relaxing and fresh scent, which is very mild and will not irritate the baby's skin. This fresh scent is not overpowering and is different from typical johnson's smell. The best part is that this is dyes, sulfates, phthalates, parabens, and talc-free powder.
Remember that this is not an unscented powder, but if you want a good smelling powder, you should definitely try it. The fragrance lasts all day long.
Pros
Nourishes and promotes healing
Keeps diaper rash at bay
Formulated using naturally derived cornstarch
Free of parabens, dyes, sulfates, and phthalates
Dermatologist tested and hypoallergenic
Cons
Contains fragrance
Comes only in travel size (4 ounces)
Final Words
No parent would want their baby to deal with diaper rash. In case your baby has a diaper rash, using baby powder will create an environment that can prevent further infection and even health the existing rashes.
When buying baby powder, the most important thing to consider is the active ingredients in the product. Always go for powder formulated using natural and organic ingredients because they are gentle on the little one's skin.
We hope this list of best baby powder will help prevent rash and treat your baby's sore bottom.