Best Biodegradable Sunscreen to Use this Summer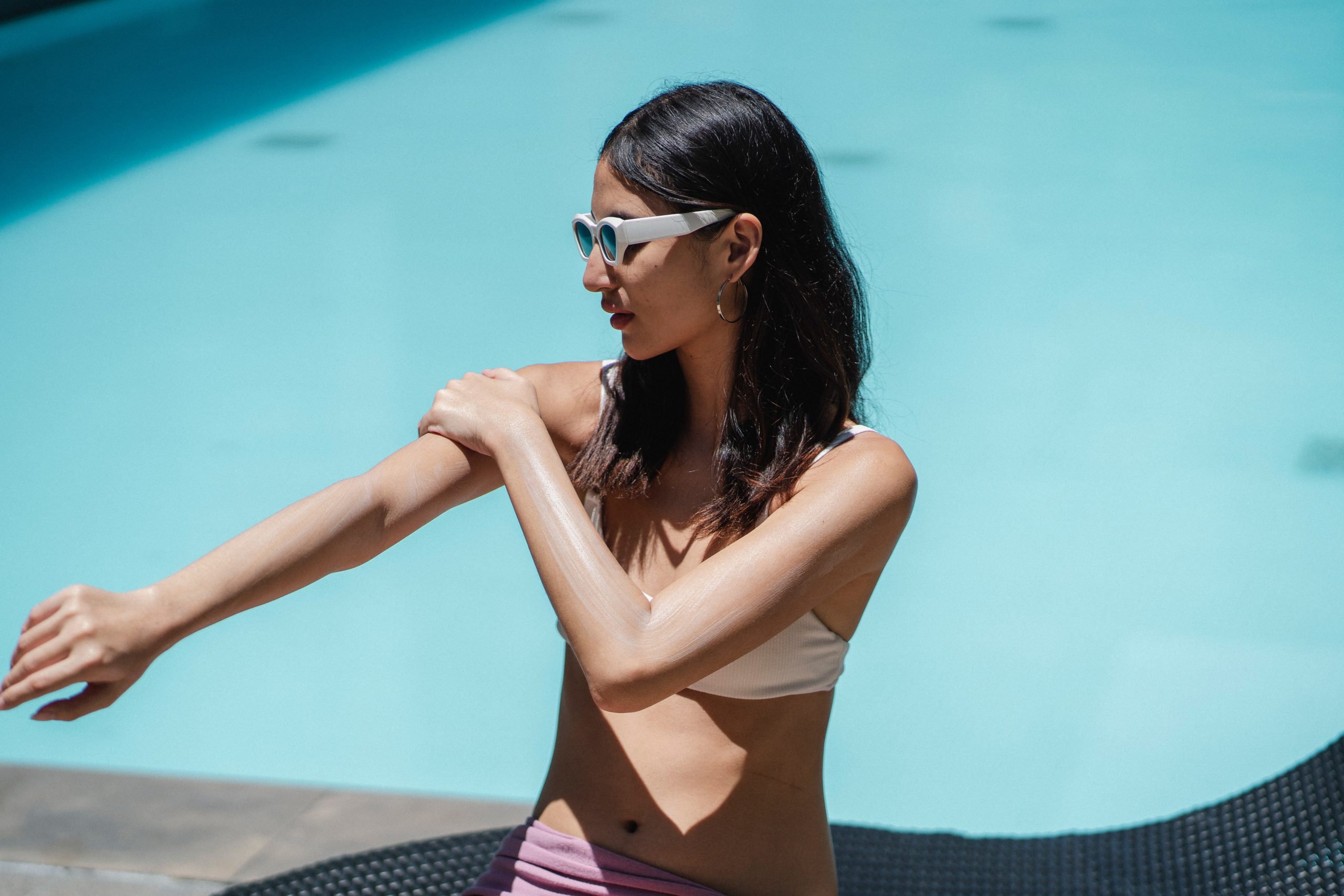 We all know that it is essential to protect our skin from the harmful rays of the sun. Nevertheless, with growing environmental issues, it has also become vital to consider the negative impact of our skincare products on the environment. So, what is the solution? This is where biodegradable sunscreen comes in.
Various studies present evidence that sun-protection products we use in our everyday lives develop negative effects on the environment. Various synthetic sunscreen contains octinoxate and oxybenzone, and both of them are highly toxic to developing marine life and corals and cause serious damage to them (Source).
Therefore, in order to protect the environment, we should use biodegradable sunscreen. Continue reading the article to find out about the effective and environmentally-friendly biodegradable sunscreen.
Impact of Regular Sunscreen on Environment
Summer is coming. Pool days, beaches, and parties are fast approaching. With all this, we also need to keep our skin safe from the brutal rays of the sun. This is where we consider the use of sunscreen every day.
Some studies suggest that each year around 14,000 tins of sunscreen end up in our oceans (Source). The traditional formulas of sunscreen contain harmful chemicals like octinoxate and oxybenzone, which damage marine life. Now you must be thinking how?
These chemicals can travel easily from the drain of your shower to oceans as most of our water plants are not designed to remove them. All these harmful chemicals disrupt the endocrine systems in the fishes, which reduce their egg output and growth.
Now you must be thinking that is your sunscreen also impacting the environment? The most likely answer to this question is yes. Somewhere your sun-protection products are also developing adverse effects on the environment if they are not organic. 
Read More – Right Order to Use Skincare Products
What is Biodegradable Sunscreen?
Biodegradable sunscreen is actually a sun-protection product or sunscreen that does not contain the majority of harmful ingredients usually found in traditional sunscreen. It is eco-friendly, so it does not damage the animal and plant life in the oceans or water bodies when washed off during swimming, scuba diving, or other water activities.
The ingredients present in biodegradable sunscreen vary according to the manufacturer. However, they do not contain chemicals that are harmful to the ecosystem like socinoxate, oxybenzone, camphor, 4-methyl benzylidene, PABA, and butylparaben (Source).
Now, Is it equally effective as regular sunscreen? The answer is yes. If used properly, biodegradable sunscreen provides effective protection against the harmful rays of the sun. This eco-friendly sunscreen comes in different varieties of SPF, like 15, 20, or 50 like the regular sunscreens to meet your requirements.
The drying time and consistency of the eco-friendly sunscreen may differ from the regular ones, but they are equally effective. So you do not have to be doubtful when using eco-friendly sunscreen as you can blindly rely on them.
Best Biodegradable Sunscreen
Whether you are planning to go to the center of this city or to a beach this summer, make sure to wear biodegradable sunscreen. We have rounded up a list of the best biodegradable sunscreen in order to help you find out the best one.
Caudalie – Beautifying Suncare Oil SPF 30
When it comes to non-polluting and eco-friendly sun-protection products, the latest collection of Caudalie is the best. The biodegradable sunscreen offered by the brand is reef-safe. You can easily spray this one with abandon.
In the latest collection, this is the best biodegradable sunscreen for the face is oil. It provides effective SPF-30 protection along with a dose of efficacious drape-derived antioxidants. This one is a type of dry oil so the skin can easily absorb it. The best thing about this product is that it provides maximum UVA/UVB protection while providing a luxurious and satin-like finish. It is loaded with grape oil, so it nourishes your skin for a radiant skin with a non-greasy look.
REN – Clean Screen Mineral SPF 30
This biodegradable sunscreen is highly beneficial for daily use. It is a face-friendly sunscreen and contains zinc oxide, which physically protects your skin from harmful UV rays. The best thing is that it does not leave any white cast on your skin tone.
It contains rice starch that keeps your skin shine-free and blanched all day which makes it the best sunscreen for the face.
The zinc oxide settles gently on your skin and forms a source that acts as a barrier against harmful sun damage. It does not clog pores, irritate sensitive skin or cause allergies. Such an amazing product, right? Give it a try and protect your skin.
Soleil Toujours – Organic Sheer Sunscreen Mist SPF 30
When it comes to the ocean or coastal pollution, general aerosol sunscreens are the worst ones. The mist application leaves a lot of chemicals on the sand, which further sweets into the ocean. The Soleil Toujorss' mist is scented and contains biodegradable filters in order to provide amazing SPF 50 protection without causing any harmful environmental effects.
This organic sunscreen contains aloe vera, which lends skin-soothing benefits. Moreover, it contains organic green-tea extracts that boost the skin with antioxidants.
This eco-friendly sunscreen provides amazing skin-safe protection from the brutal sun while imparting effective anti-aging benefits. So use this skin to fight the harmful sun rays and manage younger-looking skin.
Drunk Elephant – Umbra Tinte Physical Daily Defence SPF 30
The non-toxic face cream by Drunk Elephant provides both: beautiful, radiant tint and SPF 30 protection. This is the best biodegradable sunscreen that contains a bronze-hued formula that feels like a usual mineral sunscreen. It is incredibly glowy as well as nourishing. In order to provide extra coverage to your skin, you can bend it with a few drops of foundation.
It is infused with marula oils and raspberry seeds which provide essential moisture to the skin. Moreover, this eco-friendly sunscreen and cream also help to minimize the look of wrinkles and fine lines, which in turn helps to manage healthy skin. Get all the healthy skin benefits in this single skincare product.
Green People – Scent Free Sun Lotion SPF 30
This organic sunscreen contains around 80 percent certified organics ingredients like green tea, aloe vera, and edelweiss. It has a gentle breathable formal so you can also use it on children. Moreover, it is amazing for everyone who wants protection against the harmful sun.
This eco-friendly sunscreen is clean, reef-safe, and cruelty-free, which makes it one of the best biodegradable sunscreens. It is a water-resistant sunscreen that offers amazing protection from UVA and UVB rays. It also contains antioxidants and skin vitamins like A, C, and E. If you have ultra-sensitive skin, then this sunscreen is perfect for you.
Sun Bum – SPF 30 Sunscreen Lotion
When it comes to the best biodegradable sunscreen, Sun Bom's SPF 30 Sunscreen Lotion is an amazing product. It is reef-friendly as well as vegan and free from oxybenzone and octinoxate which makes it reef-friendly. This sunscreen will protect you from the brutal UVA/UVB rays and will also enrich your skin with vitamin E. One best thing about this sunscreen is that it resists water better than other sunscreens. It has a fragrance similar to that of coconut, and it is non-greasy, so it leaves skin gleaming.
SVR – Sun Secure Water Protect SPF50
It is the latest and one of the best eco-friendly sunscreens that features a water and oil formula. This organic sunscreen delivers amazing SPF50 protection without making the skin claggy or thick. It also contains antioxidants which help to ward off pollution.
It is fresh and imperceptible on the skin. This sunscreen provides protection against UVA, UVB, infrared, and visible light while being resistant to sweat, water, and friction. It is light but provides powerful protection against the brutal sun, which makes it an ideal choice.
All Good – Sport Sunscreen Lotion SPF 30
This biodegradable sunscreen is reef-friendly. It provides in various forms like sprays, sun sacks, butter, lotions, and sun sticks in order to allow a convenient and non-sticky application to the users. The formula of this sunscreen is non-greasy, lights, and is made using certified ingredients.
This sunscreen lotion has a lightweight formula that is loaded with rose hips, buriti oil, and organic green tea, which makes it an organic sunscreen. It helps to repair damaged skin. Another best thing about this product is that it is vegan and does not contain oxybenzone which makes it safe to use while going on beaches.
SuperGroop! – Everyday Sunscreen Broad Spectrum SPF 50
This one is the best biodegradable sunscreen for the face and body. It not only protects the skin but also provides amazing anti-aging benefits while providing essential moisture to the skin. It has antioxidant-rich cellular response technology, which provides protection against harmful IRA, UVA, and UVB rays.
Moreover, it has oat beta-glucan, which is a moisturizing ingredient that helps to fight dryness. So, if you have oily skin, this organic sunscreen is perfect for you. It is free from oil and oxybenzone, which keeps it from leaving residue behind. SuperGroop's sunscreen is lightly scented using natural extracts from orange, basil, Bois de rose, and lemon.
Neutrogena – Sheer Zinc Oxide Dry-TouchFace Sunscreen SPF 50
If you are looking for an affordable biodegradable sunscreen, then this one is the best choice for you. It is safe for sensitive skin and does not leave the skin looking white. The best thing about this sunscreen is that it contains naturally-sourced zinc oxide and is water-resistant.
It is a non-fragrant lotion that includes dry-touch technology to make sure that it dries quickly and does not leave the skin shiny. The cherry on the cake? It is a non-comedogenic product which means it will not clog your pores. It is oil-free and is loaded with antioxidants to provide protection to your skin from harmful skin-damaging free radicals.
Final Words
It is a fact that exposure to harmful sun rays causes skin cancer and other skin conditions. Applying sunscreen effectively reduces your risk. But regular sunscreens are harmful to the environment. So, it's well worth the effort to use the best biodegradable sunscreen. They provide protection against the brutal sun rays while causing no harmful effects on the environment. Now, what are you waiting for? Use biodegradable sunscreen to protect your skin from the sun while protecting the environment. Do share your experience with us by dropping a comment.