Best Cat & Dog Puzzle Feeder For Aggressive Eaters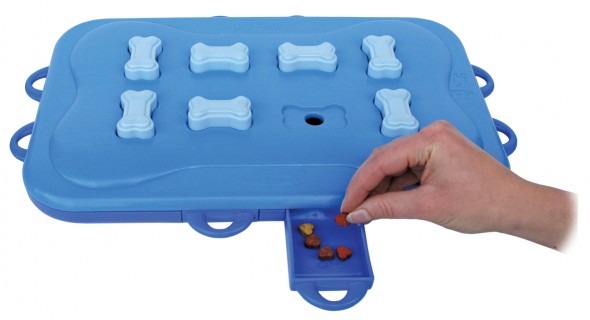 Are you looking for the best dog puzzle feeder? well, you have come to the right place.
We love to spoil our dogs and cats with treats, toys, and cute gear to make their life easy and fun. However, every pet can experience downfalls at times, especially when it comes to meals. Our pets do not have to work or search to get their food, resulting in obesity due to lack of exercise and overeating. This also puts a hold on their mental stimulation of hunting which can result in behavioral issues stemming from separation anxiety and boredom.
Puzzle feeders are the solution to this problem. Dog and cat puzzle feeder makes your pet work with their nose and paws to get the food by digging into a container or opening a compartment and navigating a maze.
The right way of introducing a puzzle feeder to your pet is by giving the most favorite treat to your pet, so they are willing to work hard. Always begin with the easiest puzzle first, and grow your way up as your pet gets smarter.
Here are some of the veterinarian's favorite dog and cat food puzzles that you should give a try.
Best Dog and Cat Puzzle Feeder
All these puzzles have varying difficulty to suit different pets. Also, they are priced differently, so you can pick one that meets your needs as well as your pocket.
Dogit Go Slow Anti-Gulping Dog Bowl
When your dog is new to food puzzle toys, a bowl is a right thing to start with. This Dogit bowl is divided into ridges, making it difficult for your pet to eat and prevents them from gulping down the food all in once. If your dog is a gulper, you need this dog puzzle feeder to slow them down and also trigger thinking. The base has a non-slip rubber which prevents this maze dog bowl from slipping and scooting around. It also has a little cutout at the bottom, which makes it easy to pick it up. Dogit Anti-Gulping dog bowl retails for $11 on Amazon.
Outward Hound Fun Feeder Interactive Dog Bowl
Another best dog food puzzle toys are the Outward Hound Maze dog bowl. This bowl is divided into concentric circles or what we call a maze pattern. These bowls will become eBay to use for pets once they get the hang of the puzzle, and they will eat their meal. This dog puzzle feeder will help your dog to slow down by upto ten times. This feeder is available for $15 on Amazon.
Read more- Best Cat Shampoo For A Clean and Good Smelling Feline Friend
PAW5 Wooly Snuffle Feeding Mat
If you are not a fan of puzzle dog bowls, this feeding mat is the perfect toy. This simple dog puzzle feeder will encourage the pets to put more effort into eating the food. Dogs love the textured mats because they love to dog and sniff around.
You can hide the dog treat in these mat puzzles and let their nose get to work.
After the mealtime is over, you can put it into the washing machine.
KONG Wobbler Interactive Treat-Dispensing Dog Toy $20
If your pup is obsessed with balls, this is one of the best dog puzzle toys. This wobbling toy works as a treat dispenser as the dog knocks it every time. Its small opening makes it a little difficult for the treat to come out on a single knock. You can use such dog treats to fill with water or food and let your pup have some fun. This proceeds at $20.
Kathson Dog Interactive Game Puzzle
This paw-shaped dog puzzle feeder is our favorite. It has big enough pieces, so you do not have to worry about your dog chewing it or choking on it. You just have to hide the food in the base, and your pup will be able to smell the food, which makes this even more fun. This dog food puzzle is priced at $12.
Nina Ottosson Plastic Interactive Dog Game
If your dog is now ready to move on to the next level of puzzles, then you must definitely do this one. Nina Ottoson is a three-level dog treat puzzle that makes things a little difficult for the pooch to get the reward.
This is an advanced level puzzle because the dogs need to unlock the drawers by twisting bones at the top and then pull the drawers open to take out their food. Although multiple steps dog puzzle toys are a little challenging, it is great to get their brain working. This dog puzzle feeder is priced at $19 on Amazon.
Doc & Phoebe's Cat Co. Indoor-Hunting Cat-Feeder Kit
If this is your first time giving your cat a puzzle feeder, you should start with this Doc & Phoebe's Cat feeder kit. Unlike the stationary cat food puzzle, this kit consists of three mouse-shaped toys, which you can fill with food and hide somewhere in the house for your cat to hunt down.
Your cat will love to pounce at this toy mouse to get the food, and you can keep the cat's inner predator engaged.
Read more- Best Dog Bowls To Feed Your Pup's
Trixie Activity Fun Board 5-in-1 Interactive Cat Toy
This mat comes with a wide variety of cat food puzzles like a fishbowl, tuner, pods, and squiggly path. This is the best cat puzzle feeder to put your cat on a challenging hunt.
Cats have an inbuilt behavior of hunting down things, so this gives them an opportunity to get their paws and noses to dig out the food from different compartments.
It is always a good idea to keep the cats stimulated mentally always, and this versatile cat food puzzle will be the solution.
Catit Senses 2.0 Digger for Cats
If your cats are super motivated and ready to find their meals, you should try this Catit Senses for cats. This puzzle will have your car scoop out the food from various tubes of varying sizes. Your cat will enjoy digging out the food with the claws. This dog puzzle treat is available for $15 on Amazon.
Trixie Mad Scientist Turn-Around Interactive Cat Toy
Similar to Catit Digger, this is another cat food puzzle toy that comprises tubes that can hold the treats. It has a narrower mouth forcing the cat to turn them upside down to spill food if they want to eat. Once they get the food out of tubes, the treats will fall off on a spiky surface, forcing them to navigate with paws. This is an advanced cat puzzle feeder for 415 on Amazon.
Cat Amazing Epic!
Just like its name, this epic cat puzzle toy comprises three levels and saves compartments filled with toys or treats that only a cat can access from a series of different holes. You can take out some of the inner dividers to make the toy a little less intense. It is made of durable coated cardboard to withstand feline attacks.
Why Do Dogs Gulp Their Food?
Dogs have a natural opportunity. They belong to a species of hunting canines who have to eat as much as they can regardless of the situation. They have an instinct of gulping as much food as possible before another animal comes to get it. This is the survival mechanism, and it varies in different dogs.
The life history of your dog also influences eating behavior. If you have adopted a rescue dog, they have been underfed and neglected previously, and they had to compete with other pets for attention and food. This gives rise to food aggression and a habit of gobbling up more food before anyone else eats it.
Some underlying health conditions can also make your dog gulp food like parasites. Also, feeding cheap dog food that does not have nutrients can cause malnutrition and prompt this behavior. You should always pick high-quality dog food.
However, not every dog is like this. Most dogs tend to eat quickly with less chewing, and some dogs are just east normal. Sometimes the behavior can be temporary, where certain stimuli are prompting them to eat faster than normal. Using puzzle feeders for slow feeders can really help to solve this problem up to a great extent.
Why Is It Bad for a Dog to Gulp Food?
No matter what is the reason behind gulping, it can cause a lot of side effects. The first being that dog can choke or throw up just after eating. This not only wastes your food, but they will not get any nutrition from what they eat.
Another serious problem is bloating, which happens when excess air is swallowed, and the distended stomach folds over themselves. This can be fatal; there any effort that you make to prevent it is worth it.
If you find this dog feeder puzzle post useful, do not forget to leave a comment down below.