Best Dog Bowls To Feed Your Pups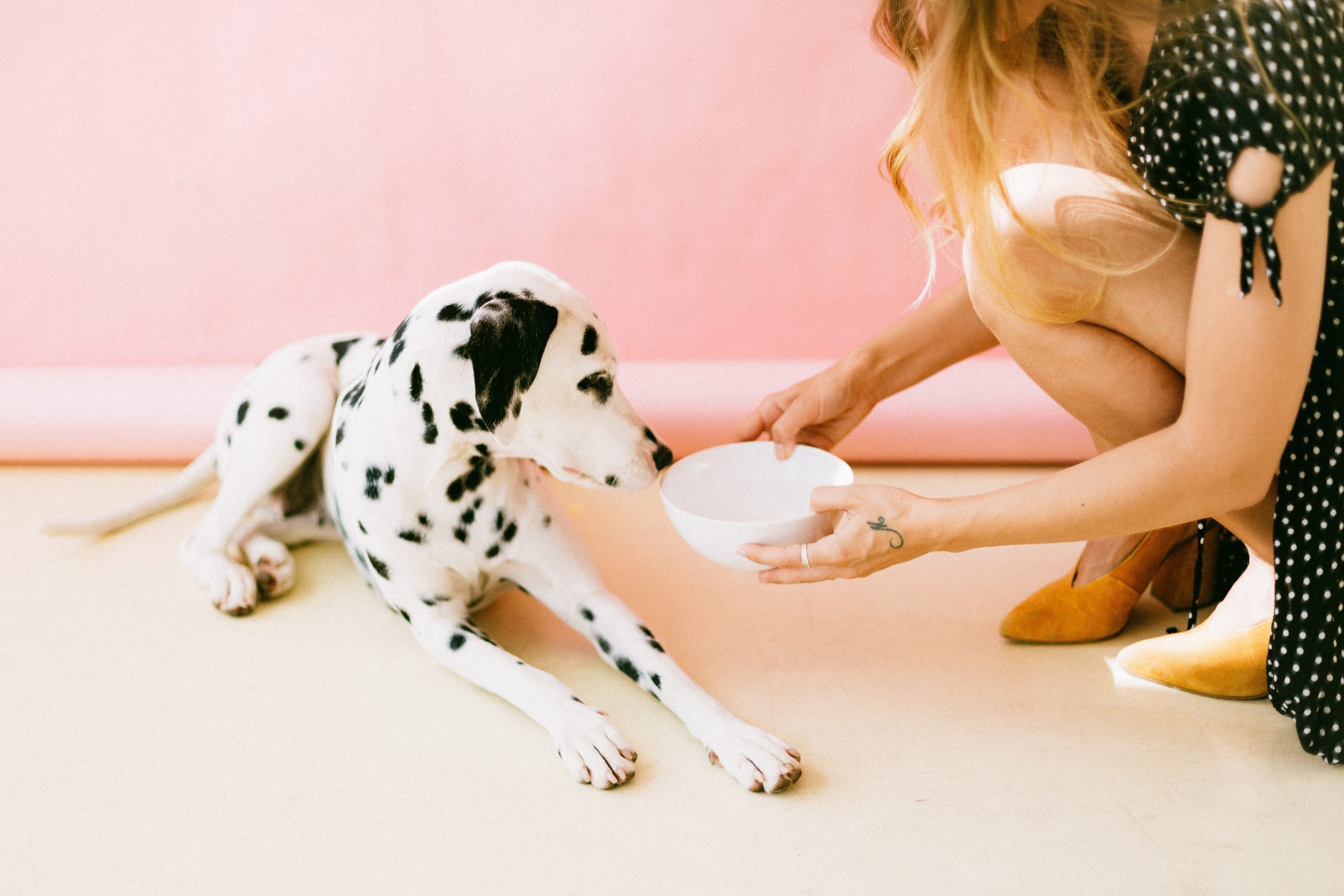 Are you looking for the best dog bowls to feed your pooch daily meals? Let me tell you; choices are endless. What is the best material? Plastic, ceramic or stainless steel? Which size is right? Should it be flat or elevated? Is your dog a fast eater or picky eater? There are so many things that go into choosing a dog food bowl for your pet.
To save you the trouble of choosing from thousands of options online, we have curated a list of best dog feeding bowls here that are appropriate for different types of dogs, whether small or large.
Let's pick the right dog bowl for your dog.
Best Dog Bowls For Food and Water
Dogs are a part of the family, but that does not mean they should eat on the same plate. Here are some best dog bowls to give you something special that is stylish and functional.
Fluff Trough Insert Set
This is one of the best dog feeding bowls to solve your pup's complications related to eating. Debra Mastic used a 3D printer and kickstarted to create this amazing dog food bowl which is sleek, functional, and has a flat face. The best thing is that it is one of the easiest to clean dog bowls around.
Unlike your traditional bowls that simply sit on the floor, this is one of those elevated dog bowls and resembles a trough. It has an open front that allows the pup to easily access the food, and the neutral design fits many different aesthetics.
The company lets you customize the text with your choice of font and patterns to turn it into the best pet gifts, along with a non-toxic silicone insert and removable feet. If your pooch is an eager eater, you can also add a slow feeder into this.
This is the best dog food bowl for pets with eating issues, multiple dogs, or senior dogs. All you need to do is just pop the plastic base and silicone insert into the dishwasher to clean it.
PetSafe Healthy Pet Automatic Feeder
We all have very busy schedules these days. When we are out and about, we want to make sure that our pups do not stay hungry. This is why we have an automatic dog food bowl. Automatic dog feeding bowls are pricier, but given all the additional features and schedule feeding options, it is worth the money spent.
Not only does this feeder let you schedule upto 12 meals in a day, but the automatic dispenser has a capacity of up to 24 cups. This means that you can go out on mini-vacations without having to worry about your dog's food. This is one of the best dog feeding bowls for fast eaters. You can even upgrade the dog's dinner status using an adjustable bistro dog dinner.
Read More- Best Dog Food Delivery Service For Your Pup
Wild One Bowl
If you love personalized and cute dog bowls, then it cannot get better than this. Wild One Bowl allows you to customize bowls for your pup with a range of emojis and full alphabet elegantly designed. This is the best gift to give to your dog.
Waggo Dipper Dog and Cat Bowl
Waggo has the best ceramic dog bowls that are super cute, classic, clean, and will complement any decor. This looks like something that we would want to have in our kitchen. It is available in 10 different color options and three different sizes to pick from.
Do you have more than one dog pup? Choose a color that corresponds to each dog's personality traits. These dog feeding bowls are made of 100 percent heavy, hand-dipped ceramic, and microwave-safe, and dishwasher safe.
MidWest Stainless Steel Snap's Fit Dog Kennel Bowl
Feeding a dog in crate training is not always easy. Limited space means that there will be a lack of room for the pup to eat, which leads to spills and mess. These Midwest stainless steel bowls solve this problem. The no-spill dog food bowl can be attached to the pup's cage mesh's exterior or interior to solve the problem.
You just have to secure the dog bowl to the mesh using the wingnuts and bracket, and it will stay in place until you remove it to clean. These bowls are available in four different size options and are suitable for all appetites and breeds.
KEKS Small Dog Stainless Steel Bowls
If you have a small dog at home, then these stainless steel dog bowls from KEKS will be one step towards making your life easier. This is an easy-to-wash, bacteria-resistant, and no-spill silicone mat dog bowl, which is even appropriate for a messy eater.
The silicone is BPA-free making this set eco-friendly so that your dog is not exposed to harsh chemicals unknowingly. With KEKS, your dog will remain healthy and fit.
Yeti Boomer Dog Bowl
Large dogs require large dog bowls, and yeti is one of the best dog bowls for pet owners who have large dog breeds to feed. This sturdy dog bowl holds a capacity of eight cups which is perfect for a large pooch. It is made of rust and puncture-resistant stainless steel and coated with Duracoat color, which will not fade, crack or peel, making the dog bowl perfect for indoor and outdoor use. The non-slip ring at the bottom will prevent any spills and slips.
Outward Hound Slow Feed Interactive Dog Bowl
Whether your dog loves extra stimulation or they are a fast chewer, giving them interactive dog feeding bowls is a great way to slow down mealtime. This no-spill dog food bowl is available in two size options, two and four cup capacity, and comes with a non-slip base which is perfect for a fast eater.
PetSafe Drinkwell Platinum LED
Your pet cannot survive only on food; they also need water. Water is the necessity of life, but it is easy to forget to refill the bowl. This is why PetSafe Drinkwell brings you a solution with the best dog water bowl. This water bowl is perfect for small-medium size dogs, and the water fountain will keep your pup hydrated and healthy always. It has a 1.3-gallon water holding capacity and a carbon filter which can keep many pets hydrated for some time.
Duluth Trading Best Made Enamel Dog Bowl
Many companies claim to have non-slip dog bowls, but what really makes them non-slip? It is the design. This is an enamelware steel bowl that is engineered to stay strong even upto energetic eaters because of the wide rim and thick rubber base.
This bowl comes in two different size options, and the best part is that these dog bowls are dishwasher-safe and durable.
Read More- Best Washable Dog Bed For A Good Night's Sleep
Outward Hound Port-A-Bowl Collapsible Bowl
Going on a trip with your pups? We have got you covered. Pet owners love to take their pets on the road along with them. For such times, Outward Hound Port-A-Bowl is a perfect pick.
This bowl has a capacity of upto 6 cups of food and water and can be folded down when not being used. It is made of durable nylon material making it great for the on-the-go.
Warning:- This dog food or water bowl is made for quick sips; you cannot leave water for too long as it can leak. As long as you are not using this as your pup's daily vessel, you will be fine.
Fringe Studio Stoneware Bowl
If you are into cure dog feeding bowls, then you should definitely check Fringe Studio. Dogs are a part of the family too. You are going to buy a dog food bowl at the end of the day, then why not pick something that looks attractive along with being functional?
These Scandinavian-inspired, stylish, and on-trend are the best dog bowls that will make any decor more sophisticated. These dog bowls are perfect for small to medium-sized dogs and will make a stunning addition to your kitchens, living room, or dining room. It will add a style element no matter where you keep it.
PetFusion Elevated Dog Bowls
If you are looking for elevated dog bowls that will add elegance and comfort to the dog's dinnertime, you should get your hands on this feeding station. Its elevated base helps the food to go down smoothly into the pup's stomach. New Zealand solid pine is made with an anti-slip base to keep it in place and rubber cushions to make it a no-spill dog bowl. Both are stainless steel dog bowls that can hold upto seven cups of food. You can easily remove them and put them back safely through the dishwasher.
How to Choose the Best Dog Bowls?
When going to buy dog food or a water bowl, you should consider the dog's eating habits, breed, age, and size, along with routines to find the best dog bowls.
You can pick more stylish options for easy-going pets, but if you have an eager eater, you should consider a slow puzzle feeder for a healthy boost. If you end up tidying up the mess after your dog is finished eating, then you would want to consider something that is no-spill and easier to clean to make the work easier. Your ultimate goal is to give a practical option to your pup.
Happy pet shopping!