Best Dog Hiking Backpack To Go On A Trip With Your Pooch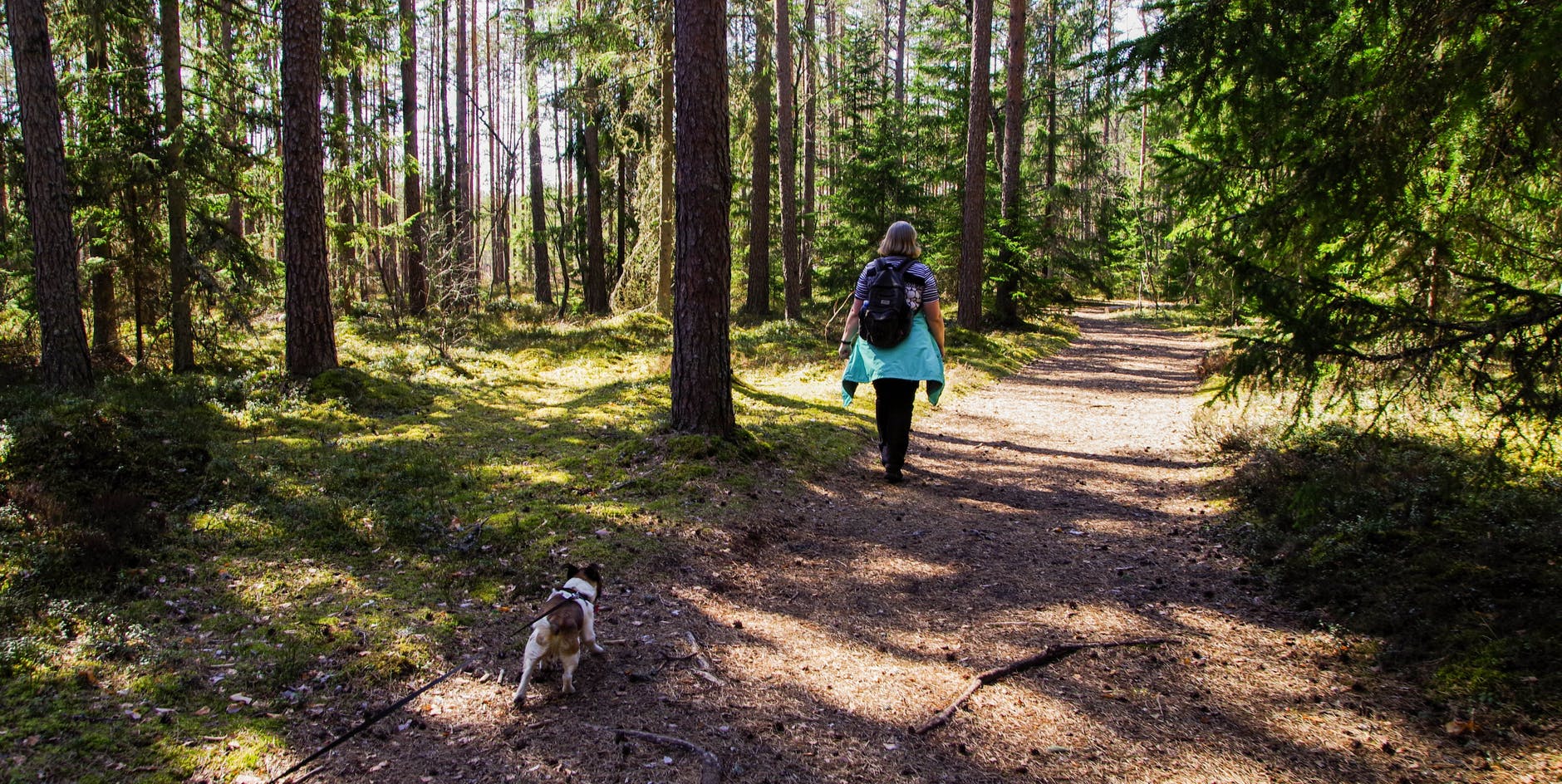 Going on a hike with your canine can be fulfilling, but this also means that you require extensive planning. The biggest challenge is the supplies. How can you carry the pet supplies that your dog will need on the way? The answer is by getting the best dog hiking backpack.
Instead of carrying everything in your backpack, you can lighten the burden by getting your pup his own backpack. These are designed specifically to fit a dog snuggly and share your burden by carrying their food and gear on a hike.
Let's take a look at some of the best dog hiking backpacks.
Best Dog Hiking Backpack Reviews
Ruffwear Approach Dog Pack
When looking for the best hiking dog backpack, Ruffwear Approach will always top the list. This dog backpack comes with an inbuilt harness with five adjustments to ensure a comfortable fit.
The weight-forward saddle bags stabilize the content making it convenient for your dog to carry it. This backpack is available in green and orange colour with reflective trim so you can spot your dog when the sun starts to set. It has two leash points along with a padded handle for extra convenience.
You can pick from a 7, 12.5, 14.5, or 24 litre capacity backpack; the largest size of the bag weighs only one pound, making Ruffwear a great backpack for overnight trips and long hikes.
Read More- Best Dog Food Delivery Service For Your Pup
OneTigris Dog Backpack
If your dog weighs more than 50 pounds, the One Tigris backpack is perfect for you. This one has a vintage design that looks super fashionable and is available in brown, black and ranger green colour.
It weighs 1.3 pounds and is made with cotton canvas. This dog hiking backpack features three adjustable straps which keep your dog comfortable. The two compartments come with zipper and semi-open pockets to carry treats, water, food and waste bags. It also has a D-ring attachment for leash security. OneTigris is the best dog hiking backpack for an exciting trip.
Kurgo Baxter Saddlebag Backpack
Another best pick in dog carrier backpack is from Kurgo Baxter. This saddlebag comes in two different sizes and can easily fit dogs between 30-110 pounds. You can choose from four different colours and enjoy the extra visibility that comes with reflective strips.
It has breathable mesh, which increases ventilation and also a chest pad with a bottle opener. The best thing about this dog hiking backpack is that it has many add-on features like a handle to assist your dog, adjustable straps, storage pockets, and an inbuilt harness with two leash attachments. The straps have eight adjusting points to enhance the fit and also an ergonomic spine pad that provides comfort and even weight distribution. A Kurgo dog hiking backpack is worth every penny.
Outward Hound Daypack Backpack
The sleekness of Outward hiking dog packs is what makes it one of the best. Its design is super functional and very lightweight for a safe, comfortable dog walk. These are available in three sizes, and each of them features adjustable straps for a perfect fit for your dog.
This backpack is made with cooling mesh, which promotes airflow and keeps the dog cool. You will have plenty of room to store things like a water bowl and dog treat in its four expandable pockets. You and your dog will appreciate its super lightweight built on your long hike.
Lifeunion Saddle Bag Backpack
This Lifeunion Saddle backpack is another best pick for hiking trips with your doggo. Completely waterproof and durable with a 600D double polyester build, this dog hiking backpack is worth the money you pay.
It has an inbuilt rubber handle with a D-ring leash attachment. The zippers are of superior quality, and the mesh design makes them lightweight. Buckle closure in this hiking dog backpack makes it adjustable and easier to secure.
You can choose from three different sizes and four colour options. This is also a great small dog backpack, as the smallest size can fit upto 19 pounds, and the largest size can fit 100 pounds. What is amazing about this backpack is that even the largest size weighs only one pound and comes with a lot of space to store things during travel.
Mountainsmith K-9 Dog Backpack
Whether you want to go on a day trip or a hiking weekend, Mountainsmith dog hiking backpacks is simply the best. Veterinarians approve this for its ergonomic torso shape and air mesh panels.
It features two pannier pockets with zippers and a metal D-ring attachment point for the leash. This backpack consists of four points with an adjustable chest harness along with a padded sternum strap. It also comes with a back harness, belly strap, and top haul handles. The rear, front and side panels have a reflection trim of 3M to increase visibility.
The smallest sized dog backpack is designed to fit 25-45 pounds of dogs, medium size for 40-80 pounds, and largest can fit dogs of more than 80 pounds. If you are a dog owner who loves to go on hikes with your pup, then Mountainsmith is the perfect option for you.
Ruffwear Palisades Dog Backpack
Ruffwear Palisades is designed especially for a multi-day backcountry trip. It features an inbuilt harness with four attachment points which promote stability and also ensure comfortable weight distribution.
It also has a leash attachment point with a padded assistance handle so that you can guide your dog on difficult terrains. You can lighten the weight by removing saddlebags when taking a break or at arriving at the campsite. Ruffwear carrier bags also have two collapsible of one litre each; these are BPA-free.
The small size in this hiking dog bag range has 10 litres of capacity, the medium bag has 14 litres, and the largest comes with a 19-litre capacity. If you want to carry enough supplies with you for your extended trip, Ruffwear Palisades is the right dog backpack for you to carry.
PAWABOO Dog Hiking Backpack
Are you looking for the best dog hiking bag for a medium-sized dog? Then do not forget to check out PAWABOO. This dog hiking bag is specially designed to fit pups between 39-60 pounds.
The dog backpack is made with 600D oxford cloth and comes with an inbuilt harness. It also includes a D-ring with a handle to provide additional control. The adjustable strap helps to keep your dog comfortable throughout the hike.
It also has pockets, but they are a little smaller. So if you plan to go on a short hike trip, then this small dog hiking backpack will be the right fit.
Well Dog Hiking Backpack
Another Lightweight and all-season pick for a dog hiking backpack are from Welliver. This bag comes with soft mesh lining and breathable mesh in the centre, which helps to keep your dog comfortable and cool when on the trails.
The straps make it super easy to adjust them according to your dog, and you can secure them using the buckles. It has roomy pockets with a lot of space to store treats, water, food and toys. This comes in yellow and green colour with three different size options.
The hiking dog bag has a simple yet high-quality design ensuring the clients' utmost satisfaction.
Outward Hound Kyjen Backpack
If you are looking for a small-sized dog hiking bag to fit your little pup, then check out Outward hound Kyjen range. It is designed to fit 15 to 19-pound dogs appropriately. Whether you want to stop taking a break or staying the night in, these backpacks can be easily removed. It has decent sized pockets to store large toys and food; it also has interior mesh pockets and a bottle holder.
This backpack features reflective accents, which makes it easy to spot your dog in the dark. It features an ergonomic fit with adjustable straps, which maximizes comfort. Whether you are going for a stroll or hiking, an Outward Hound Kyjen backpack is the best option to carry your dog's supplies.
Read More- These Are the Best Puppy Pads To Toilet Train
Buyer's Guide:
Because your dog will be carrying the backpack for a long time, there are some things that you should put into consideration before buying a hiking backpack.
Size / Capacity
There are so many different sizes available in the market. However, your main concern should be to buy something which ensures the dog's comfort and carrying ability. You can buy a bag with a capacity that suits the purpose of usage.
For instance, if you will be going to the park for a walk, then prefer small-sized backpacks and if you are planning to go on a hike, then buy a bag with more holding capacity.
There is no fixed size chart to follow when buying a backpack, so be careful with your measurements. You can start by measuring the dog's neck size, girth and weight to choose a backpack that fits right.
Stability / Adjustability
Hiking dog backpack rests on the shoulder, and it can fall backwards. A saddlebag style is one that falls on both sides. These are designed to provide comfort and stability, so you should ensure that you buy a backpack that does not restrict your pooch's movements.
If you restrict your dog's movement or the weight is not evenly distributed, then there will be more chances of injury on the way. To increase the stability, make sure the backpack's fit is good so that it does not slide. One-piece dog backpacks are not good in adjustability, so make sure to pick the size that fits your dog right.
These also contain adjustable points; however, these are limited. Adjustable backpack includes straps that can be shortened or lengthened depending on the fit of your dog size and comfort.
Weight
Most of the dog hiking backpacks weigh two pounds or less. Choose the weight according to what you are going to put in your backpack. If you need more space in your backpack to store more things, avoid buying a heavy bag.
According to some people, dogs can easily carry upto 25% of their body weight, while others say that they should carry only 11% of their body weight. You should always keep in mind your puppy's health, age, weight and comfort level when making decisions regarding a dog's backpack. If you are planning to go on a hike, the lighter the bag is, the better it is.
The weight of a backpack is also influenced by many features like compartment, zippers and gear loops. In this case, you should always go ergonomically minimal. Make sure the backpack you buy has features that are useful and do not necessarily add weight. Some extra compartments are always appreciated to store water bottles, padded straps to carry heavy weight etc.
Materials like cotton or canvas look attractive, but they absorb moisture which will only increase the weight for the dog in case it rains. Also, these can act as a breeding ground for mildew for longer trips.
Waterproof
Any best dog hiking backpack will be completely waterproof. No matter where your favourite hiking spot is, you will eventually get rained on. To make sure all the things in your dog's backpack are safe and do not get damaged, it is always best to buy a bed made of a water-resistant and durable material like nylon or polyester.
If you are going on a hike where there are more chances of heavy rainfall, it is always good to carry a waterproof liner to keep the backpack safe. Also, zippers with flaps on top prevent water from seeping inside.
Read More- These Are the Best Dog Boots For Soft Paws
Final Words:
Carrying the right equipment when going out with your dog makes the hike even easier. Reducing the weight in your backpack by giving your dog his own backpack to keep his staff will help to give your dog some sense of responsibility. We are sure you will definitely find something that fits your pup right and is perfect for you as well.
If you find this post helpful, do not forget to leave a comment below.