Best Fried Rice Recipe With A Twist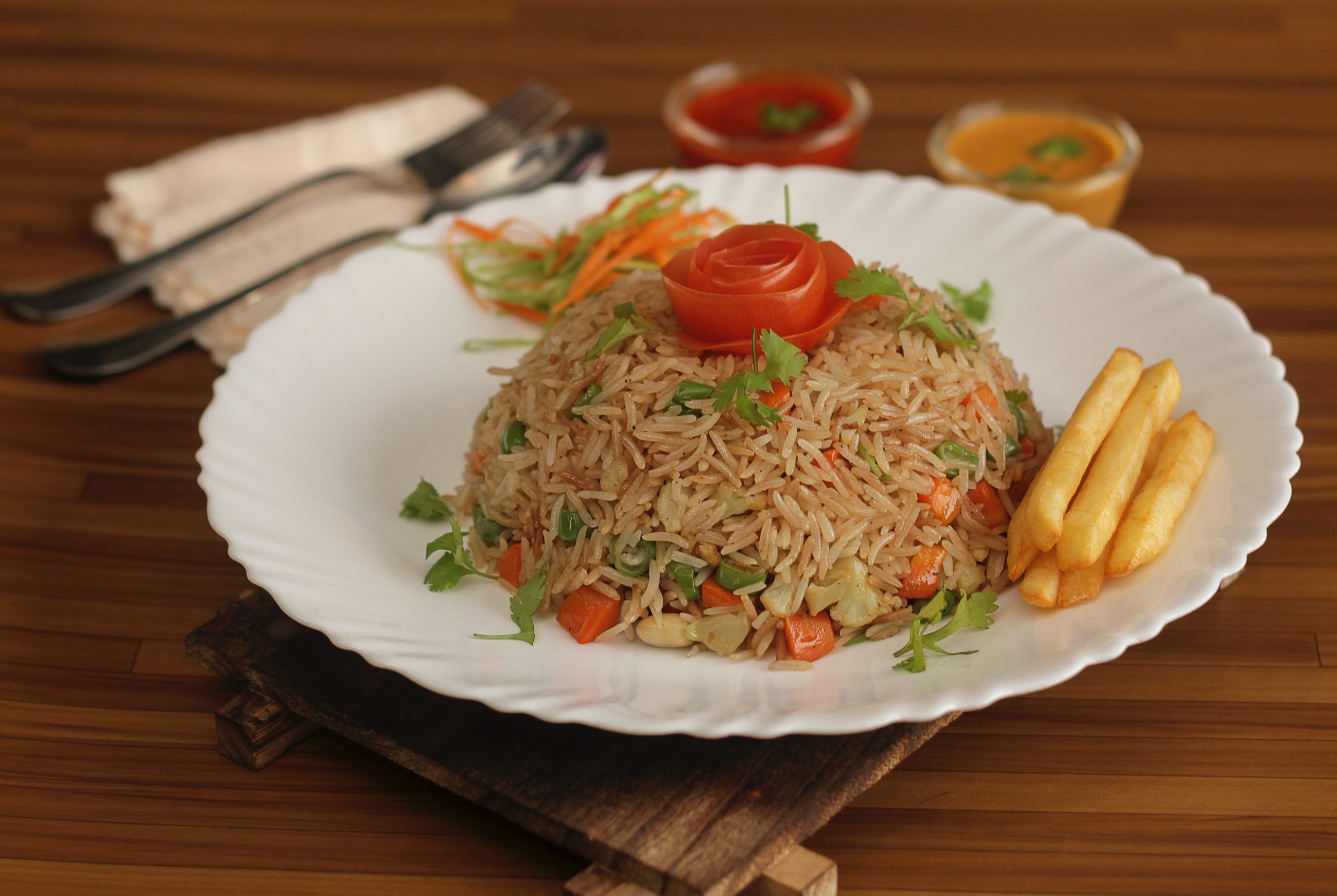 The best way of using leftover rice is making a stir fry. We all have at some point tried a regular fried rice recipe, but here we have mentioned some fresh and new fried rice recipes perfect for a quick dinner.
If you are a fried rice lover, then this post is meant for you, and even if you haven't tried fried rice yet, we are sure this post will tempt you to cook some tonight.
Best Fried Rice Recipe:
Egg fried rice
A good stir fry fried rice recipe is our favorite. It is a dish we reach out to again and again, and adding eggs to it makes it even better.
Let's check out the recipe for the best egg-fried rice recipe.
INGREDIENTS
3 tbsp. sesame oil
Three large eggs
Salt
Three spring onions, sliced,
3 cloves garlic, crushed
Two carrots, diced
115 g frozen peas
1 tbsp. peeled and crushed ginger
800 g cooked long grain rice (leftover works best)
3 tbsp. low-sodium soy sauce
DIRECTIONS
Heat a cast-iron pan over high heat for 2 minutes until it is very hot. Now add 1 tablespoon of oil into the pan.
Beat eggs with a large pinch of salt and 2 tsp. Water. Add the beaten egg to the pan
Cook the eggs while constantly stirring to form soft curds. When done, transfer to a plate.
Return the pan back to high flame and add 2 tbsp. Oil, the white part of spring onion, carrots. Cook the veggies until golden for 2 minutes. Add ginger and garlic. Keep cooking and stirring for 1 minute until fragrant.
Add peas, rice, and cooked eggs into the pan. Pour soy sauce and cook while stirring for 1 minute. Season with pepper and salt and stir everything by adding more spring onions.
Vegan Stir fry rice
Fried rice has always been a kitchen staple. There are two main reasons for this immense popularity- adaptability and people are always cooking rice.
This vegan stir fry rice recipe is a delicious and quick way to transform the leftovers into a delicious meal. You do not need to have a dozen ingredients to cook a good stir fry rice, just pan, rice, and oil.
RICE + VEGETABLES
1 cup extra-firm tofu
Cooked rice
4 cloves garlic (minced)
1 cup chopped green onion
1/2 cup peas
1/2 cup carrots (finely diced)
SAUCE
3 Tbsp tamari or soy sauce
1 Tbsp peanut butter
2-3 Tbsp organic brown sugar, muscovado sugar, or maple syrup
1 clove garlic (minced)
1-2 tsp chili garlic sauce
1 tsp toasted sesame oil
Instructions
Preheat the oven at 400 degrees F and, meanwhile, ready a baking sheet with parchment paper.
Wrap tofu in a clean and absorbent towel and put something heavy on top of it to drain excess liquid.
Dice tofu in ¼ inch cubes and arrange on a lined baking sheet. Bake tofu for 26-30 minutes until the edges turn golden brown and the texture is firm to touch.
The longer it will bake, the crispier and firmer it will get. When done, set it aside.
Prepare sauce by adding all the ingredients to a medium bowl and whisk together.
Adjust the flavors as per your taste by adding more soy or tamari sauce, peanut butter to add creaminess, or chili garlic for heat.
When the tofu is baked, add it to the sauce and let them marinate for 5 minutes.
Now in a pan, mix rice with sauce and serve it fresh.
Read More- Soothe Your Appetite Through Delicious Kumquat Recipes
Shrimp fried rice
This shrimp-fried rice recipe is better than any takeout you have ever had. Easy to make, full of veggies, this is the best shrimp fried rice recipe ever.
Ingredients
1 pound large shrimp peeled and deveined
1 Tablespoon vegetable oil
2 Tablespoon sesame oil divided
3 cups cooked rice
One small white onion chopped
1 cup frozen peas and carrots thawed
2-3 Tablespoons soy sauce
3 eggs lightly beaten
2 Tablespoon chopped green onions
Instructions
Preheat a large wok or skillet on medium heat. Add vegetable oil, shrimp, and one tablespoon sesame oil to the skillet, along with pepper and salt.
Cook the shrimp for 3 minutes until all the pink color is gone. Set it aside.
Add peas and white onion, along with carrots, and fry until the veggies are tender. Slide the veggies to the side and pour beaten eggs on the other side.
Scramble the eggs using a spatula. When cooked, mix it with the vegetables.
Add shrimp and rice to veggies. Put one tablespoon sesame oil and soy sauce on top.
Stir fry rice until everything is properly heated and combined. Add chopped green onions (optional).
Chicken Fried Rice
Chicken fried rice is one of the favorite dishes all over the world. It is very popular in Asian cuisines. The dish started by using leftover rice and adding soy sauce, oil, veggies, and meat to spruce it up. Who knew this would be the creation of a delicious chicken fried rice recipe.
INGREDIENTS
2 tbsp. extra-virgin olive oil
One medium onion, chopped
Kosher salt
Three cloves garlic, minced
Three chicken breasts
black pepper (Freshly ground)
2 tbsp. sesame oil, divided
Two carrots, peeled and diced
1 tbsp. freshly minced ginger
4 c. cooked white rice
Three large eggs, beaten
3/4 c. frozen peas
2 green onions, thinly sliced
3 tbsp. low-sodium soy sauce
DIRECTIONS
Heat olive oil in a medium skillet over medium heat. Season chicken with pepper and salt on all sides and add it to the skillet.
Cook chicken until golden brown for about 8 minutes on each side.
Remove from the skillet and keep it aside to rest for 5 minutes. When cool enough, cut it into bite-size pieces.
In the same skillet, heat one more tablespoon of sesame oil. Add carrots, onion and cook for 5 minutes.
Add ginger and garlic and cook for one more minute until fragrant. Stir peas, rice and cook everything for 2 more minutes.
Push rice aside on one side of the skillet and add leftover sesame oil. Add eggs and stir until completely cooked. When done, fold it into the rice.
Add chicken to the skillet. Now add some soy sauce, green onions and stir to combine.
Read More- Best Mexican Soup Recipes To Try At Home
Pineapple Fried Rice
This easy Hawaiian-style fried rice recipe is everything you need on a hot summer day. You can serve it in pineapple bowls to make it look fancy.
INGREDIENTS
2 tbsp. coconut oil
One medium onion, chopped
1 red bell pepper, diced
One c. diced fresh pineapple
Three cloves garlic, minced
1/4 c. cashews, chopped
Three c. cooked rice (preferably day old)
1/2 c. frozen peas, thawed
Juice of 1 lime
2 tbsp. low-sodium soy sauce
1 tsp. Sriracha
Two large eggs, beaten
Two green onions, thinly sliced
DIRECTIONS
Heat oil in a large skillet over medium heat. Add peppers, onions, and pineapple and cook the vegetables until they are soft and the pineapple has completely caramelized for about 1-2 minutes.
Stir in cashews and garlic and cook for one more minute until fragrant.
Stir peas and rice, then add soy sauce, lemon juice, and Sriracha.
Cook until rice becomes warm.
Push rice aside and add eggs. Keep constantly stirring until eggs are done. Now fold eggs into rice.
When done, garnish with green onions and serve it hot.
Korean Fried Rice
This Korean fried rice recipe is packed with peas, bacon, and ginger to give a twist to your regular stir fry rice.
Ingredients
2 tbsp soy sauce
1 tbsp gochujang
1 tbsp sesame oil
1 1/2 tbsp peanut oil
1/2 tsp caster sugar
Four eggs
100g shortcut bacon rashers ( chop into small pieces)
One brown onion, thinly sliced
2 garlic cloves, finely chopped
3 tsp finely grated fresh ginger
One carrot, cut into matchsticks
Pre-cooked white rice
90g (1/3 cup) kimchi
three green shallots, sliced thinly
80g (1/2 cup) frozen peas
150g snow peas, thinly sliced and trimmed
Instructions:
Combine gochujang, soy sauce, and three teaspoons of sesame oil with sugar in a small bowl. Keep it aside.
Whisk eggs with sesame oil in another bowl.
Season.
Heat 2 tsp peanut oil in a wok over a high flame. Add in egg mixture, keep stirring until cooked.
Transfer to a plate and clean wipe the wok.
Heat peanut oil over high heat. Fry bacon for 2 minutes until crisp and golden.
Add ginger and garlic, cook for 30 seconds. Add kimchi, rice, peas, snow peas, and carrot. Stir fry everything for one minute or until the vegetables are crisp and tender.
Add soy sauce and fry for 2 minutes or until everything is combined properly and heat is evenly distributed.
Remove the wok from heat and stir eggs. Sprinkle shallots.
Serve hot.
Don't forget to check out the Healthy Snacks for Diabetics to Manage Blood Sugar Levels.