The Best House Cleaning Checklist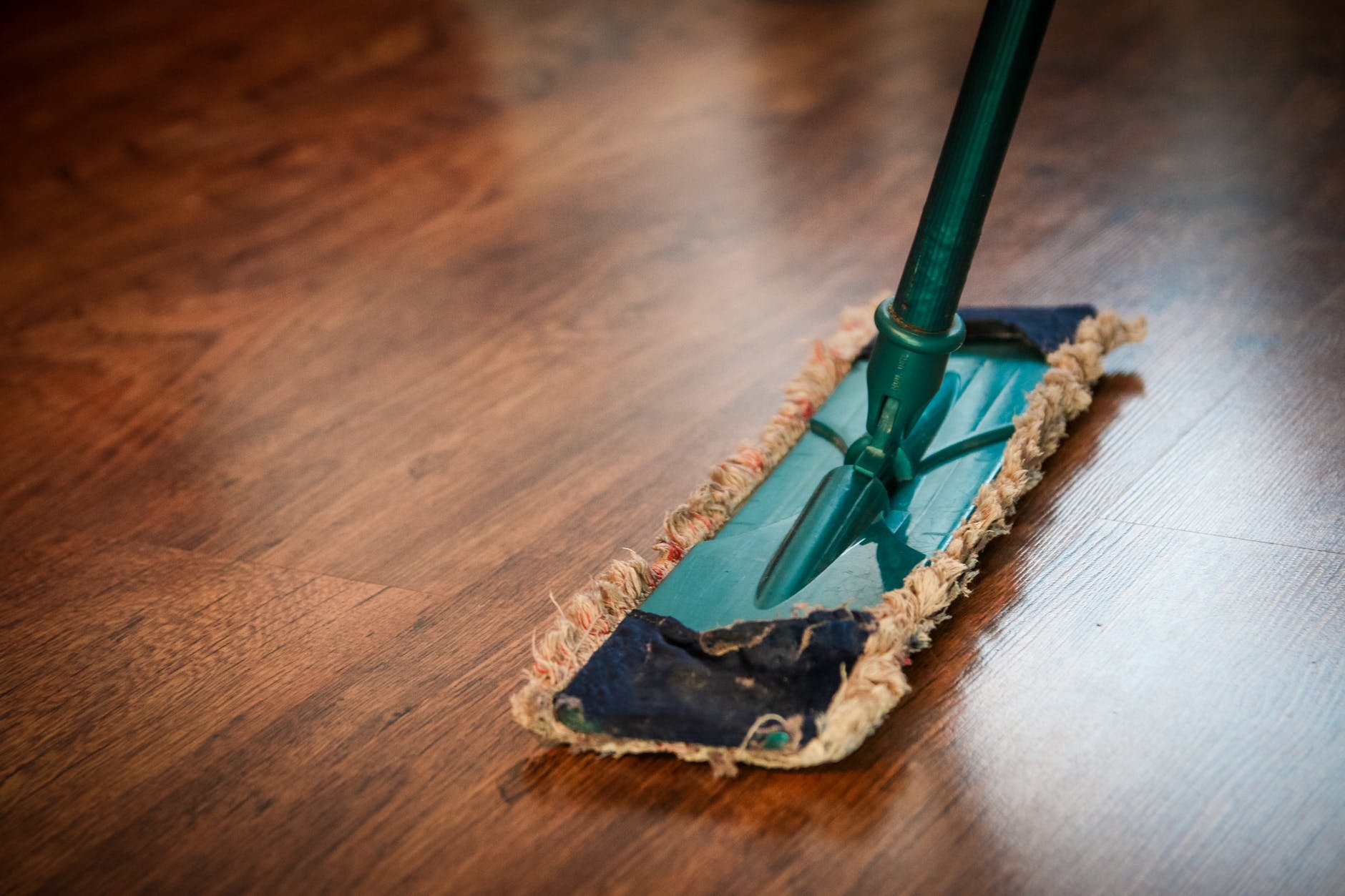 House cleaning is a daunting task. Forget about rest when you see rust, dust, or dirt in the less approachable corners of the house. We are here to help! We have created a super handy house cleaning checklist with the help of professionals to help you stay on top of a deep cleaning game.
House Cleaning Checklist
Everyday Tasks on House Cleaning List
| | |
| --- | --- |
| Make bed | Clean coffee maker |
| Clean dirt dishes | Sweep kitchen floors |
| Do laundry | Wipe kitchen table and countertops |
| Sanitize kitchen and bathroom sinks | Squeegee shower walls |
Once a Week Cleaning Tasks
| | |
| --- | --- |
| Change bedding | Mop bathroom & kitchen floor |
| Scrub bathroom surface | Throw expired food products |
| Clean mirrors | Dust furniture |
| Vacuum furniture and floors | Sanitize sponges |
| Wipe down kitchen appliances | Clean Microwave |
Once a Month House Cleaning Tasks
| | |
| --- | --- |
| Dust blinds | Vacuum woodworks and vents |
| Clean and dust light fixtures | Clean laundry machine, vacuum cleaner, and dishwasher |
Once in 3-6 Month House Cleaning Tasks
| | |
| --- | --- |
| Wash pillows and comforters | Wipe the inside of the refrigerator |
| Vacuum mattress | Clean range hood |
| Wash shower curtain liner | Descale coffee maker |
| Clean behind and under room furniture | Clean patio |
| Wash car | Clean freezer inside-out |
| Clean oven interior | Clean garbage bins and drains |
Once a Year Tasks on House Cleaning List
| | |
| --- | --- |
| Clean fireplace and chimney | Clean windows |
| Clean gutters | Clean vents and dryers |
| Clean upholstery and carpets | Clean drapes and curtains |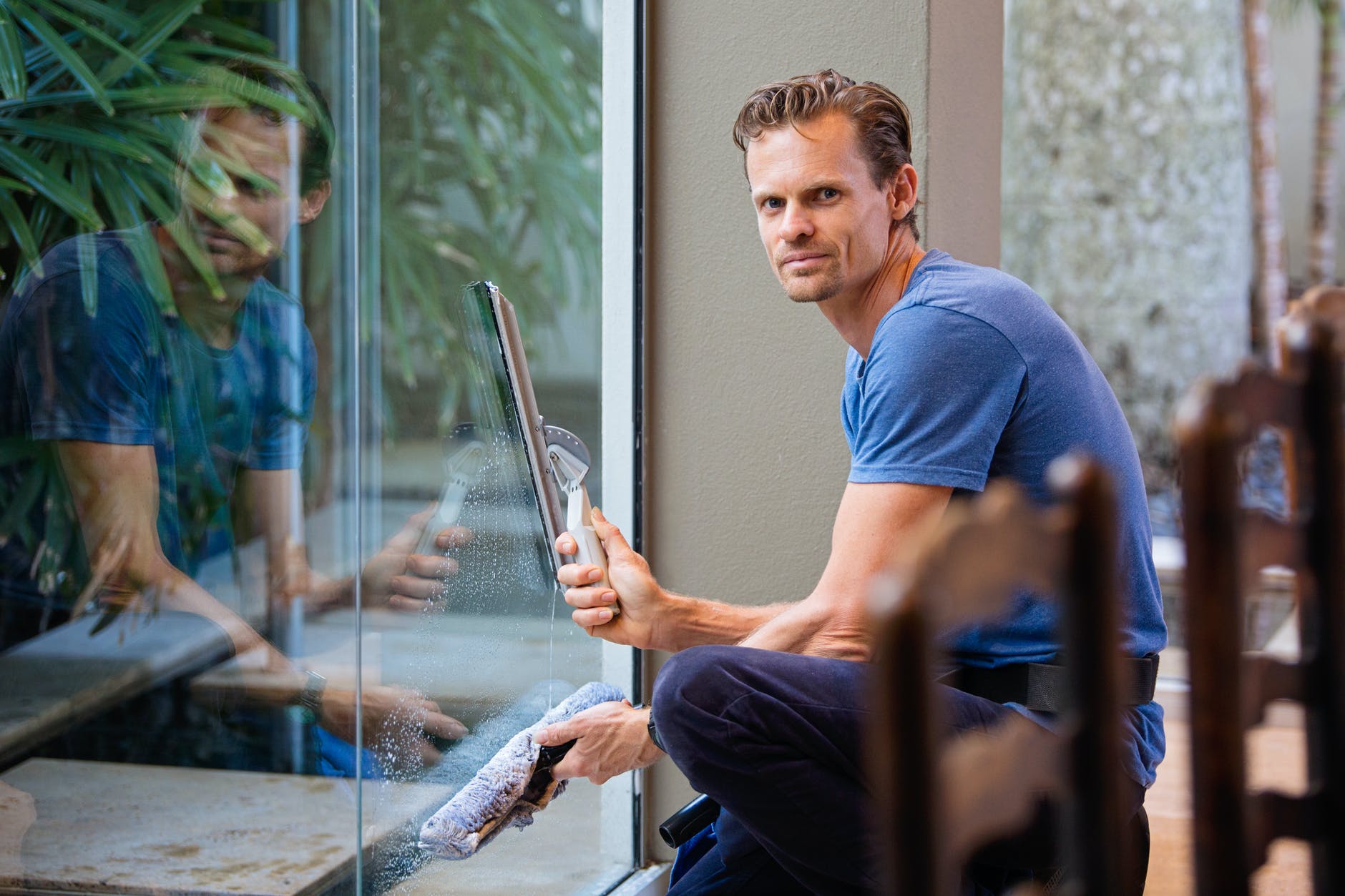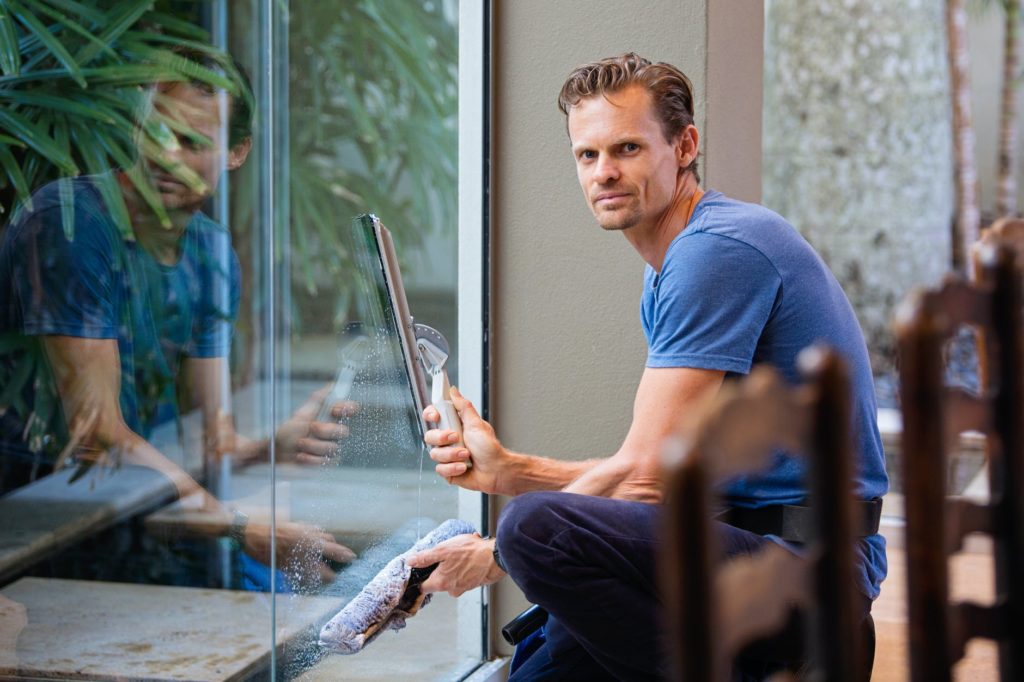 Tips To Manage Everything on Your House Cleaning Schedule Checklist
We have included some time-saving house cleaning tips to make the household cleaning schedule much easier and painless.
House Cleaning Tips Every Day
Everyday house cleaning tasks in the checklist include the ones that need daily scouring and scrubbing.
Clean coffee maker
Clean all the removable parts of the coffee machine with warm water and soap. You can even put safe dishwasher pieces in the dishwashing machine. Wipe the warming plate and the outside to clean spills.
Clean dirty dishes
Stop pre-rinsing the dishes. The detergents and machines of today do not require pre-rinsing. Even the enzymes in the detergent work much better when they attach to the food particles.
Sanitize sinks
use eraser sponge to get rid of marks and then sanitize the drain by plugging, filling the basin with warm water by swishing bleach. Let the solution sit for 5 minutes or more, then rinse with clean water.
House Cleaning Tips Every Week
Avoid multitasking, tackle one job or room at a time. For instance, on Monday, clean the kitchen mess, on Tuesday, vacuum the house, on Wednesday, change all the sheets, and so forth.
Clean inside of the microwave
Heat 1 cup water and 5-6 tablespoon vinegar in the microwave until the window gets steamy. Let it cool for some time, then open the door, remove the bowl and wipe the inside of the microwave with a sponge.
Scrub bathroom surfaces
Use bathroom cleaners like Mr.Clean Magic Eraser Bath for tiles, glass, and tub.
Sanitize sponges
Mix ¾ cup of bleach in about 1-gallon water and soak the sponge for 5-10 minutes, and rinse with clean water.
House Cleaning Every Month
It is impossible to finish everything on the house cleaning checklist schedule in one day. Splitting the tasks and delegating jobs to other members of the house will help you a lot.
Clean a washing machine
Use a special cycle "washer cleaner," which is available on new models to clean the machine. You can also add cleaners like Affresh then run it on a normal cycle with hot water.
Clean dishwasher
Fill a large glass with 2 cups vinegar and then place it on the dishwasher's top rack. Then turn on the machine without heat dry or detergent.
Clean vacuum
You should change the vacuum cleaning bag when it filed up to three-quarter to maintain strong suction. Do not forget to replace the filter when its torn or extremely dirty.
House Cleaning tips Every 3-6 Months
Some tasks can be easily cornered, don't let them sneak up! Make sure to tick them off your house cleaning checklist.
Wash pillows
Fiberfill and put down pillows can wash in in the washer on the gentle cycle in warm water. Add one extra cold rinse. Once washed, then tumble dry the pillows on low heat using few rubber dryer balls.
Wash shower curtain liner
Put your vinyl or plastic curtains in the machine putting on the highest water level along with some bath towels to increase agitation.
Clean inside of the oven
Using a damp sponge, wipe the food bits inside of the oven. Using self-cleaning mode on the over get rid of burnt-on food grime. Wash the oven racks with a scrub sponge and warm water.
House Cleaning Tips Every Year
These are some must-do steps for the dep home cleaning schedule.
Deep clean carpets
If you have a lot of wall to wall carpeting in your house, then it makes sense to invest in special carpet cleaners to get rid of all the dirt and stains.
Clean around vents and dryer
Use the crevice tool on the nozzle of the vacuum cleaner and suck up all the debris and fuzz.
Deep clean windows
Pick any cloudy day for cleaning your windows. The first step is to remove dust and dirt from the window cracks. Then, spritz Invisible Glass Cleaner With EZ Grip and wipe the panes using a microfiber cloth.
Final Words:
Want to know how to clean a house professionally? Follow the above-mentioned house cleaning checklist and schedule for the proper cleaning of your home. Don't rush into the tasks; take your time, and split them for different days. Also, check the deep cleaning method to clean the house properly.
If you follow this Home Cleaning Schedule, do let us know how did you like it!