Best Places to Buy Bridesmaid Dresses Online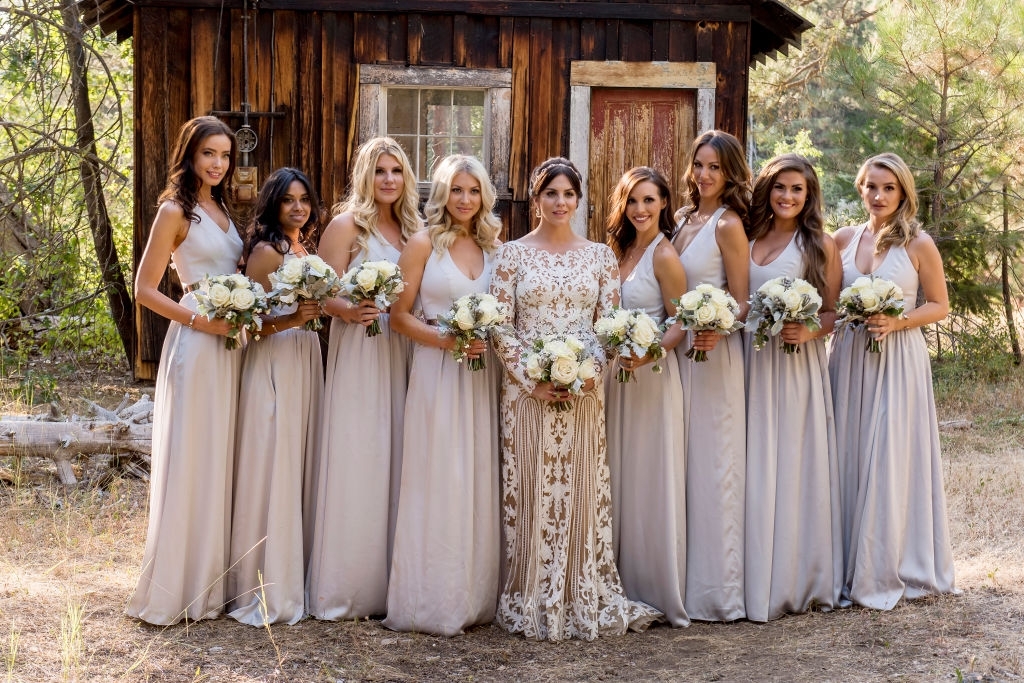 Being a bridesmaid is time-consuming, so who gets the extra time to visit different retailers to buy a bridesmaid dress? We completely understand that it is quite challenging to visit different retailers to get a perfect bridesmaid dress. Therefore we are here to help. To get a bridesmaid dress, you don't need to visit offline stores, as there is a wide range of places to buy bridesmaid dresses online. It doesn't matter if you want a dress tomorrow or can wait for one month to get a designer gown; there are many online stores offering bridesmaid dresses. 
Birdy Grey
We all know that being in a wedding and playing the role of a bridesmaid can be widely expensive. Well, you do not need to be scared because the famous bridesmaids brand Birdy Grey will help you save the day. This brand offers beautiful bridesmaid dresses for less than $100. This is an amazing brand, not only because they offer varied chiffon creations from convertible dresses to off-the-shoulder dresses. They also offer the same dress designs in plus size and maternity collections. If you are unsure about the color or design, you can order a swatch to test before buying the dress. After placing the order, you can expect to receive it within seven days. 
Reformation
Reformation is popularly known for simple and feminine designs made from sustainable and natural fabrics. Their pieces are specifically designed to celebrate the feminine figure. Most styles offered by this brand are available in four different colors. Styles offered by this brand include beautiful modern patterns. This brand offers a wide range of dresses, from sleeves to floor-length to strapless dresses. When you order a bridesmaid dress from this online store, you can expect delivery in seven days for U.S. shipments. 
BHLDN
Whether you are trying different dresses from stores or shopping from an online store, or you are doing both, BHLDN offers both experiences. They offer beautiful dresses from notable designers such as Marchesa Notte, Jenny Yoo, and Amsale. This online store can get beautiful dresses that flatter your body type and suit your budget. They offer dresses for every weather like velvet gowns for winter and mini dresses beautifully suitable for destination weddings. After placing the order, you can expect to get your shipment within 5-7 business days. If you do not like your dress, BHLDN provides you with a standard 30-days return policy. 
Shopbop
Amazon powers this famous online dress store. This site offers free shipping and returns for your dress. Shopbop offers beautiful and aesthetically pleasing dresses and shopping experiences. You can choose a wide range of dresses from minis to slip dresses to floor-length gowns from this online bridesmaid dress store. They offer dresses from famous designers like Jonathan Simkhai, Saloni, and Zimmermann. If you are looking for beautiful bags and shoe collections, this online store is also a suitable place for you. 
Plum Pretty Sugar
If you are looking for a modern and feminine look, this online store is a perfect one-stop-destination. The best part about Plum Pretty Sugar is that they design dresses that you can wear again. If you are going to a destination wedding, you should check the bohemian collection, which can be worn over a swimsuit. You can also choose dresses in floral patterns or an easy tunic for a carefree and fantastic look. You do not need to stop for only bridesmaid dresses; you can also shop here for robes, pajamas, and accessories. 
Jenny Yoo
If you love the sophisticated and elegant style, then trust me, Jenny Yoo is the perfect destination. Jenny Yoo offers made-to-order designs to meet your style needs and expectations. The dresses are made with luxurious and rich fabrics, and with these beautifully designed luxurious gowns, your bridesmaid will get a perfect royal look. The best part about the dresses offered by Jenny Yoo is that they can easily transfer to perfect holiday attire. These dresses are designed so that you can wear them more than once. 
Show Me Your Mumu
The dresses offered by Show Me Your Mumu is designed keeping the boho bride in mind. These dresses are breezy with beautiful ethereal designs that could easily flatter bridesmaids of all sizes and shapes. Their website is designed so that you can easily browse through it with the help of a shop-by-color page. They have most styles available in 26+ colorways, so you can easily find the one that suits your complexion. In addition to this, their getting ready collection is an amazing place to get cute gifts for your girls. 
Bella Bridesmaids
This online site offers a wide range of collections of bridesmaids' dresses. They have everything you want. For instance, whether you are seeking modest dresses, a designer piece from Jenny Yoo, or an ultra-chic slip dress, they have got them all for you. If you want to check their options in person, you can visit any of their stores present at 50+ locations across the nation. Before buying a dress from this online store, keep in mind that you can not return any dress that is made in order. 
Brideside
It isn't easy to choose the right bridesmaid dress from various available options. But, you need not worry anymore, as your Brideside is always ready to help you. If you want to check the designs personally before buying them, you can visit their store. Whether you are shopping online or visiting their store, they set a stylist to help you throughout the entire process of choosing the right bridesmaid dress. They offer a wide range of designer dresses, including Jenny Yoo, Watters, and their brand. With the availability of so many different options, you will surely find the dress that suits you.