Best Destination Wedding Locations in the World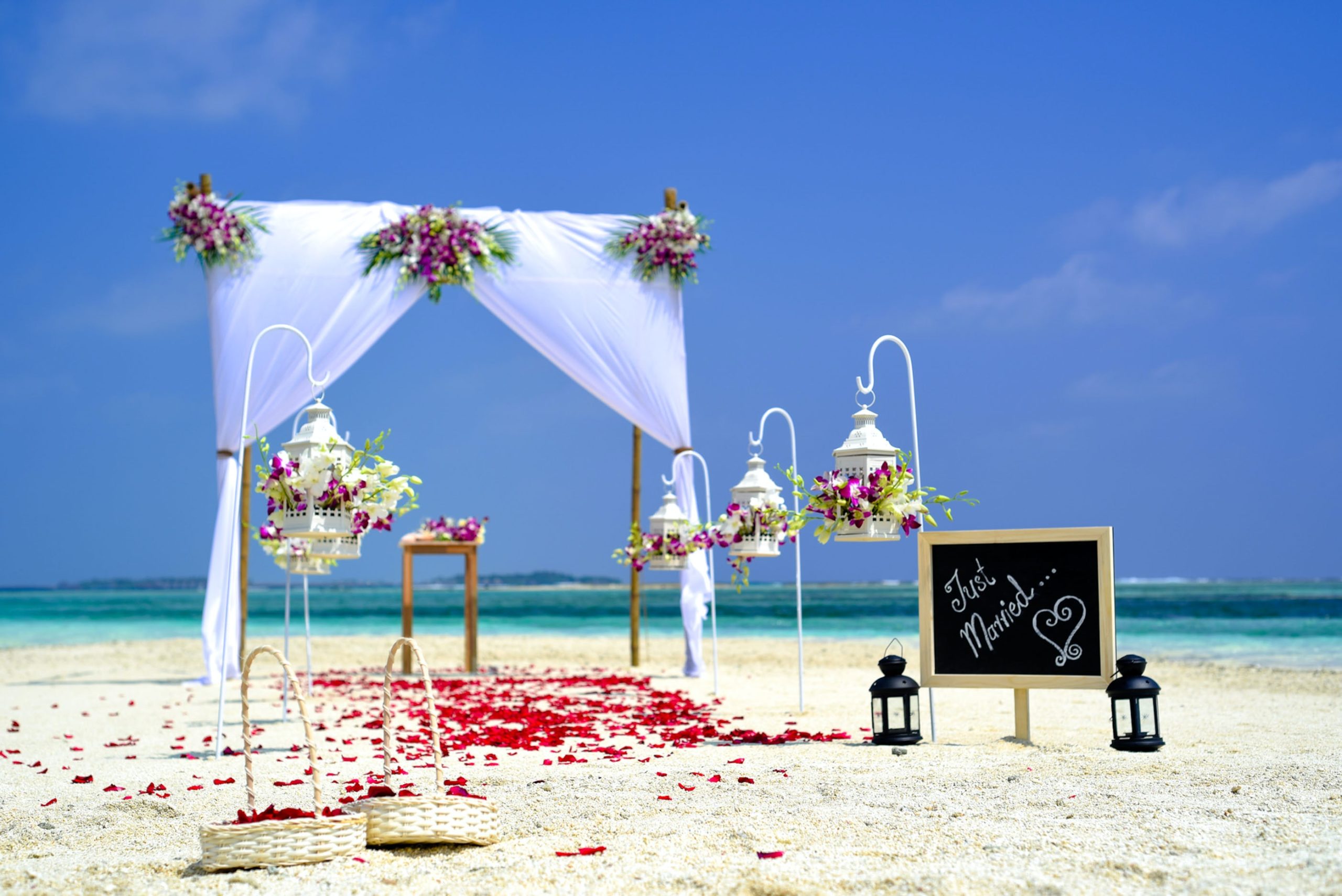 A wedding is one of the most memorable events in the life of a couple. Some people opt for a simple ceremony, but there are some who love to try something different. A destination wedding is one of the most popular trends that we all love right now. Here is an article with the best wedding locations to help you decide the best one for you. 
Weddings might seem like a great day but planning a wedding, choosing the wedding decor, opting for the perfect wedding photoshoot ideas, and most importantly, choosing the right wedding location is not an easy feat. When planning a destination wedding, you would obviously want to consult the professionals so that you can plan out a perfect wedding. In order to make sure that you end up choosing the right wedding place, we have made a list of the best places for destination weddings.
Best Destination Wedding Locations
The trend of destination weddings is continuously increasing, and it has led to an increase in the cost of weddings. The cost of an average wedding has increased consistently over the past few years (Source).
If you want your wedding to look like a fairytale, then here are some of the best destination wedding locations. Apart from being top destination wedding venues, these cities are also popular for their travel activities. These cities are complete packages of history, marketplace, attractions, and landscapes.
Rome
For centuries, travelers from across the globe have traveled to Rome to explore the city that has been beautifully transformed by the most significant figures and creative geniuses of history like Leonardo da Vinci, Raphael, and Julius Caesar. So why not create your own historical moment by escorting your future partner and guest to this timeless city.
Rome has stunning sights like Trevi Fountain, Colosseum, Spanish Steps, and beautiful destinations hiding around every corner, so a wedding in Rome will be incredible for sure.
Now you must be thinking, what is the best destination wedding venue in Rome? The answer to the questions is Hotel Hassler Roma. It is a 5-star hotel and is renowned for creating world-class weddings. The hotel has private salons and romantic gardens for wedding locations. It offers everything from jazz bands to string quarters to intriguing floral decorations, to hairstyling and makeup services. The hotel is perfect for ensuring that your special day is carefree, hassle-free, and flawless. 
Santorini
This one is a wedding location that matches seamlessly with the beautiful white dress of the bride. The Greek Island of Santorini is a perfect choice if you want your wedding to look like a fairytale. The island has breathtaking cliffs to whitewashed houses and beautiful cobalt roofs that match the endless expanse of the flamboyant ocean.
You can make your wedding memorable by hosting it on one of the island's volcanic sand beaches. Moreover, the fiery copper sunset will create an unforgettable wedding moment for you. If you want something different, then you can opt for the black sand beaches present on the East coast of the island or the red sand beaches in the South.
Provincial France
Provincial France is full of beautiful villages, fairytale fields of lavender fields, lush green hills, and fairytale cobblestone streets. These features make Provincial France the best destination wedding location in the world. Provence, Avignon, Burgundy, and Bordeaux are some of the popular options for your French wedding.
La Bastide de Gordes, which is present in one of the most beautiful villages of France, is the perfect choice for your destination wedding. This historic five-star hotel is built upon the ramparts of the 12th century. It offers mesmerizing views of the surrounding mountains and valleys. If you are a nature lover and want to be among nature at your wedding, then this is your dream destination wedding location.
Udaipur
Imagine getting married in royal palaces or majestic forts surrounded by lakes with glittering water. Sounds interesting? If yes, then Udaipur is the best destination wedding location for you; the city is one of the most popular places for weddings. The place is perfect for fulfilling your dream of getting married like a prince or princess in a royal manner.
The city is famous for palaces, lakes, and royalty making it a perfect choice. It has beautiful landscapes, forts, attractive marketplaces, and palaces. There are various venue options in Udaipur for destination weddings, but The Oberoi Udaivilas is all you want.
Host your destination wedding in the grandeur of this beautiful hotel. It has excellent architecture and is surrounded by a lake, which adds to the beauty of the destination wedding venue.
Fiji
If you are a beach person and love soft white sand and cascading crystal blue waves, then nothing could be better than hosting a tropical Fijian wedding. More than 3000 islands contribute to making this archipelago in the South Pacific. Fiji provides you the choice to choose the perfect island for your wedding day.
In this fascinating tropical oasis, there are vibrant coral reefs and palm trees that line the beaches. If you ane your partner dream of an exotic, intriguing, and beachside wedding, then you two will love Fiji.
For an exotic and luxurious destination wedding, you can opt for Laucala Resort Island. This island has around 25 villas spread across the diverse landscape. Your wedding party will get private and royal treatment. It is a perfect location for a magical experience.
Paris
The capital city of France, Paris, is the place with romance in the air. Paris has always been popular for love and romance, which makes it the best destination wedding location. For couples seeking a romantic location to host an unforgettable wedding, Paris is a perfect choice.
Paris has artistic and architectural wonders, Eiffel Tower, and lush gardens, which makes it easy to find the perfect place to host a wedding in this charming city.
Paris is a classic and timeless wedding backdrop, whether you are planning for a daylight ceremony or a classy night-event. You can opt for The Musee Rodin in Paris for your destination wedding. The museum has a sprawling garden that features an amazing collection of Auguste Rodin's art pieces. It also has an exclusive mansion with a banquet perfect for royalty.
Amalfi Coast
If your dream wedding includes sparkling turquoise waters, a sunny day, sheer cliffs with exotic flowers and vibrant lemons, then Amalfi Coast is a perfect location for you. This place is a playground for the famous and the rich and offers a perfect picturesque view from each and every angle. Whether you opt for Priano, Amalfi, Positano, or Capri, you will get an unforgettable experience for sure from the endless line of flamboyant islands.
In Amalfi, you can opt for Casa Angelina, which is a fishing village and a popular Italian vacation destination. It is a secluded Mediterranean Paradise which is popular for hosting magical destination weddings.
French Riviera
It is one of the most popular and finest modern resort destinations. In the 19th century, French Riviera was a royalty spot for a vacation. Later it became a place for artists like Henri Matisse and Pablo Picasso. At the present time, it is home to celebrities such as Brigitte Bardot and Elton John. If you are looking for the best destination wedding location with breathtaking cliffs, crystal clear blue water, and lush forests, then it is worth putting this destination at the top.
Rothchild Villa is the perfect venue if you are planning for a wedding in French Riviera. This wedding location will make your wedding dream a reality. It has three beautiful choices for the ceremony. First is a Grand Patio featuring beautiful pink Verona marble arches. The second option is the Oriental Dining Room featuring beautiful decor. Finally, there is an astonishing French GArden with palms, exotic agave bouquet, and Renaissance-style vases.
Sri Lanka
For a magical wedding surrounded by an astonishing kaleidoscope of vibrant colors, Sri Lanka is one of the top destination wedding locations. It is located in the Indian Ocean and has a diverse landscape that has something for everyone. From sunset bathed beaches to free-roaming elephants to timeless Buddhist Ruins, Sri Lanka has everything that will make your wedding magical.
For a small and intimate ceremony in Sri Lanka, you can opt for the Frangipani Tree. It is located on a secluded beach and has three villas. These villas host nine exclusive suites for a truly luxury experience.
Portugal
If your dream is to host a dream wedding, including fairytale castles, world-class seafood, and hidden beaches, then Portugal is the best destination wedding location for you. Portugal is located next door to Spain, and this beautiful country has something for everyone. From beautifully colored castles of Sintra to sparkling ocean coves of Lagos, Portugal is a perfect choice for a unique destination wedding.
In Portugal, Palacio do Freixo is the best place for a destination wedding. This 18th-century palace has a timeless charm with manicured gardens and decadent gilded rooms. Here you can say your vows while listening to the soothing cascading flow of the nearby river.
Final Words
Now that you know about the best destination wedding locations, it is time to start planning your wedding. For smooth and hassle-free planning, it would be better to consult the pros and hire professional wedding planners. Make sure to keep it to just family and friends as it will help you save and allow you to have an amazing experience with your close ones.