Best Dog Backpack For Hiking and Carrier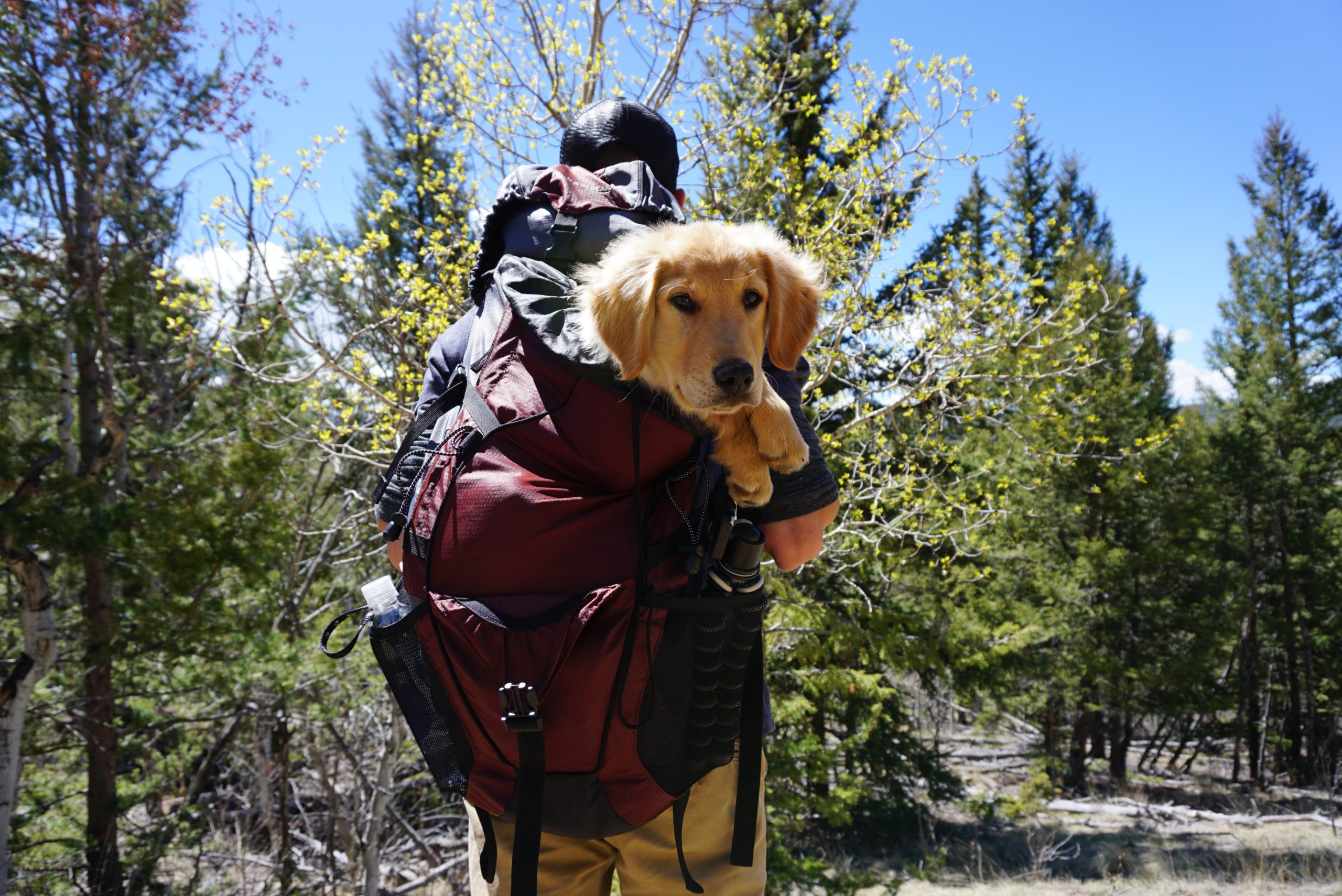 Hiking or going out with a canine can be rewarding but also tricky at times. Giving a dog backpack to a bigger dog is a great solution for long hiking trails, but when with a small dog, you will need a dog carrier backpack. 
Here are some of the best backpacks for dogs to wear during a hike and also great carrier backpacks for little puppies to be carried around.
Best Dog backpack Options:
Check out some of our best options for hiking dog backpacks and carrier backpacks.
PAWABOO Pet Carrier Backpack
The PAWABOO dog carrier backpack is a great stylish choice to roam around with your little pup. It's tail and legs out design is perfect for smaller breeds which lets the owner put on the carries easily. This dog carrier backpack is made of durable and breathable canvas and mesh material. The velcro, zipper, and elastic leg opening stretch is made for the comfort of your dog. It is available in 10 colors and is perfect for small puppies to keep them contained. The best part is this carrier backpack is budget-friendly and can be worn both front and back.
Ruffwear Approach Dog Pack
Ruffwear makes some of the best dog backpacks, and this one is no different. This everyday backpack comes with adjustable straps for a comfortable and secure fit. All thanks to the integrated dog backpack harness. If you are looking for a backpack for dogs to wear during a hike, then you cannot go wrong with this one.
It has lightweight and durable material, and you will not have to worry about abrasion when your puppy goes off racing into the underbrush after a chipmunk. We love this dog hiking backpack for its comfort and simplicity. Overall this is a great pick.
Ultimate Direction Dog Vest
Ultimate direction has the best ultralight backpack for dogs to wear during a hike. It is made of nylon ripstop, a body with stretch nylon mesh. The multipoint dog backpack harness system helps in customizing the fit to ensure maximum comfort.
Its large and expandable pockets hold accessories and food. The side-stash pocket helps in storing small items like waste bags. This dog hiking backpack will keep your puppy equipped on long trails.
Pet Gear I-G02 Roller Backpack
A great dog carrier backpack from Pet gear is I-G02. This single backpack can play several roles; it can be used as a car seat, tote, or rolling carrier. It is priced a little higher than other carrier backpacks, but its multi-use features make up for the extra cost. It can easily help to carry a 25-pound dog and is great for public transportation or trips. This carrier comes in four different sizes and six colors. This dog carrier backpack has a telescoping handle for easy pick and carry. The inner mat is removable, and it also features mesh wonder for air circulation.
Kurgo Baxter
Kurgo Baxter is a lightweight dog hiking backpack perfect for those trails. This has all the features your pooch may need during the hike. It features two adjustable straps that fit snugly across the chest. Baxter's lightweight backpack has two panniers with plenty of pockets and space to keep water, treats, and food for your dog. This dog backpack harness is lightly contoured and padded to fit it smoothly on your dog. The great thing about this backpack is the two attachment points for the leash, along with two loops at the top to pack the attaching gear.
Read More- Best Dog Hiking Backpack To Go On A Trip With Your Pooch
FAQ:
Are dog backpacks good for dogs?
A dog backpack helps to give your pup a sense of purpose. When a dog wears their bag, they know they will be helping in a tangible way which makes them behave happy and better. If your dog is aging, consider putting it in an empty backpack. They will feel as if they are helping you.
Do dog backpacks hurt dogs?
When the backpack is too small or too big, it can hurt your dog. If not hurt, it will surely make your dog feel uncomfortable. When buying a dog backpack, consider the weights and measurements around the deepest chest area to find the right size and fit.
What are the best backpacks for dogs?
Ruffwear Approach
OneTigris Hiking Backpack.
Kurgo Baxter Saddlebag
Outward Hound Daypack
Lifeunion Saddle Bag
Mountainsmith K-9
Does PetSmart sell dog backpacks?
Yes
Do backpacks calm dogs?
At times, a backpack can have a calming effect on dogs. When they wear a backpack, they will start acting responsible, which will help to keep them calm.
Can I put my dog in a bag?
While your dog may love to be carried around in the bag, it is not a good idea to spend all day in a bag. You can carry your dogs in winters, especially the smaller breeds, because they cannot withstand winters. Carrying them in a warm bag is a good idea.
Can I put my dog in my purse?
If you have a small dog, you can put them in a purse. Use a purse that is big enough to accommodate the dog without any problem. Take a purse with multiple pockets on the outside because you can carry important things inside like your keys, wallet, and pet supplies. Also, a purse with a large central pocket works great.
Is it bad to carry small dogs?
Carrying small dogs can put stress on their lumbar spine. If you need to carry your dog make sure to create a foundation with arms that supports their legs and back so they are put in a natural lying or sitting position.