Best Dog Camping Bed for A Happy Pooch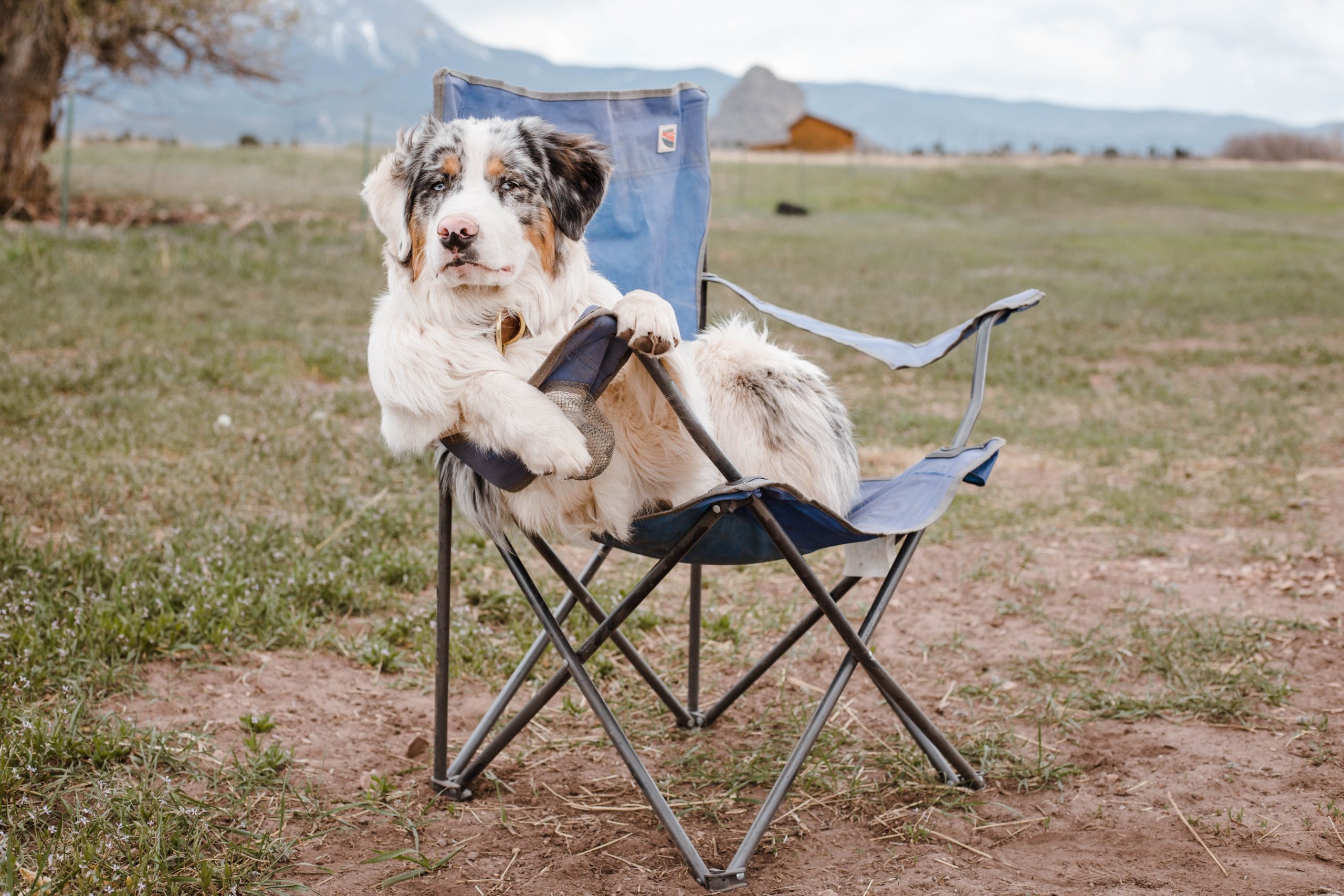 Taking your dog camping with you is the best way to bond with them and get an escape from the hustle-bustle of daily life. Just like you prefer sleeping on a soft bed, so does your dog. Whether at home or camping, finding the right dog bed is important for a good trip. If you are in search of the best dog camping bed, we have got you covered.
We have mentioned our top five picks of the best camping dog beds, along with factors that you need to consider before making your purchase.
Best Dog Camping Bed for your Pooch
There are so many options to pick from when it comes to travel dog beds; here are our top favorite outdoor dog beds for when you decide to travel with your pooch.
CHUCK-IT TRAVEL BED- CANINE HARDWARE
This is the lowest-priced dog bed on this list, made of rubber and microfiber with criss-cross textures on both sides to provide a comfy and cozy space for your bud. Your dog will drift off to dreamland as soon as it relaxes on the cozy suede texture of this transportable bed.
Sized at 30 by 39 inches, this bed can easily accommodate medium to large dogs. This dog camping bed is made with materials similar to bed sheets or sleeping bags, which can be washed in washing machines after your camping trip.
It has a quilted pattern which eases the washing process as the stuffing stays evenly spread throughout the bed. Chuck-It, travel bed is designed specifically for travel and comes with a nylon bag for easy transporting and stowing.
Pros: dogs love the softness of this bed and would like to use it even when the trip is over at home or in the car. It is lightweight and comes with a travel bag, making it ideal for carrying along on the trip for a fun-filled adventure.
Cons: dogs can easily destroy the bed while playing and may mistake the texture for a stuffed toy. This is why some dogs might enjoy destroying the bed beyond repair and tearing it apart.
ELEVATED FOLDING PET BED- CARLSON PET PRODUCTS
This foldable outdoor travel dog bed is another favorite pick at a very affordable price. Also, it is the only elevated dog camping bed option in this post.
The bed has legs more than half a foot above the ground, and given that, it provides relief for dogs that have joint issues or arthritis and cannot sleep close to the floor comfortably.
Carlson elevated dog can hold upto 95 pounds and is sized at 46.5 inches by 2 feet, easily house a large dog. This bed is bigger for small dogs. The design is suitable for camping as it folds into a lawn chair and can be stuffed into the travel case.
Pros: this elevated dog bed is available at a low cost. So if your pet suffers from joint problems or does not like sleeping on hard floors, then this bed will provide relief. The foldable design makes it easy to travel with and eliminates the problem associated with an assembly.
Cons: the top part of the bed does not have padding, so you might like to consider using an extra blanket or padding on top to offer more comfort to the dog.
WANDER DOG BED FOR TRAVEL- KURGO LOFT
The best mid-priced dog camping bed from Kurgo loft is made of waterproof material, which is perfect for rugged outdoors. The bed is available in both medium and large sizes to fit all size dogs and comes in two colors, red and brown.
Your dog will love the soft filling and smooth texture of this bed, and owners will enjoy the easy to clean and durable features.
The top part of the outdoor dog bed is made of Microtomic anti-rip material, and the bottom is made with Ruff Tex to minimize slipping. Both these materials are waterproof and durable and can stand the messiest of adventures.
The best part is that you can roll up the bed in a sleeping bag-like shape for easy travel and can get the full benefit of its lifetime warranty.
Pros: the waterproof material will keep your dog warm and dry, and the cleaning is as easy as a breeze using a washing machine. You can quickly squish it up for easy storage, and it holds nicely even when the floor is wet, keeping your dog dry.
Cons: some customers complained that the bed could be softer and more cushioned as padding is lighter. Also, it may not be the best choice for arthritic or senior dogs who need multiple-layer support foam to comfortably sleep in.
Read more- How Much Do Dogs Sleep?
SELF INFLATING TRAVEL DOG BED- LIGHTSPEED OUTDOOR
This another great waterproof dog camping bed available at a mid-price range is a must-have on our list. It features some unique technology like being inflated with air by simply twisting a knob. This whole process makes it very easy to set up your bud's camping setup in a minute.
The top of this bed features a comforting fleece and takes care of your dog's comfort and your convenience. You can deflate this bag to roll up for compact traveling, and it also comes with convenient straps, which makes it easy to carry along.
This bag can be machine washed as it is durable to protect the inflatable mattress. The best thing is this is not only water-resistant but also puncture-proof. This travel dog bed comes with a one-year warranty, so you can exchange it if things go wrong.
Pros: owners and dogs both love this dog. The pup enjoys the spacious size and fleece top while owners love how durable and premium the dog bed is.
Cons: some owners complain that the automatic inflating feature can get tricky sometimes and may need human air to inflate fully.
HIGHLANDS DOG SLEEPING BAG – RUFFWEAR
If you are searching for a travel dog bed on the higher price end, then you should definitely check out the Ruffwear sleeping bag for dogs. It has a unique design that provides great comfort to canines.
It is designed like a human sleeping bag so the dog can snuggle under the warmth of a comforting insulated interior. The bed zips around the dog like a human sleeping bag to keep it warm during cool nights.
The water-resistant polyester exterior will keep dampness and dust away. Also, the bag is equipped with hoops that can be hung to dry the bag faster. This bag is machine washable and easy to travel with.
Pros: Customers find that dogs stay cozy and warm during cold temperatures. The bed is made of high-quality material and lasts for a long time.
Cons: the bed is available in only one size and may not suit dogs of all sizes. Dogs who love to stretch out when sleeping may find those sleeping bags constricted.
Read More- Do Whippets Make Good House Pets?
Things To Keep In Mind When Choosing a Dog Camping Bed?
Selecting the right dog bed for your camping trip depends on both your and the dog's needs.
While there are many types of outdoor dog beds available, here are some consideration points that you need to review when selecting a dog camping bed.
Type of Camping
You need to consider your backpacking or traveling needs to pick the right dog bed. Are you going to travel in a car or go backpacking? Will the weather be rainy or cold? Is it like normal summer camping?
If you are in search of a sturdy dog bed, look at the first three options on the list. Also, you can check out the waterproof options for the winter months to keep the pooch warm.
Size of the Bed
You need to pick the size of the bed carefully to suit the size of your dog.
Your Budget
Budget is another important factor that influences buying. You need to [ick teh best camping bed option in your budget, which is durable has great features. The first two options of the list are some of teh best picks.
Can It Be Cleaned
Your dog will get dirty during the trip, which means the bed will get dirty too. Some dog beds are easy to wash and can be washed using a washing machine at home. There Are some dog beds that can be wiped down using a spray hose to clean all the dirt from the campsite. You need to consider different options.
Durability
Camping beds are made of many types of materials which can influence the durability of the bed. If you go on frequent camping trips, then you might want to invest in a durable dog camping bed.
Your bed should be waterproof and tear-proof to ensure even the naughtiest Lab cannot damage the bed.
Packing/ Storing
Limitation of space can affect the choice of the dog bed. Check the bed dimensions carefully and ensure that you have the desired space to keep it. Many travel dog beds are compatible and can be folded or rolled up for extra convenience.
Elevation
For us, camping trips involve rough sleeping on the hard cold ground. However, dogs with arthritis or other joint issues may experience serious pain by sleeping on a hard surface.
Having an elevated bed provides an excellent alternative to a standard bed and relieves all the problems of a senior dog. Fortunately, there are plenty of options in the market that can be elevated and collapse to pack.
Temperature
The weather condition and time of the year during camping also affects the choice of the dog bed. If you are going camping in cold weather, consider buying a bed with a covering that acts as a sleeping bag for dogs.
This will keep your puppy warm all night.
Read More- Best Pet Insurance Companies For Dogs and Cats
Final Words:
There are so many options to choose from when it comes to dog beds. However, a dog camping bed is different from an indoor sleeping bed for a pet. You need to consider many different factors before making your purchase.
The options listed in the list are some of our favorite picks of outdoor dog beds. Make sure to go through the list, and don't forget to leave a comment below if you find the right bed for your puppy.