Hawaii Tourism – Best Places to Visit in Hawaii for Endless Fun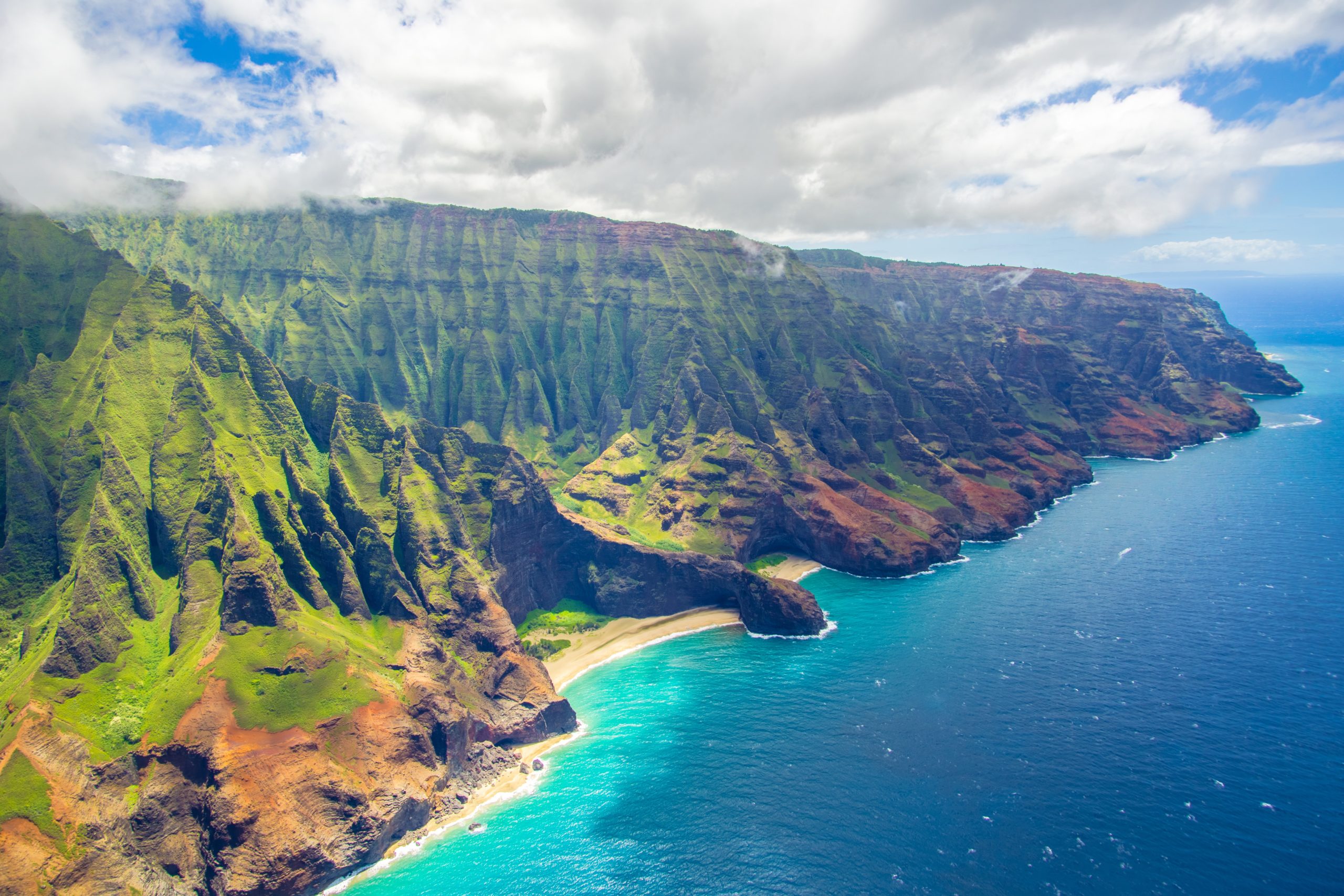 The tropical climate, Pacific islands, and white sand beaches are some of the major attractions of Hawaii tourism, which makes the state special. Hawaii is a collection of beautiful eight islands that are situated at the heart of the Pacific ocean. The place offers various attractions and cultural highlights, which will allow you to have a vacation full of fun and entertainment. 
The islands of Hawaii have beautiful and diverse landscapes, including volcanic mountaintops, white sand beaches, and lush green forests full of waterfalls, green forests, and beautiful animals. If you are planning to visit Hawaii, then here are some of the best places to visit in Hawaii.
Best Places of Hawaii Tourism You Must Visit
If you are a beach lover, then Hawaii is a haven for you. This beautiful place has a plethora of wildlife and ocean life. Moreover, it provides you opportunities to scuba dive, surf, snorkel, or simply sunbathe and swim. Hawaii is a perfect place for vacation. Whether you love beaches, mountains, forests, or wilderness, Hawaii has got everything for you. Continue reading articles to find out the best places for Hawaii tourism.
Volcanoes National Park
It is one of the most attractive destinations of Hawaii tourism. It is located on Big Island and offers a unique close look to a splendid active volcano. The centerpiece of the park is Kilauea and has been active recently as of 2018. Visitors need to be aware that this part is often closed during times of seismic activities, which might pose a threat.
At this place, the active volcano spews lava from fissures present in the earth. The landscape surrounding the volcano system is shaped by cooled lava rock, both new and old. When the volcanoes are most active, the tourists get the chance of experiencing the thrill of seeing seismic activating, seeing pillars of ash escaping into the air, and hearing booms of different gas emissions. Some popular tourist attractions of this Hawaii tourism spot include Thurston Lava Tube, Devastation Trail, and Jagger Museum.
Haleakala National Park
This national park is located in Maui. It renders access to inactive Haleakala volcano and stands at the height of over 10,000 feet. The views from the summit are spread across the complete island, and it looks highly beautiful during sunrise.
The dormant center shows a beautiful lunar-like landscape, whereas other areas of this park have subtropical rainforests. This amazing national park is home to a wide range of endangered species. If you like hiking, then here are various hiking trails to explore. You can either go hiking alone or sign-up for guided tours. If you want something more adventurous, then you can spend a complete night in the park between the most beautiful landscapes. 
Hanauma Bay Nature Preserve
This beautiful beach on Oahu island is present within the crater of the volcano. It is a beautiful and unique protected bay that is highly popular for snorkeling. Overuse caused a lot of damage and pollution at this place. Moreover, it damaged the delicate riff system of this place. After various restoration efforts, the bay has been restored to its original splendor. Now it is open for visitors.
There is also a Hanauma Bay Education center, which allows people to learn about the bay. In addition to this, there are various snorkeling shops that provide lessons so that visitors can explore the beautiful reef system.
USS Arizona Memorial at Pearl Harbor
It is one of the most important parts of Hawaii tourism. In addition to this, it is an amazing place to visit in Hawaii. Pearl Harbor is a historic landmark and is also an active military base. It got its place in history due to the 1941 Pearl Harbor attack. The attack killed around 1,177 servicemen of the USS Arizona.
At present, the site is home to various attractions that were an integral part of World War II Valor. You do not have to pay to visit this place. However, it is better to make reservations as the place is highly popular. Other popular attractions include USS Utah, Battleship USS Missouri, and USS Oklahoma.
Waikiki Beach
Waikiki is the biggest tourist attraction of Hawaii tourism. It has a beautiful oceanfront beach. This place is famous for its big resorts, entertainment, dining, and shopping. In addition to this, there is the Waikiki Historic Trail, which comprises historical markers that are made of surfboards. It is inspired by Duke Kahanamoku (avid surfer and gold medalist swimmer) of Waikiki.
Another popular place of Waikiki is a boardwalk, which includes entertainment venues and cafes. You can also find various boutiques and restaurants, which makes it more fun and entertaining. Waikiki beach is a perfect place for surfing, snorkeling, boogie boarding, canoe paddling, sand combing, and sunbathing.
Na Pali Coast State Park
This state park is a popular part of Hawaii tourism destination. It is located on Kauai island and includes some of the most popular and dramatic landscapes. This place gained remarkable popularity from the movie Jurassic Park that shows a mesmerizing coastline with cliffs. 
At the place, hundreds of waterfalls sweep from the mountains, which makes it one of the best places to visit in Hawaii. The best ways to enjoy the scenes are to take a helicopter tour or by water to enjoy some breathtaking views. If you love hiking and you are an expert in it, then you can try exploring the Kalalau trail. It is an eleven-mile trek that includes five valleys and mesmerizing views.
Read More – Most Haunted Places in the World
Waimea Canyon State Park
Waimea is situated in the west part of Kauai. It is also known as the "Grand Canyon of the Pacific." This beautiful canyon is spread over ten-miles long and stretches a depth of around 3,600 feet. In addition to this, it is a mile wide at some places.
You view this beautiful spectacle from two main points, Puu Hina Hina and Puu Ka Pele. This beautiful landscape features rock strata in different colors and various stunning waterfalls. You get guided tours along various hiking trails. Moreover, you can also enjoy rafting tours at this place, which includes exploring various rivers. You can also enjoy camping at this place in order to enjoy the mesmerizing sunrise.
Hana Road
Hana road, also known as Hana highway, is a beautiful and scenic stretch of highway present on Maui's island. It stretches from Paia through the lush green forests and along the beautiful coast and finally leads to the town of Hana. 
It is a popular part of Hawaii tourism, and it is worth both sightseeing and a long drive. Some popular attractions along this way include hiking trails, scenic overlooks, waterfalls, and beaches. The location of Hana is a cut off from the other parts of the island. Due to this, the town has a more traditional Hawaiian culture as compared to the other towns.
Hamakua Heritage Corridor
This beautiful and scenic drive present along the Hamakua Coast begins from Hilo and leads to Waipio Valley lookout present on the Big Island. Trust me; it is one of the best places to go in Hawaii. It includes various lush green landscapes and Big Island attractions, which makes it perfect for sightseeing.
If you want to enjoy sightseeing, then you can take an Onomea Scenic drive from Hilo and past Onomea Bay and the beautiful Hawaii Tropical Garden. The garden houses around 2,000 species of amazing tropical plants. The route continues to Akaka Falls. Kahuna Walls and the World Botanical Gardens.
Other popular attractions along the way include Kalopa State Recreation Area, town Honokaa, and Laupahoehoe Point. The drive finally ends at the Waipio Valley Lookout, which was home to King Kamehameha.
Waipio Valley Lookout
One of the best places to visit in Hawaii with the most scenic spots in Waipio Valley. It is present on the big island and is surrounded by cliff walls, and it faces the ocean. One best thing about this place is that the black sand beach meets the blue water and white waves, which creates a mesmerizing view. 
If you want to go hiking, then trust me, it is the best place and has various trails that are suitable for beginners. In order to enjoy extra special experiences, you get horseback riding tours of the valley, which will allow you to enjoy different sights.
Mauna Kea
It is the highest mountain in Hawaii and is home to a tropical paradise. This summit is often cold and covered with snow during the winter months. It is an active research facility that allows tourists during the daytime. 
Only expert hikers should try to climb to the summit. It includes a six-mile trail that rises to an amazing altitude of around 13,800 feet. In the evening you can enjoy stargazing programs which are organized at the visitor centers.
Final Words
Hawaii is a paradise for nature lovers. Whether you love beaches, forests, hiking, or water sports, Hawaii has everything you love. Some popular sports of Hawaii tourism include Hana road, Waipio Valley, Haleakala National Park, and volcanoes national park. So plan your next vacation to Hawaii for a unique experience. Do share your feedback with us by dropping a comment.