Healthy Seaweed Recipes To Try At Home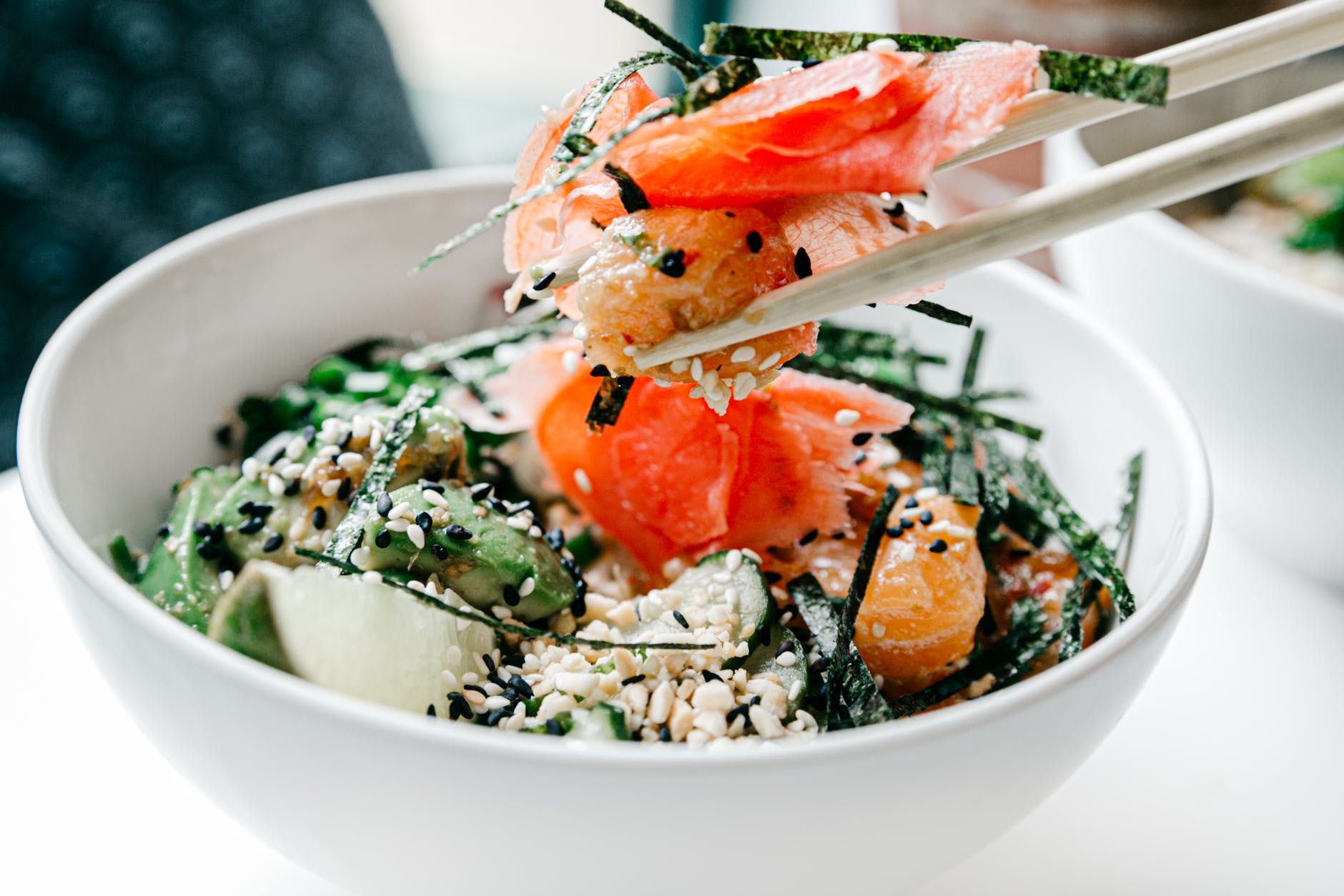 Seaweed is having a moment in the fitness and food world right now. You can see it in the ingredients list everywhere. If you are also looking forward to trying some seaweed recipes, then we have got your back.
Seaweed is low in calories and fat content but high in nutrients like Vitamin A, B, C, E, C, K, calcium, selenium, iron, and iodine. It is also loaded with fiber and there are many amazing health benefits of seaweed making it a favorite food among fitness enthusiasts.
There are more than 30 different types of seaweed, including kelp, nori, and dulse. Seaweeds are a staple in sushi, but in this article, we have mentioned different recipes ranging from seaweed salad recipes to snacks and soup.
Take a little inspiration and get to cooking!
Shrimp & Seaweed Burgers
What about delicious seaweed snacks? We all love shrimp toast, so why not switch up things a little and make shrimp burgers with wakame slaw. This burger is filled with bright flavors, fresh herbs, and topped with seaweed salad and sriracha. You will get addicted to this combination.
Ingredients:
For 4 Burgers
1 1/2 tablespoons finely chopped basil
1 1/2 tablespoons fish sauce
one inch lemongrass stalk
1 1/2 tablespoons finely chopped cilantro
one inch of fresh ginger, peeled
Three tablespoons shallots, finely chopped
large pinch salt and pepper
2 cloves garlic
2 teaspoons vegetable oil
1 1/2 pounds of large shrimp roughly chopped
1/2 tablespoon of cornstarch
4 burger buns
1/4 cup mayonnaise
sriracha
wakame salad
toasted sesame seeds
Directions:
Toss all the ingredients into a food processor (except shrimp and corn starch). Pulse until everything is nicely chopped and integrated.
Now add cornstarch and shrimp and pulse again. Don't turn on the food processor fully. 5-10 pulses will be good enough.
Make shrimp mixture into patties of ¾ inch thickness and keep them aside on a wax paper sheet.
Take a large saucepan and coat them heavily with oil. Put it on medium heat and cook the patties for 5-6 minutes until fully done.
When serving, combine sriracha and mayo. Spread this mixture on the inside of the buns and add shrimp burgers topped with wakame salad and sesame seeds.
Bulgur Roasted Seaweed Hand Rolls Recipes
Want to have fun with some sushi made with seaweed? If yes, then this is one of the must-try seaweed sushi roll recipes. These rolls will add a delicious wheat flavor and chew as compared to normal dishes.
Ingredients:-
2 cups of water
1 cup bulgur
1/2 teaspoon kosher or sea salt
2 tablespoons rice vinegar
1/2 teaspoon sugar
1/2 teaspoon sesame seed oil
Nori sheets (roasted seaweed), cut in half
1 medium carrot, shredded (about 1 cup)
1 medium cucumber, seeded and cut into thin strips
Directions
Take a medium-sized saucepan and add water. Bring the water to a boil. Now add salt and bulgur. Remove the pan from heat and keep it aside to cool down for 20-25 minutes to make the bulgur tender. Drain excess water and cool it down.
Add sugar, vinegar, and sesame seed oil into the saucepan with bulgur.
Scoop out 2 tbsp—bulgur into the middle of the nori sheet. Now lay cucumber and carrots on top. Fold the nori sheet corners gently towards the center, rolling into a cone shape.
Serve them fresh!
Korean Sushi Rolls with Walnut-Edamame Crumble
If you are looking for some delicious sushi incorporated with seaweed recipes and somehow stumbled here, then my friend, you are lucky. The David Chang inspired seaweed snacks and rolls are the best things you can ever put into your mouth. Try these heartwarming walnut and edamame filling sushi seaweed rolls.
Ingredients
2 cups sushi rice, rinsed well
2 cups of water
1 tablespoon canola oil
2 cups coarsely chopped walnuts
1 cup shelled edamame (4 ounces)
3 tablespoons molasses
1 1/2 tablespoons soy sauce, plus more for serving
1 tablespoon toasted sesame seeds
10 sheets of nori
20 shiso leaves
10 nori-length pieces of pickled daikon or 2 large carrots, cut into thin 2-inch-long matchsticks
Directions
Take a medium sized saucepan to cook rice for 15 minutes on low heat and cover it with a lid. Once the rice absorbs all the water, remove it from heat and keep it aside for 10 minutes. Scrape some rice into a bowl and cover it using a clean kitchen towel for about 30 minutes.
Meanwhile, heat oil in a medium-size non-stick skillet. Once the oil is hot enough, add walnuts and cook for 3 minutes. Then add molasses, edamame, and 1 ½ tbsp. Soy sauce and cook over medium-high flame for 5 minutes, while stirring occasionally. Add in some sesame seeds. Once done, transfer the mixture to a bowl and keep it aside until it cools down.
It's time to set 1 nori sheet on a bamboo sushi mat. Moisten your hands lightly and pat ⅔ cups of sushi rice on the nori in a rectangle shape covering the lower ⅔ part of the steep and make it ⅓ inch thick.
Crush 2 rice grains at the corner of the sheet to glue. Arrange about 2 shiso leaves on top of the rice. Arrange 2tbsp carrots, daikon, and 2tbsp walnuts edamame mixture in the middle on shiso.
List the ends of the bamboo mat close to you and press to tuck in the fillings inside the rolls. Form a total of 10 rolls this way and cut them into small pieces.
Serve them with soy sauce.
Crispy Udon Noodles with Nori Salt
You might have tried various seaweed soup recipes but not like this one. This seaweed soup is inspired by snacks served in Japan. You will love the extra crunch that the noodles add.
Ingredients
4 ounces dried udon noodles
Vegetable oil, for tossing and frying
1 sheet nori
1 tablespoon kosher salt
Directions
Boil water in a medium saucepan and cook udon noodles for 4 minutes until they are al dente. Drain the noodles and transfer to a medium bowl. Toss the noodles gently with vegetable oil to prevent them from sticking.
Use metal tongs to hold the nori over an open flame and toast them nicely until they are crisp and dark for 5 seconds on each side. Let them cool down and transfer the noodles to a spice grinder. Add some salt to taste and grind to make powder.
Take 4 udon noodle strands and tie them into a loose knot carefully at the end. Repeat this process with the remaining noodles.
Take a large skillet and heat 1/4th vegetable oil until shimmering. Fry 4 bundles of noodles over high heat, spreading out until they are crisp and golden. Transfer the bundle to a paper towel to drain excess oil
. Dust with some nori salt and serve hot!
Green Sushi Seaweed Salad
Want to learn how to make delicious and healthy seaweed salad? Then try this seaweed salad recipe. They are made with brown rice, marinated tofu, chopped vegetables, and seaweed sushi. Sesame oil and seaweed together give this salad sushi-like feel. This seaweed salad is the only thing you need in your life!
Ingredients
Marinated tofu
Brown rice
1 spring onion, thinly sliced
2 avocado, cut into cubes
1/2 cucumber, cut into sticks
1 large broccoli, broken into 1-inch pieces
1 handful sugar snap peas, divided in half
12 mushrooms (shiitake or whatever you prefer), cut in quarters
1 handful bean sprouts
1 handful roasted sesame seeds
8 sheets nori seaweed, cut into 2×2-inch squares
1 handful cilantro
Serve with: wasabi & soy sauce
Directions:
Blanch broccoli and divide rice into 4 different bowls, top it with fresh vegetables.
Drizzle tofu marinade over salad and top it with cilantro and sesame seeds over the salad.
Serve the freshly made salad with soy sauce and wasabi.
Marinated Tofu
300 g tofu
5 tbsp sesame oil
5 tbsp soy sauce
2 tbsp rice vinegar
1 clove garlic
1/2 red chili
2-inch (6 cm) fresh ginger, peeled and minced
Drain the tofu to get rid of excess water by padding with a towel and Cut into 1 inch cubes. Mix all the ingredients in a bowl and add tofu. Cover the tofu with the marinade and put it aside in the fridge for 1-2 hours.
Brown Rice
organic brown rice (for 4 persons)
2 tbsp rice vinegar
1 tbsp sesame oil
a couple of cilantro leaves, roughly chopped
Boil rice using the instructions mentioned on the package. Once the rice is cooked, add sesame oil, rice vinegar, and cilantro and mix in.
Green soup with nori granola
If you are craving nori seaweed snacks, then seaweed soup recipes like these will come in handy. Syrup, sea salt crystals, lemon zest, roasted seaweed, and peppers together make such a flavorful combination that you will develop an addiction to it slowly.
Ingredients:
Neutral tasting oil
1 flame
800 ml vegetable broth
1 garlic clove, mince
1 broccoli (about 500 g)
300 ml frozen peas
2 tbsp rice
2 ts wasabi paste (or to taste) + 1 tbsp water
freshly ground black pepper
juice of ½ lemon
(salt, as needed)
Directions
Cut the leek in half lengthwise and rinse thoroughly. Slice the flame to make the moon's half. Separate florets of broccoli from the stem and chop them into small pieces. Mince garlic.
Take a saucepot and heat a little amount of oil. Put leek slices and saute them over medium heat for up to 10 minutes. Now it's time to add garlic and keep frying for about 1 minute.
Add rice, vegetable broth, broccoli stems to the pot and cook for about 15 minutes until the rice is cooked. Put some peas, broccoli florets and cook for 5 more minutes. Pour the soup along with an immersion blender.
Make a paste of wasabi and water. Now season the soup with lemon juice, wasabi liquid, and pepper.
When serving, preheat the soup and garnish with nori granola.