How To Live Alone? Tips To Not Feel Alone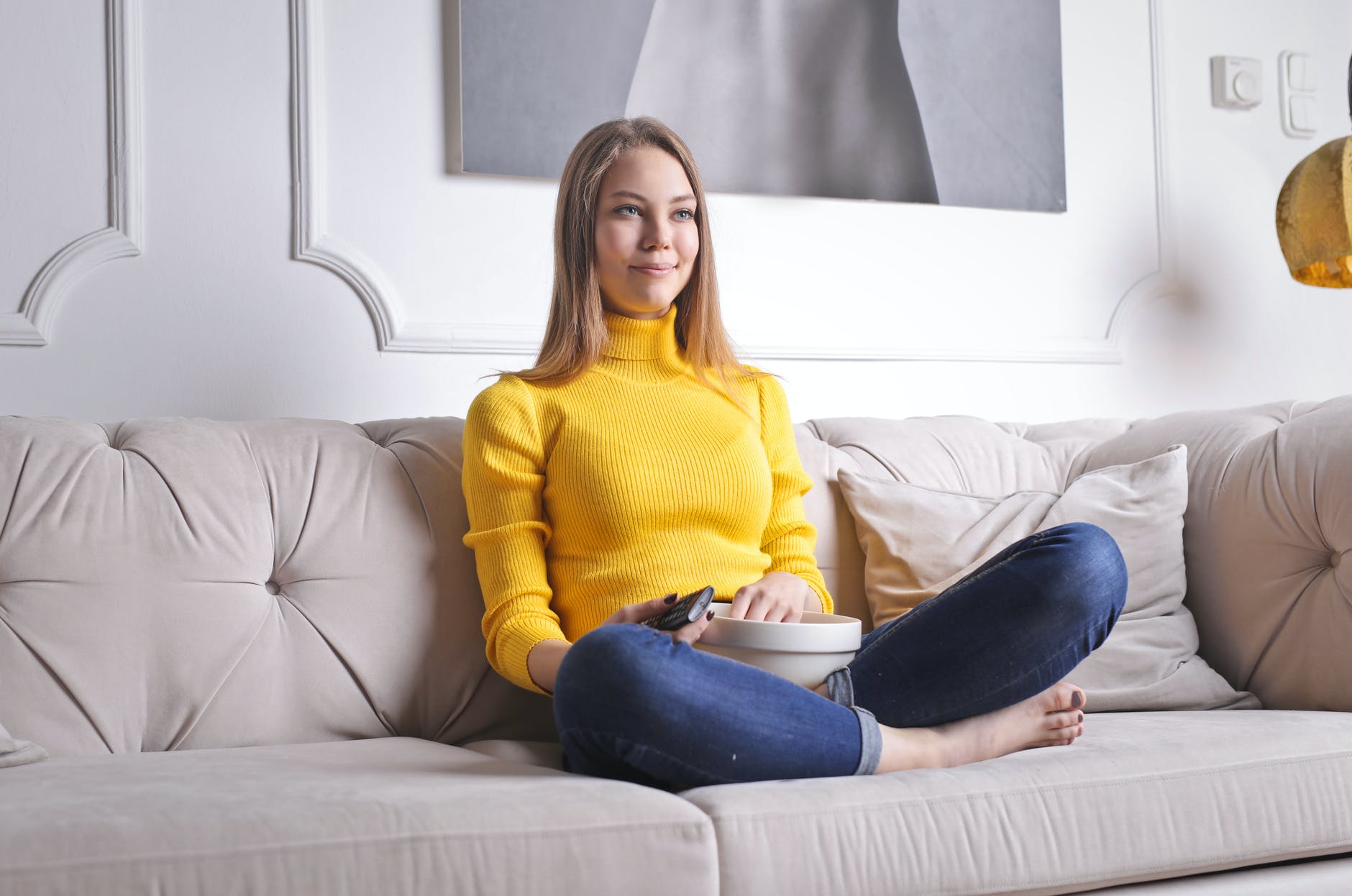 Are you setting up your house to live alone for the first time? Do you wonder how to live alone and not feel lonely? Then, my friends, you have come to the right place.
Eating jam right out of the jar, watching anything you want on Hulu, taking the entire space on the bed, there is so much to love about living alone. But the feeling of loneliness can hit you from time to time.
No matter what you are feeling, there is a way to live alone, without feeling lonely. Here are some of the tips that can help you embrace the newfound solitude.
Get to know yourself better.
Living alone will give you the apple of time to work on a relationship with yourself, which is the most important of all the relationships in your life.
We grow up spending time in the company of other people, like friends, siblings, parents, cousins, etc. All this while we focus on building a strong relationship with other people, and we put ourselves in the backseat.
When you decide to live alone, you can set on a journey to self-love and self-exploration. The most common things to do when home alone are watching Netflix, cooking food, or indulging in self-pampering sessions. There is nothing wrong with doing this, however every now and then, you need to take out some time to understand yourself.
If you just ended a relationship or left home, exploring personal values and future goals will help you identify yourself and the path you want to follow. A great self-sense can help you identify what you need and want from your relationships with others.
Read More- Best Monthly Vegan Subscription Box To Gift Yourself
Strengthen your relationships
Living alone does not only stop at soul searching; you can also take out time to examine your relations and identify the ones that are not doing good for your well-being.
For instance, your roommate's friend became your friend, but you are not close to any of them, or you have been spending the most time with your partner. You feel guilty about the gap created between you and your friends.
If this is the case with you, you need to take out some time to pick positive and negative relationships and sleep the ones that add value to your life. When going forward in life, you will prioritize the important connections forever.
Even if you are bored at home alone, you should not spend time with people who make you feel unhappy. Instead, you should focus on investing time in meaningful relationships.
Identify when you feel most lonely.
Yes, no matter how much we enjoy living alone, there are times when we can feel lonely. These feelings usually come up on those days when you associate with seeding people.
For instance, if you and your roommate come home from work at the same time, entering an empty house can feel lonely. If you have recently ended a relationship, craving intimacy and snuggling next to your partner can make you feel lonely.
So How do you not feel lonely? Fortunately, when you know where this loneliness comes from, you can manage it better.
If you are a morning person and miss having breakfast conversation, then plan a brunch date with your friends. When you feel empty and quiet in the evenings, turn on some music and make yourself a nice dinner.
Get a pet
Living alone can make you crave company. Then why not get yourself a furry companion? If you have always longed for a pet, but could not get one, now is the chance. When you decide to live alone, you do not have to worry whether your roommate is afraid of animals or your siblings have allergies.
Having a pet at home will make sure you never walk into an empty home. Pets offer physical comfort as well as keep you entertained. Do you always fall behind your schedule? Having a pet will keep you on track as they require regular care and feeding. If you forget to go on a run, get a dog, and you will have to walk it.
Do dogs or cats seem like a lot of work? Then get a fish, or bird, a small mammal, whatever you like. These may not be very sociable but can make great low maintenance pets.
With a pet, you will always have some of the other things to do when home alone.
Connect with your community
Loneliness doesn't always hit you when you imagine. According to research, people who live alone spend more time in their community and friends than people who are married. There are many people who, despite being married, feel lonely. (source)
This means that you might feel less lonely when you are living alone. The key to do that is by staying connected to the community, and how can you do that?
Check out community shelters, schools, and libraries to do volunteering.
Participate in various community events like sidewalk sales, marches, and barbecues.
Get to know your neighbors who share similar interests as you.
Add some structure
Wondering how to successfully live alone? Following a fixed schedule can help to boost your motivation and purpose, thereby improving your well-being. Routines are a great stress fixer and the best way to not feel lonely. Make regular plans with your loved ones and friends to keep yourself distracted from unwanted feelings and keep anxiety at bay.
However, do not pack your entire day with schedules. Overbooking yourself can drain you mentally; this is why it is important to keep appreciating yourself mindfully and do the things you enjoy.
Here are some tips to follow when making a schedule.
Schedule time for house errands, cleaning, and other chores every week so that they do not build up in the end.
Try to sleep and wake up around the same time every day.
Keep time for hobbies and relaxation.
Last but not least, while a routine is good for you, you do not necessarily need to have a routine for every minute of the day. Leave some room for spontaneous plans; it has its own benefits.
Try new things
When you are bored at home alone, it's the best time to explore new interests and indulge in self-discovery. Experimenting with new things is not easy with people around. You may get nervous trying out new things in front of roommates, family members, or your spouse.
Did you learn to play guitar and have lost practice? Have you wanted to learn dancing? It's time to do it. A life without a trial and failure is always limited.
When we break out of our typical patterns to expand the perspectives, it helps us grow and connect with new people. The time when there is no one watching you, you can challenge yourself to explore new things you always wanted to try, like DIY projects, crafts, cooking, physical activities, or listening to new music and trying new movies.
You can watch how-to-blogs or video tutorials to determine whether you are interested in trying something before you end up investing your cash.
Read More- These Are Some Healthy Salty Snacks To Munch
Create a place that feels like you
While interior design cannot make you feel less lonely when you live alone, it can create a complete space and radiate positivity. This way you will feel more comfortable living alone.
Feeling disoriented and unsettled in a new place is common. However, when you make efforts to make the place feel like your home, you will be able to create a sanctuary where you would love to return at the end of the day.
You can check out garage sales, thrift stores to find unique pieces; when choosing your bedding and linens, pick colors that catch your eye and make you feel calm. Arrange the furniture the way you want and display your favorite art.
You can add a few plants outdoors and indoors to brighten up your house and improve your well-being.
Self-Care comes first
When you decide to live alone, you also need to decide to prioritize your wellness. Living alone means, you may start to slip out of your established habits. You may stop following your bedtime routine, skin the meals to devour in snacks, wear the same clothes for two days and maybe drink the whole wine. Occasionally, doing such things is cool, but making it, a pattern will not do you any good.
Following good self-care practices is important to improve physical and emotional well-being and makes it easier for you not to feel lonely.
Follow these tips to improve your wellness:
Keep time in your routine to plan meals and do food preparation so that you do not order unhealthy food.
Search for a workout buddy if you do not have the motivation to do exercise alone.
Do meditation regularly to increase the awareness of how you are feeling every day.
Experiment with different bedtimes and wake times to find out which works the best for you.
Look at the bright side.
Living alone can be a freeing experience. You do not need to dress up before leaving the room or label your snacks with warnings. You can talk to yourself without worrying about other people hearing you.
There are plenty of good reasons to live alone, and some of them are:
gives you enough time to recharge
can boost your imagination and creativity
leads to great personal growth
allows you to focus more on your passion
Get in touch with nature.
When you are bored at home alone, utilize your time to go outside and connect with nature. Spending time outside can make you feel more connected to the entire world and relieve your stress.
Listen to various sounds, whether it's running water, birds chirping, rustling trees, or waves. All these together can help to strengthen your feeling of kinship and compassion towards nature and make you feel less lonely.
Read More-How To Avoid Freshman 15?
Reach out for support
Living alone may not work for everyone. You may like it for a while but may not enjoy long-term solitude, which is okay. When you acknowledge your needs, you take a step forward towards finding a way to support your well-being and improve your living situation.
If you find yourself feeling lonely persistently or experiencing emotional distress, you can take the help of a therapist to navigate the feelings and identify the real reason. Sometimes loneliness can be related to more serious issues like depression, etc.
Final Words
Even if you enjoy living alone, it is not as easy as it looks like. You may value personal space, but there are moments when you wish to have human interactions. The times of crisis can make it even more difficult for you to connect with others, and you may choose to isolate yourself, which can cause more distress.
But never forget when you choose to live alone, you are not truly alone. Your loved ones will always text or call away when you are sad, sick, or just need to share some exciting news.
Now that you know how to live alone without feeling lonely share your thoughts in the comments below about your experience of living alone.