Everything You Wanted To Know About Money Heist Season 5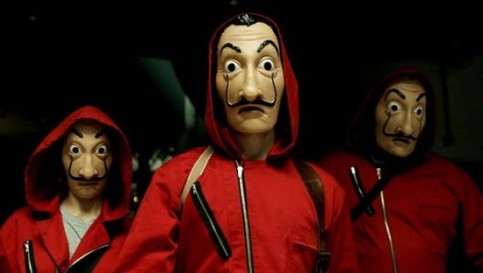 Tune in to Netflix, turn on your TV and get ready to binge-watch Money Heist Season 5. Money Heist blew up Internationally after Netflix picked it up in 2017.
Only a few people know that the first two seasons of the show did not attract a lot of viewership domestically. The numbers were so low that Channel Number 3 of Spanish Television binned the series.
Slowly the show started attracting more audience, crew and cast were called up again to fuel the fire for two more explosive seasons. Since Money Heist Season 4 dropped on April 3, 2020, we have all been asking one question, will there be any Money Heist Season 5?
Money Heist season 5 release date
Heists are always full of turns and twists, and the finale season of Money Heist is no different. For Money Heist Season 5, Netflix decided to split it into Volume 1 that will be released on September 3, and Volume 2 will be released on December 3, 2021. Both the volumes will come with different tones.
The creator of the show, Alex Pina, explained why the final season is divided into two separate volumes. She said that in Money Heist Season 5, Volume 1, the show focuses more on the thrill and makes it an aggressive genre, whereas Volume 2 is more the emotional situation of characters.
Money Heist Season 5 took its sweet little time to come into the picture finally. Money Heist became the most popular show on Netflix and came on #2 in the UK as of April 6, 2020.
Read More- Best Reality Shows on Netflix Worth Binge-Watching
Money Heist Season 5 cast
Netflix revealed what we could expect in season five of the show and that there are some new faces joining the crew.
Patrick Criado and Miguel Ángel Silvestre have been confirmed as the new faces of the show so far.
Returning actors who are confirmed for the Money Heist Season 5 cast include:- Álvaro Morte (The Professor), Itziar Ituño (Lisbon) , Enrique Arce (Arturo), Jaime Lorente (Denver), Hovik Keuchkerian (Bogotá), Fernando Cayo (Coronel Tamayo), Belén Cuesta (Manila), Luka Peros (Marseille), Miguel Herrán (Rio), Najwa Nimri (Inspector Sierra),Darko Peric (Helsinki), José Manuel Poga (Gandía), Rodrigo de la Serna (Palermo), Úrsula Corberó (Tokyo), Pedro Alonso (Berlín) and Esther Acebo (Stockholm).
Alex Pina said that top bosses wanted him to kill off Berlin's character. But for Alex, she claimed there is merit in keeping the character.
Money Heist season 5 total Number of Episodes
The fifth season of Money heist will be two episodes longer than the previous seasons of the show, as confirmed by Netflix. Money Heist Season 5 will have a total of 10 episodes in each volume.
What to expect from season 5 of Money Heist?
As the nature of the show is about heists, viewers have seen two separate heists spanning across the two seasons in total four parts.
While the first heist went more or less as planned, we can't say the same for Season 4 based on how Season 4 ended.
The execution of Nairobi was a major riff in the last episode of Season 4, which shattered the core team and made the situation inside the bank even worse. This is the time when Raquel re-enters the bank dramatically while Professor finds out about Alicia Sierra, a rogue police officer.
Given that the earlier seasons of Money Heist followed the same format, Season 5 will run around the same format. Yet, it will focus more on International heists all together. Like, know it cannot start until all the loose ends of Season 4 are tied back together.
This show loves to dive into a nonlinear approach to storytelling. We can totally expect the return of Nairobi after all.
Alex Pina, after a lot of struggle, has pulled together the final season of Money Heist. The audience did not expect the easter egg that was waiting for them at the end when credits start rolling on Season 4 of Money Heist. The unique rendition of Bella Ciao By Najwa Nimri, an actress in the show herself.
Given the fact that the song was sung on screen only by people who were loyal to the cause. Can this be a sign of Sierra joining Professor and the gang in Season 5?
Guess we will have to wait for the release of the season to find out this answer.
Read More-Best French Series To Binge-Watch on Netflix
Money Heist Season 5 trailer
Wondering when will the Money Heist Season 5 trailer be launched?
On March 15, 2020, Netflix halted the reproduction of all original series because of a global pandemic. Setbacks were felt across the entire entertainment industry along with Bodyguard, a binge-worthy Netflix series that also suffered delays.
It is most likely that the Money Heist Season 5 trailer will be released way ahead of the season launch to keep us all on the edge of our seats. Now that the show's official release date has been announced, we can expect the trailer to come out any time soon.
You can expect the Volume 1 trailer to be released anytime around August before the launch of season 5 in September 2021.
FAQs:
Is money heist only four seasons?
No money heist has one more upcoming Season 5.
Is there a season 6 of money heist?
Despite the fact that audiences love Money heist so much, Season 5 will be the final season.
Which season of Money Heist is best?
This is a subjective question. Season 1 was intense and hooked the audience. Season 2 was dramatic, and some key events took place. Season 3 introduced various themes to the show and Season 4 was emotional and epic. So the answer to which is the best season of Money Heist completely depends on personal preferences.
How many seasons of money heist will there be?
Season 5 that will go live in a few months, will be the show's last season.
Does Berlin Die in money heist?
At the end of season 2, Berlin sacrifices himself under police fire so that the gang can escape. Despite the death, in Season 3, he has played main roles in flashback scenes which shows the planning of the entire Heist. And that he had a wife, Tatiana.
Is Berlin alive in Season 5?
No Berlin dies in Season 2 of Money Heist.
Is Nairobi alive in Season 5?
Nairobi dies after she is shot in the head.
So Are you excited for the final season of Money Heist? We know, we are! 
What do you think will happen in this season, and how do you think the show will end? Leave your answers, assumptions, and thoughts in the comment section below.