Best Online Workout Programs For At-Home Exercise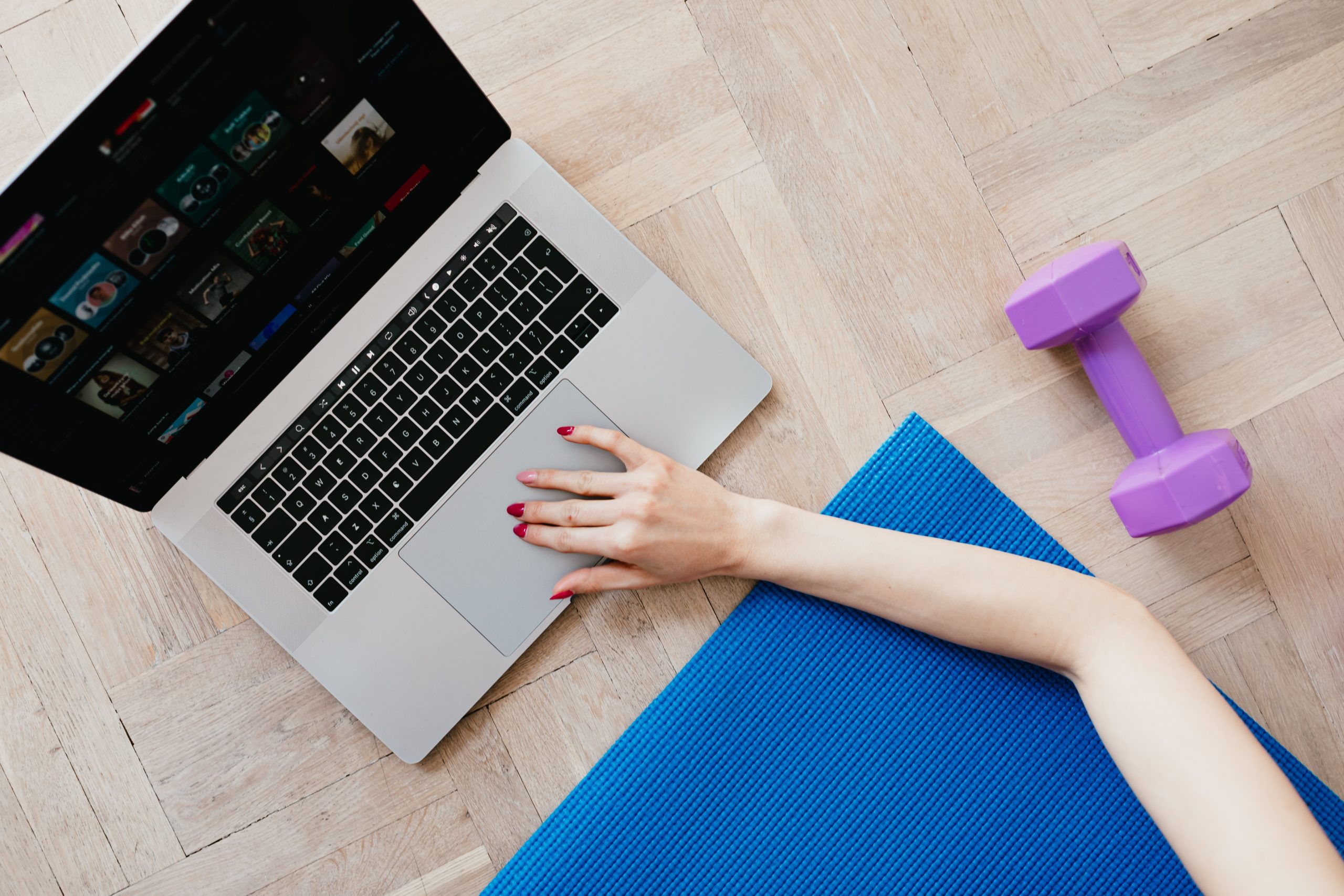 If your living room workouts bore you, we have got you covered with some of the best at-home online workout programs. These online fitness programs will breathe some fresh air into your regular workout routine, and who knows, it may even help you achieve your fitness goals faster.
Thanks to COVID, at-home workouts are becoming the new way of life as most gyms across the country are still shut. Working out at home alone can seem like a bit of a task.
Fortunately, we have good news for you: there are plenty of the best at-home workout programs that will get you ready to sweat. There are tons of options out there, and each of them is different from the other.
To help you pick the right online fitness programs, we have listed some of the top options with their features. Let's take a look.
Best Online Workout Programs To Try At Home
Daily Burn
If you get easily bored with your everyday workout routine, then Daily Burn is the best option for you. It first launched in 2007 and has a vast workout catalog to offer, ranging from yoga basics to full body workouts, muscle building, and cardio kickboxing.
They stream live every day at 9 a.m with a new workout to give you a daily dose of sweat before the everyday hustle begins. The best part is this best at-home workout plan comes with a 30-day free trial.
If you ever miss your Daily Burn live stream, you can catch it later or stream others from a catalog of thousand workouts. Their membership plan comes with an online tool for tracking your progress. The daily Burn fitness app is available on Android, iOS, Apple TV, Roku, and Amazon Fire TV.
Obé Fitness
One Fitness offers 22 live classes every day and more than 5,000 workouts in the library, so you never run out of your favorite workouts. The great part is that you can even schedule your live classes and sync with your calendar like you would with an offline class.
Their classes range from as short as 5 minutes to give a quick sweat session, so you never make an excuse about not having enough time. One gives you so many options to choose from barre, HIIT, and even strength to level up with dumbbells and bands.
They also offer post and prenatal videos, mediation, fun talks with instructors, and even kids classes. You can sign up for their special program like Rev Up for runners.
Obe Fitness monthly subscription costs around $27 per month, while the annual subscription is around $17 per month. This fitness app is available on iOS, Chromecast, web, Roku, Apple TV, Fire Tv, or Fire Stick.
P.volve
If you are looking for online workout programs that are best suitable for sculpting your body, then check out P Volve. This fitness platform is designed for people who want to strengthen their muscles using low-intensity workouts with higher impacts.
They have a video library full of hundreds of videos wherein you can create customized plans as per your goals. Also, you can keep track of your progress as you go through your workouts.
P Volvo also offers nutrition advice to its members so that they get the most out of their course and fuel on the right foods.
Their membership is available at $20 per month and also $15 per month (if you pay annual membership). You can also apply for a six-month membership at $17 per month. If you are dicey whether you will like the plan or not, you can also opt for their 14 days free trial.
This program is available on Android, iOS, and the web.
Glo
Yoga lovers should definitely check out Glo. This is one of the best online fitness programs, with access to more than 4,000 classes. Their subscription plan starts at $18 per month, and you get to choose from various courses like two styles of Pilates, 14 styles of Yoga or 500 meditation courses, general conditioning, and Fitness for all levels.
They also offer a particular dedicated session for beginners and one focused on strength to break a sweat.
Do you wish to reach an advanced level at your practice? There are many courses available at Glo for additional fees that can supplement your current subscription. You can also take courses to become a professional yoga teacher.
The great thing is you can opt for a 15 day free trial period before getting a complete subscription. Glo is available on Apple TV, iPhone, Ipad, and web.
Studio Bloom
For all to-be and new moms out there, who are looking for some good online at-home workout programs, we have the best pick for you. Studio Bloom is a one-stop platform for all pre and post-natal exercise needs. They have a team of professional trainers who will help you with safe exercise at home.
Studio Bloom workouts go beyond keeping you healthy and fit and focus on giving you valuable tools for during birth and support while you recover from pregnancy injuries.
Once you get their membership plan, you can access more than 100 mediation, fitness videos along with nutrition tips and food recipes. Bloom community also has a private Facebook group where you can ask questions to other members and coaches.
You get three days of free trial classes, including Cardio HIIT, Birth prep, Bi's 7 Tri's. Their monthly membership plan costs $29. You can even pay for the annual pass, which is around $240.
Studio Bloom is available on Android, iPhone, Android TV, Apple TV, Roku, Amazon Fire TV, and Kindle Fire.
Beachbody On Demand
Don't have enough time to work out? Do not worry; we have the best online fitness programs for you.
Beachbody on Demand offers more than 1,500 workout classes across 80 different programs, which require only 30 minutes of your day. The workouts focus on HIIT and give the participants effective total body calorie burn in the minimum possible time.
Most of their programs only require resistance bands, body weight, and mat. Although if you take the P90X series, you will require strength training equipment.
Can't spare 30 minutes? Beachbody has something for everyone. There are many programs in the range of 20-25 minutes like the cardio-intensive or 22 Minute Hard Corps to keep you jumping through basic military training for a total body workout.
They also have 10-minute training sessions which combine cardio and strength training. These workouts are enough to get you moving every day.
Beachbody offers a different membership plan, including three months for $60, a 6-month plan for $78, and one year plan for $99. All plans come with a 14-day free trial.
You can stream Beachbody On Demand workouts on a laptop or PC, Android, iOS, Apple TV, Roku, Chromecast, and Amazon Fire.
Nike Training Club
Are you looking for some best at-home workout programs to build strong muscles? Then join Nike Training Club. Nike Training Club offers free online workouts on their app compatible with both iOS and Android. 
They have more than 200 strength workout videos ranging from 5 minutes to 60 minutes. You can sort the workouts according to your fitness levels, equipment, duration, and intensity.
Members can also select the format like rep-based workout or time-based workout, or Whiteboard workouts similar to CrossFit.
Nike Training Club has workouts for everyone, whether you want to work out with your body weight or strength equipment using dumbbells and gym machines.
The best part is this is one of the best free online workouts plans.
FAQ'S
What are online workout Program subscriptions?
Online workout subscriptions plans allow you to step out of your comfort zone at home. As everything is going digital, so is Fitness. Online fitness programs help you find the most suitable workouts for you.
These are built with the motive of doing at-home workouts easily and providing on-demand access to numerous fitness classes on your laptop, TV, or phone.
What is the cost of online workout subscriptions?
Different online workout programs charge different fees. On average online fitness classes can range between $10 to $40 per month.
What types of workouts are available on online workout programs?
Whether You prefer boxing, yoga, or Pilates, there are suitable online workout plans for everyone. Different platforms specialize in different types of workouts.
For instance, people who love dancing will love to be a part of Tracy Anderson's high-energy classes. Obe Fitness is a one-stop platform for different types of workouts ranging from barre to HIIT.
Do we get a free trial on subscription before buying?
The best thing about getting an online workout subscription is the free trial service. Most online workout programs offer a 7 or 14-day free trial to help you figure out if the classes are right for you.
Do you need gym equipment for online fitness subscriptions?
You will not require any fitness gear for most fitness classes. However, some online subscriptions like Barre3 require the members to buy equipment like bands and sliders to enhance the workout experience and get the best possible results.