Get Yourself An Orbital Piercing To Change Your Look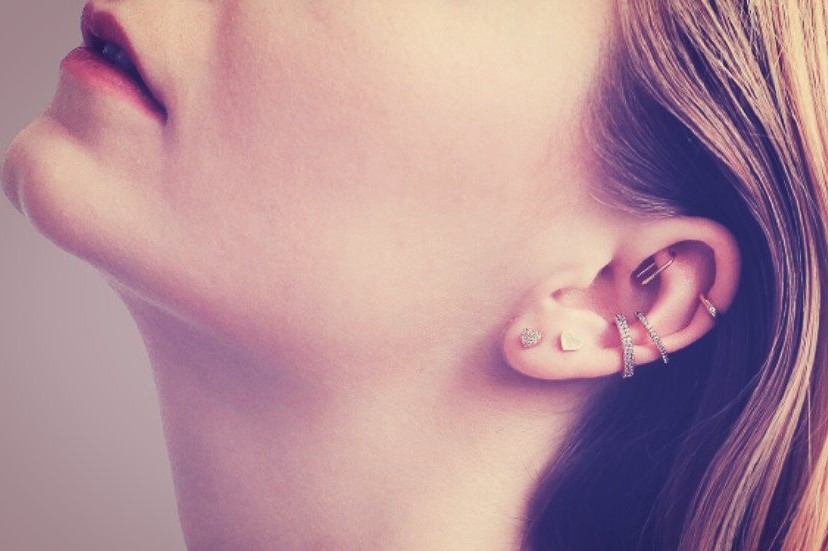 Are you planning to get a sexy look by making some changes in your body? If yes, then you should try orbital piercing. Ear piercing never goes out of fashion and always remains in the trend. So, change your style and enhance your personality with a new look. In this article, you will get to know all about the orbital ear piercing cost, aftercare, procedure, types, and infections.
What is Orbital Piercing?
The two ear holes connected with a ring or a piece of jewelry using a tiny hoop is called Orbital piercing. It is considered a widely popular type of piercing. If you are tired of your old ear piercing, then this is one of the best options for you. In orbital ear piercing, you can turn a single ear piercing into an orbital ear piercing by adding another one nearby.
Orbital Ear Piercing Pain
Generally, people think about the ear piercing pain before getting the orbital piercing to be done. The ear piercing pain depends upon the different parts of the ear. Ear lobe piercing is less painful than cartilage piercing, whereas the conch, Helix, and tragus are more painful.
Generally, the orbital ear piercing takes around 6 to 18 weeks to get healed. However, there are also some possibilities that the ear piercing might take time even up to a year if one does not follow the aftercare process properly.
You can also get conch piercing as it is highly popular among youngsters nowadays. But how much is the conch piercing pain? According to the ear piercing pain chart, the orbital conch piercing pain is always less than the cartilage piercing pain.
The orbital conch piercing depends on the type of conch piercing (double or triple conch) you plan to have. You can have this stylish look beautifully paired up with the cartilage party.
How much does an orbital piercing cost?
Different piercing shops charge different prices of the orbital ear-piercing depending upon the piercer's experience, the number of perforations you want, the type of orbital conch piercing, and the difficulty of the lobe or cartilage area being pierced. However, on an average, the cost of ear piercing lies around $30-$100.
Orbital Piercing Process
How the process of orbital ear piercing begins? Does it begin with ourselves? Yes, in the piercing process, you have to follow a few steps to get the process done.
First step of the piercing process is to find out a well-reputed piercer. Check out that the piercer is using a piece of sterilized equipment or not. If the piercer reuses the equipment, then make sure that you get out of that place as it can risk your life.
In the next step, your piercer will clean your ears before making the perforation. At this point, you must be precise and clear about what kind of jewelry you want.
If the piercer feels it necessary to use the surgical camp, he will use it to hold your ears. Eventually, the piercer will closely make a second perforation next to the first one. The petite studs or rings used earlier will be embedded from this hollow needle to perform an orbital ear piercing. The piercer will give the aftercare instructions after the procedure is completed.
Pros and Cons Of Orbital Piercing
Every type of piercing has its pros and cons, but let us see some of the pros and cons linked with orbital piercing.
Pros
Variety of jewelry options available
The orbital piercing might be on either side of the cartilage or the lobe.
You may feel less pain when you go for a single perforation at a time and the second one later.
It makes you look unique, and allows you stand out from the crowd.
Cons
High chances of getting the infection if not taken care of properly.
It may also cause scar.
Painful (depends upon your pain tolerance level).
People with a low pain tolerance level can feel excessive pain as two perforations are done.
Orbital Piercing Aftercare
What can one do after the piercing procedure? If you are successfully done with your orbital piercing, the next step is following the right aftercare process. The healing process depends upon the area of the piercing. If you have an orbital piercing on the lobe, it will take less time to heal than the piercing on the cartilage.
The orbital piercing on the lobe takes about 3-6 weeks for healing, whereas the cartilage takes around 4-6 months to heal completely. The healing time is directly proportional to the aftercare. Therefore, the aftercare should be done cautiously as the healing time completely depends on it. If one fails to follow the aftercare instructions properly, the orbital piercing can take up to a year to heal.
Do's of Aftercare Process
Touch the piercing only after washing your hands with a good antibacterial handwash.
Make sure to keep your piercing dry.
Consume a healthy diet as guided by the piercer to heal the piercing rapidly.
Maintain good hygiene habits.
Adjust your position while sleeping by keeping extra care.
Make sure that you clean your piercing at least twice or thrice a day with sea salt solution.
Ensure following the guidelines properly provided by the orbital ear piercer.
Don'ts of Aftercare Process
Never use a shared pillow to avoid injury.
Do not use any ointment or cream that may attract the bacteria around your orbital ear piercing.
Never try to rotate or change the jewelry.
Do not use any public pools.
Recommend Jewelry for Orbital Piercing
There are several different types of jewelry that look stunning in an orbital piercing. However, after the piercing, you will get only limited options because you won't be able to use any kind of hoop during the healing process. If you have a sensitive type of a skin, then the best option for you is stainless surgical steel.
Other than that, here are some more recommended jewelry that you can use:
Ball horseshoe
Simple plain ring
Cube horseshoe
Captive bead ring
Infections Symptoms
After the orbital piercing process, you have to take care of your piercing until it gets healed completely. If one does not follow the guideline properly, it might lead to infected orbital piercing. Here are some of the infected orbital ear-piercing symptoms:
Excessive pain
Yellow or Dark Brown Colored Pus
Excessive Swelling that might last longer than two weeks
Fever (that might last longer)
Embedded jewelry
Excessive bleeding
Ensure consulting your doctor or having a word with your piercer if you see or feel any infection symptoms.
Best Aftercare Products
There are some effective aftercare products to fasten the heal your piercing. Let us see some of the names below:
H2Ocean Piercing Aftercare Spray
Urban ReLeaf Piercing Solution
Urban ReLeaf Piercing Care
NeilMed NeilCleanse
You can use any of these products after consulting with your piercer or doctor. These products safely clean and heal your piercing and prevent burning and stinging.
Final Words
Make beautiful jewelry studded in your ears by having a stylish orbital piercing. Follow the aftercare procedure properly and forget about the ear piercing pain. Make the selection of an appropriate jewelry so that the piercing looks more classy and goes well with your personality. Please share your feedback with us in the comment section below.