Soundproof Curtains: How To Choose The Best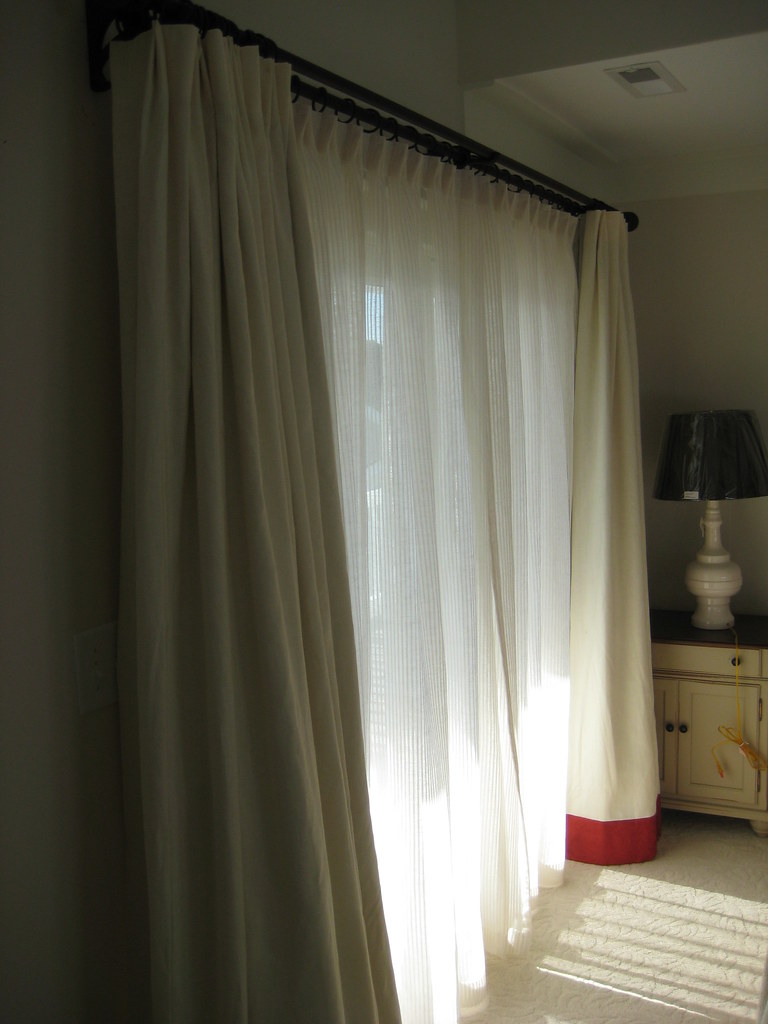 Are you tired of deafening noises from outside? Or do you want to enjoy your work or peace without the sound disturbances from outside? Well, whatever it is that you want from the two, getting some soundproof curtains for your home can be helpful. 
There are numerous products that are available in the market that the companies claim to be soundproof curtains. But the first thing to ask is, do they work? Well, yes, they work to an extent. Although they will not make your room completely soundproof, they can significantly reduce the noise levels. So, when you want an inexpensive and easy solution to the question of how to soundproof a room cheaply, then the soundproof curtain can be the perfect option.
In the article below, we will tell you about some of the best soundproof curtains available in the market. We will also explore other aspects like how to soundproof windows, what you should look for, and more.
Who Should Go For Soundproof Curtains?
The soundproof curtains aren't for everyone. In case you want a completely soundproof room, then they are not for you as they don't provide complete soundproofing. However, they can reduce noise significantly and thus a creative solution to how to soundproof a room cheaply.
The soundproof curtains are best for people who:
Live in a busy metro area. They can help in reducing the noises of cars, pedestrians, construction, and more and let you enjoy your sleep.
Live near the freeways. Cars traveling at high speeds can create a great disturbance for the people living nearby. This is where the soundproof curtains can help in reducing the outside noise to a great extent.
Live in heavy construction areas. While the sound of construction is a temporary problem, it can still disturb your lifestyle. So, soundproof curtains in such situations can be a great option. For additional sound deadening, you can also go for soundproof door curtains.
Make music. Are you someone who is into music-making? If yes, then you know how difficult it is to get the perfect mix of music. This is where a soundproof room can help you to a great extent, and the curtains are a cheap solution for DIY soundproofing. For additional soundproofing, you can also go for some soundproof foam. One good thing about these options is that they will not break the bank like getting the acoustic treatment done can do.
Do Soundproof Curtains Really Work?
When purchasing a product, the first thing which comes to mind is that does the product actually works or is it just hyped? Well, to clear your doubt, soundproof curtains do work and can be very helpful. However, the soundproof curtains will not give you complete isolation. For complete isolation will be needed to reconstruct your room. If you want to have the next level of soundproofing, then try installing soundproof windows and doors. Or you can also try soundproof foam.
Let us explain the concept of how soundproof curtains work.
In case you have a barren room with just a paint coating on the walls, then try standing in the center of the room. After you are in the center, clap your hands and listen to the sound of the room. You will hear your claps ringing all around in the room. This phenomenon is called natural reverberations, and it can be very obnoxious. Now in the next step, go over to the closet and begin clapping your hands to the clothes.
This time you will notice a major difference in the sound; it will be much better to the ears as well as quieter. The soundproof curtains, in the same way as your clothes, will help in reducing the reverberations and increasing the speed of natural sound decay.
Other Benefits Of Soundproof Curtains
There are also additional benefits that soundproof curtains offer other than just decibel reduction. These benefits are:
Some Curtains Provide Blackout Effects
In addition to the peaceful and low disturbance surrounding, the presence of low light can improve sleep quality. So, getting some soundproof blackout curtains will be getting two birds with one stone. The soundproof curtains, which also provide blackout effects, can be very helpful if you need to sleep during the day. 
Some Curtains Also Offer Insulation Effects
Blocking the sun heat during the summers and keeping the room cozy and nice during winters can be an additional benefit. So using these curtains will help you save on the energy bills as well as lower the effects of the outside environment.
According to many studies, the inclusion of insulating things on the windows can help in saving thermal energy. Some studies have also shown that 10% to 25% of thermal energy is lost through the windows. Thus getting soundproof windows can help you greatly.
Additional Privacy For Home
Like we said before, soundproof curtains also offer the effect of blackout window blinds or curtains. So one more additional benefit of the soundproof curtains is additional privacy at home. 
What Things Should You Consider Before Purchasing Soundproof Curtains?
When you go purchasing soundproof curtains, you must consider various aspects. Some of the things which you should consider include size, material, weight, and other factors. Here are some things which you need to keep in mind when purchasing soundproof curtains:
The Measurement Of The Curtains
This is one of the obvious things when we go for purchasing the window or door curtains. However, one thing to remember when going for soundproof curtains is that they are different from regular window curtains. Unlike regular curtains, soundproof curtains will go from floor to roof. So measure accordingly.
The soundproof curtains also need to extend more than usual curtains on both sides of the window. Remember, measurement is vital to avoid getting shot or long, leading to walking on your curtains and risking their fall.
Infrastructure And Curtains Weight
One thing you will need to know is that heavy curtains are essential for proper sound dampening. This is why make sure before purchasing that your walls can handle the weight of curtains.
In general, the heavier your soundproof curtains, the better their soundproofing qualities will be. Low frequencies like that of heavy construction and bog trucks will be absorbed better with heavier and thicker material. For an additional layer of soundproofing, you can also go for double curtains. However, remember that you use a heavy-duty rod with these curtains to avoid any issues.
The Material
When going for soundproof curtains, consider the ones that offer extra fiber. Curtains that are made from velvet or suede are great choices in this aspect.
These are some of the factors which you should consider when buying soundproof curtains.
Some of The Best Soundproof Curtains
After considering all the above aspects, we have listed some of the best soundproof curtains below:
Moondream 3 in 1 Sound Insulation Curtains
When you want the best quality product as the solution to how to soundproof windows, getting moon dream curtains is what you will like.
These curtains are one of the best options available for blocking the outside noise or blocking the noise escaping the room. The quality of these curtains is something which you will surely love when it comes to soundproofing. These curtains come in the standard size of 54," and their lights range between 63″ to 108″. You also get the option to choose from a variety of colors in these curtains.
The main highlight of these curtains is the moon dream fabric by which they are made. This fabric consists of 3 layers and is made using cotton and polyester. The three layering structure of these curtains thus provides great effectiveness when it comes to soundproof room. These panels will reduce the sound up to 7 decibels in your room, and the good thing they look the same on both sides.
This allows you to use them in the form of a room divider option as they provide the same looks and qualities from both sides. One thing you can be sure of these soundproof curtains is that it is a high-quality product and will last for years while giving results immediately after installation.
Nicetown Blackout Curtains Panels
The Nicetown brand curtains are famous when it comes to getting soundproof curtains. These curtains from the brand offer great quality while serving a number of purposes at the same time.
The curtains are 84″ in length and 52″ in width. They also come in two separate types of the panel which are enough for covering the various sizes of rooms and windows effectively. The even great thing is that this brand also offers a wide variety of color options when it comes to curtains. So you can choose something which you like instead of just simple boring black color blackout curtains.
The material which the brand uses for making these soundproof curtains is 100% polyester. They are light and soft yet thick curtains that are sure to keep the disturbing sounds out. Everything in these curtains is made using great details, so they look really modern and sleek, no matter where you put them. In short, these soundproof curtains are one of the best products you can buy when it comes to getting quality at reasonable prices.
RYB Home Blackout Soundproof Curtains
The RYB home soundproof curtains are another product that is greatly designed and offer good quality material and soundproofing. These curtains come in standard sizes and shapes and are packed in a set of 2 that is a great thing when you want something to cover large size windows.
One more thing about these curtains is that they are three-layer curtains, so they offer great light blocking capabilities. When it comes to sound blocking, these curtains come with a felt fabric liner that is detachable. The good thing about this fabric is that it takes up the soundproofing of these curtains to the next level. One more thing which is amazing about these curtains is that the liner is detachable, so you get to choose what levels of soundproofing you want.
H.Versailtex Soundproof Curtains
Do you want a solution for how to soundproof a room cheaply? Or do you want quality but don't want to spend a fortune on the curtains? If the answer to these questions is yes, then getting window treatment types of curtains is the perfect pick for you.
The good thing about these soundproof curtains is that they come in different sizes depending on the fact that how long you want them to be. These curtains are available in the form of individual panels, and they also come equipped with holes in steel garments. This makes these curtains quality and durable products to get.
What's even amazing about these soundproof window curtains is that they are made with three layers of different materials. So they offer great quality when it comes to sound reduction while keeping 99% of the light out. In addition to this, these curtains also have an insulation layer in them; thus, they will help in maintaining the temperatures in your space.
Deconovo Blackout Curtains
This is another great option that you can purchase for yourself. The quality of this product is something that you can be assured about. 
The good thing about the deconovo sound reduction curtains is that the brand offers them in all the different shapes and sizes. You get an option to choose from more than 20 different colors. So you can choose the product which matches your room design the best. Like other products on this list, the deconovo soundproof curtains also have three layers of material in them. This is why they are a great option when it comes to blocking noise and the sunlight.
One thing you can be sure about this product is that its quality will let you enjoy your sleep peacefully without any disturbance.
These are some of the best soundproof curtains which you can get for your home. The good thing about the list which we have prepared for you is that you will get everything for everyone. Whether you want the best quality or quality in the budget, you will find it all on the list. Other than these products the aspects which we have put in the article will act as a guide for you. 
Final Words
Are you fed up with the outside noises disturbing your peace in the home? If yes, then getting the soundproof curtains for your home is what you need.
There are numerous products which are available in the market which claim to provide great qualities of soundproofing. However, before you choose a product, you should consider various aspects like measurement, material, budget, and more. Other than these aspects you should also consider the factors like additional benefits the curtains provide.