The Handmaid's Tale Season 4: Reviews, Release Date & Cast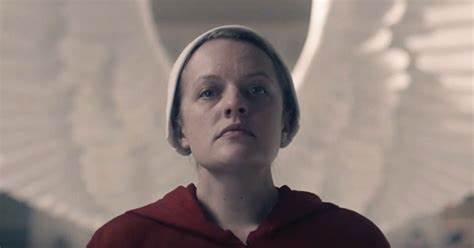 The handmaid's tale season 4 was released on April 2021. In season 4 there are 10 episodes; June Osborne, the main cast, continues to fight the tyrannical power which is ruled by Gilead, supported by her fellow handmaids.
The handmaid's tale season 4 is set to carry on from season 3, holding a cliffhanger. Fans are eager to see whether June Osborne makes a full recovery and manages to escape from Gilead once again.
The Handmaid's Tale Season 4 Episode 4 Overview
The handmaid's tale season 4, episode 4 was released on April 2021. In this episode, Janine and June escape the Gilead truck; after that, they head to the west along the train tracks. Finally, they reached the depot at night, but Janine wants to hide in Boston, and June wants to fight alongside them.
June thinks that the main battlefront is between Gilead and resistance. Unfortunately, the train they climb into a tanker full of milk. As the train starts to move, June and Janine start drowning; however, June manages to drain the tanker. They are both still wet and freezing, so June helps Janine stay awake so that cold will not kill her.
The Handmaid's Tale Season 4 Trailer
There are a lot of things going on with several ideas about the handmaid's tale season 4. From a couple of loving embraces between June and Nick, to June's daughter Hannah's reunion. They also coupled with the agent Mark Tuello's voiceover at the starting—If you return to Gilead will you be the subject to risk to your life, the danger of torture, or risk of cruel? And various other glimpses of June in normal clothes, is it too much to hope that June finally escaped Gilead?
The Handmaid's Tale Season 4 Cast
The handmaid's tale season 4 will feature the show's regulars:
Max Minghella as commander Nick Blaine

Elisabeth Moss as June Osborne

Bradley Whitford as Commander Joseph Lawrence

Madeline Brewer as Janine

Joseph Fiennes as Commander Fred Waterford

Alexis Bledel as Dr. Emily Malek Ph.D.

Yvonne Strahovski as Serena Joy Waterford

Samira Wiley as Moira

O-T Fagbenle as Luke Bankole

Ann Dowd as Aunt Lydia

Amanda Brugel as Rita
Moreover, Sam Jaeger, who played the role of American representative Mark Tuello in season 2 and season 3, was included in the main cast. The audience will also see some new faces like actress Mckenna Grace from Netflix's The Haunting of Hill House. She played the role of Mrs. Keyes, a teenage wife of an older Commander who rules her household and farm with confidence. The new cast will show exterior duality with the pious and calm while suffering from internal disturbance.
Also, new guest stars like Zawe Ashton will be introduced and play the role of Moira's girlfriend and the aid worker in Toronto. Reed Birney also joins as the new Gilead person June meets.
Frequently Asked Questions
Where can I watch Handmaid's Tale Season 4?
You can watch Handmaid's Tale season 4 only on Hulu, and it is included if you have the subscription. The plan starts at $6 per month with ads, or you can go for $65 per month with live TV.
Why did June let Eleanor die?
June let her die because she could help at that point. If Eleanor wanted to escape to Canada, then she would not have done it intentionally. She recognizes this and respects Eleanor dying wishes in that sense.
How many episodes does Handmaid's Tale Season 4 have?
There are 10 episodes in the handmaid's tale season 4. The first three episodes will be released on Hulu on April 28; after that, it also is released on Channel 4 UK.
Can a handmaid become a wife?
No, A handmaid is a woman who is fertile but has sinned by the criteria of Gilead. The standards like she is the second wife or queer, she had an abortion, she stands against the government, or she has practiced a religion other than Gilead's corrupted version of Christianity.
Is Season 4 the last season of The Handmaid's Tale?
After the ending of season 4, fans have been left thinking about the end of the series. The season ended by completing the character arc, which has been running since the beginning of season 1. June Osborne, along with several other handmaid's killed Waterford, bringing the end story to season 4. Fred Waterford has been the primary antagonist in the show and season 4 saw the exit for the character.
What is the last episode of Handmaid's Tale Season 4?
The Handmaid's Tale Season 4 the last episode is The Wilderness. This story includes major spoilers from the Handmaid's Tale season 4 finale, The Wilderness.