Vertical Garden Ideas For Home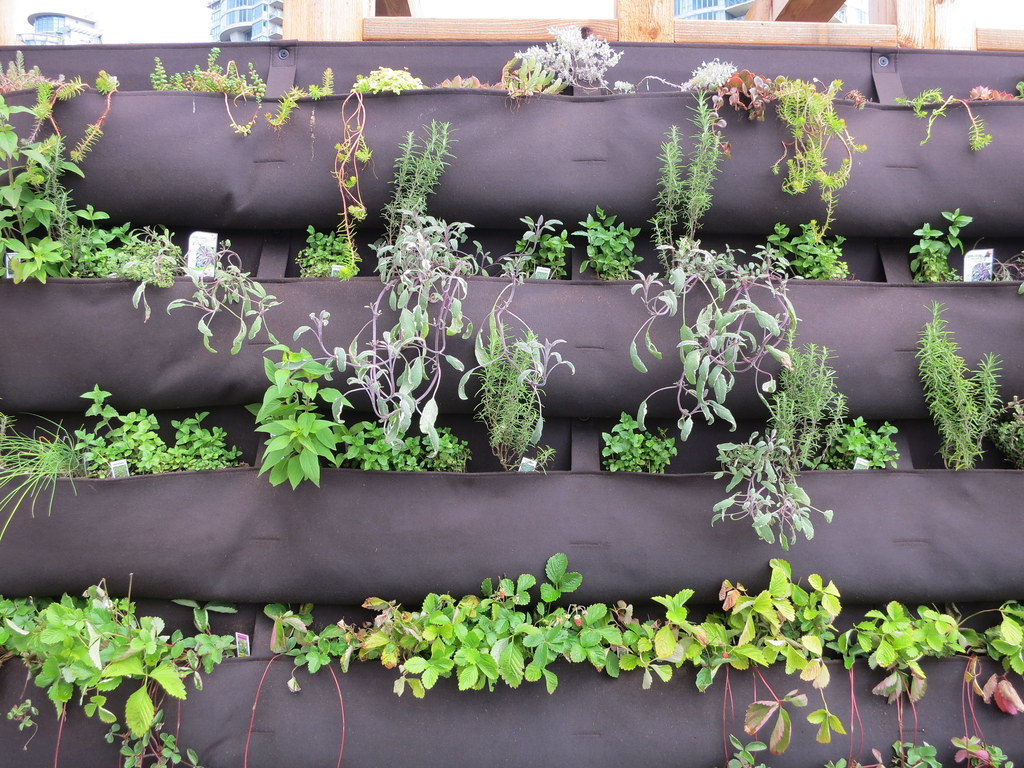 Who doesn't like a beautifully decorated garden? Gardening is a fun and relaxing activity that everyone loves. It is something that you can do regardless of space. There are a lot of gardening ideas in which you can apply for a home garden for yourself. The idea of a vertical garden is one of them. This idea of a vertical garden is one of the easiest, which you can do on your own and don't need someone like a home remodeling contractor. 
The vertical garden is one of the most space-efficient and cheap gardening ideas which you can go for. You can even conceptualize this idea in the corner of your house. One great thing about a hanging garden is that you can get a lot of merit from it like eye-soothing views, healthy herbs, and even vegetables. 
To help you get your own personal vertical garden, we have put together some of the best ideas in the article. We will also explain the other aspects like what you need for it? What equipment will you need? What are other supplies essential for a vertical garden? 
Best Vertical Garden Ideas:
Hanging Pots
It is a simple design that you can conceptualize on budget. Many people use this idea to solve the problem of space, which they face when trying to create a garden. You can attain this idea in a compact space. For it, all you are needing is some recycled objects and skills. 
After you have got the supplies, assemble some boards, and make holes in them. While doing so, remember that the holes are in a size that fits the recycled pots or bottles that you are going to use. The holes should also be able to hold the post in place, so don't make the holes so big that the pots pass through them. 
When the hole making is complete, make holes on the edges of the boards that are not too big and put a rope through them. Now tie knots in the rope to keep the boards in place, but keep enough space between boards to place pots. Space must also be enough for the plants to grow.
Now all you need is a bamboo, pipe, or stick you can hang your homemade vertical garden on, and you are all set. 
Pocket Planter Vertical Garden
This idea for a hanging garden is something you will love if you are a nature conservation buff. To conceptualize this garden idea, you will need some seeds, soil, old jeans, or a multi-pocket kitchen apron. After you have the supplies, fill the soil in your old jeans or apron pockets and sow the seeds in it. 
When you have done, this hangs the jeans on a wall or wherever you like, but we suggest a place with abundant sunlight availability. This hanging garden idea is a breeze as you don't need many tools or supplies. One more great thing about this vertical garden idea is that you don't need to make any holes like for drainage. 
In this garden idea, you can monitor the growth of each plant separately. You can add a simple DIY drip system to it for the self-watering process. 
Tier Plantation Style Vertical Garden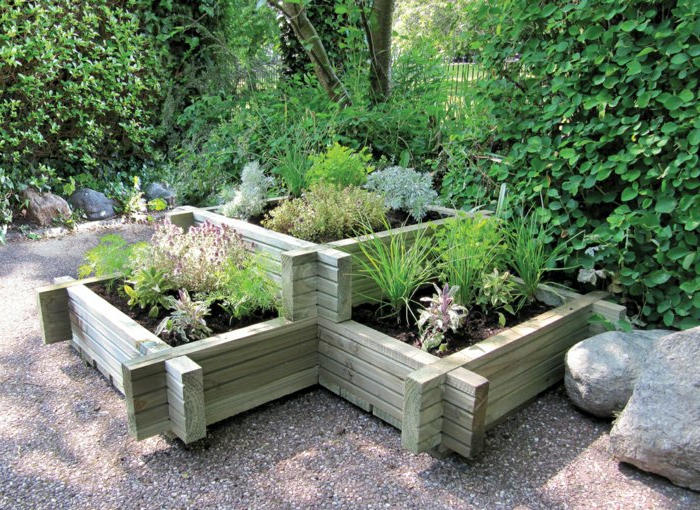 The tier-style garden is perfect to have in the corner of the kitchen or dining room. The tier set up for the garden is perfect for keeping the plants healthy. In it, you need to make minimal efforts to maintain the garden. 
In this design, the tier system helps you water the plants easily and not to worry about forgetting to water a plant. This vertical garden's tiered style makes the water drip from up to down and set in the bottom. 
One thing about this type of garden is that it is tough to make such structures at home, so we suggest you go for market made structures. Other than the structure, you will not need much except some seeds and soil. 
Water Reservoir Vertical Garden
This idea of a hanging garden is one of the easiest and budget-friendly. It is also best for your DIY herb garden. In it, all you need is a bottle, seeds, and some soil, and you are all set to go. The water reservoir garden is made from a recycled plastic bottle or some other type of plastic container. 
You can conceptualize this concept with minimal efforts and without needing to create an actual garden. In it, all you need to do is make some holes in the bottle, fill it with soil, and sow the seed through the holes. However, the holes must not be too big to let the soil come out or too small for plants. 
It is one of the most sustainable and easy to implement the garden design. Watering this garden is also very easy as just attach a bottle to the bottle's mouth, and water will slowly drip through the soil and keep the moisture. Another great thing about it is that you can hang it anywhere without the need for any special structure. 
Container Vertical Garden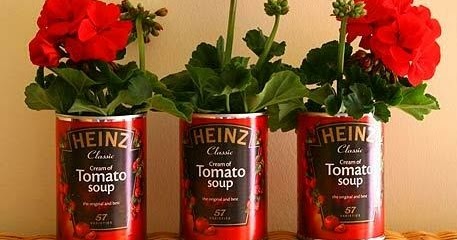 The container garden is one of the best hanging garden ideas which you can go for. In it, you will need some empty containers and some screws. After you have the supplies, screw the containers to a wall or a wooden plank, as you like. Now put the soil and seeds in them, and you are ready to go. 
Another great thing about this garden is that you don't need any special skills or equipment for it. It is also a great option when you are on a budget as most of the items you will need in it are recyclable. 
One thing to remember with this vertical garden style is that the containers must be strong enough to hold the weight of water and soil. To help you with this, you can also use some wooden sticks to support the containers. 
Upside Down Bottle Style Vertical Garden
Isn't plastic one of the most dangerous materials for the environment? We all know it is, so why not use it for some good environment-friendly things. This hanging garden idea we are going to talk about is the perfect solution for recycling those plastic bottles. In this idea, all you are going to need for conceptualization is some bottles, soil, seeds, and some wooden planks. 
After you have the supplies, cut the bottles in half and screw the bottle upside down in a tiered style. While doing so, make sure that the bottle's mouth is opening in the bottle under it. One caution in this idea is that the lowest row bottles must be kept straight and not upside down. Now fill the bottles with soil and sow the seeds, and you are ready to go. 
What makes this idea excellent is that you don't need any specific tools or supplies that make it a wallet-friendly budget idea. Another good thing is that you will not need to water every plant separately as the water in upper plants will drip down to other bottles. After the water drips, the bottles in the lowest row will hold the water. 
Bucket Vertical Garden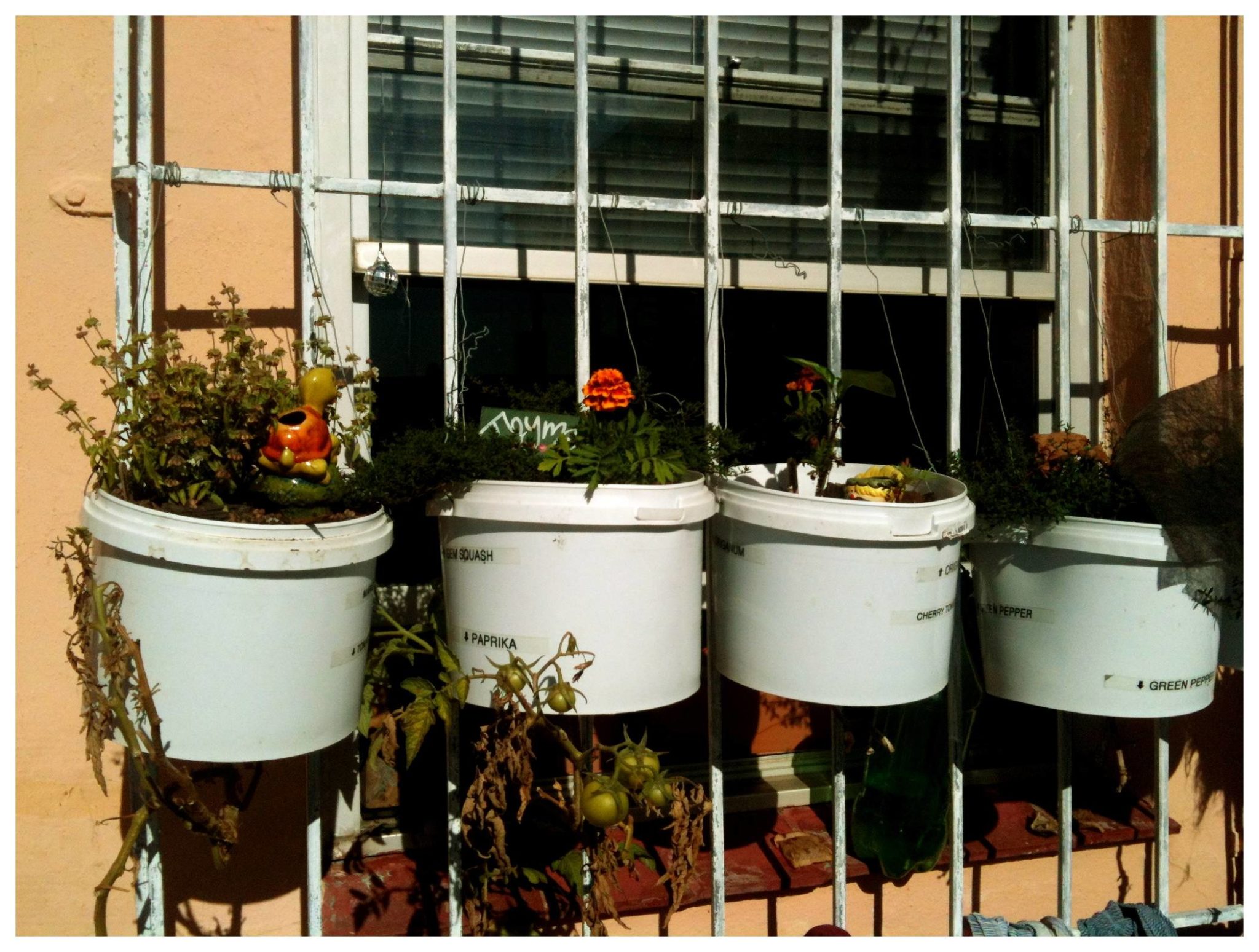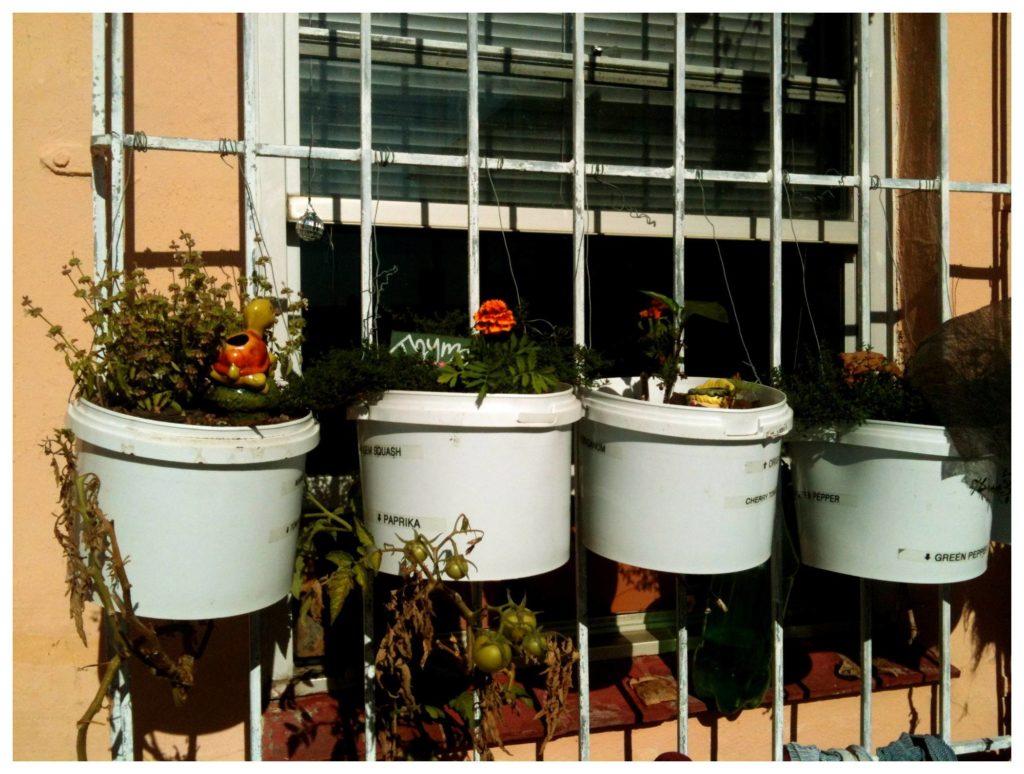 A bucket hanging garden is the best way if you want to have a herb or vegetable garden for your home. For this idea, you will need some big buckets and a pipe or something to hang them. Now, start by making holes in the bottom of the buckets. After you are done with the hole making process, hang the buckets. 
Hang these buckets before filling them with soil as it can be a tough task after filling them due to weight. Now sow the root balls or seeds of the vegetables, and it's ready. One thing to be cautious about is to have a strong pipe or support for your vertical garden as the weight of buckets can be too much. 
In this idea, make sure that you hang the buckets in an area where at least sunlight is available for 6 hours. You can also create a self-watering system in this design. For it, get a bottle, fill it with water, and put it upside down with its mouth in the soil. In this way, the water in the bottle slowly sips down in soil maintaining its moisture. 
Supplies
Vertical gardens don't need much for creating, which is why they are the most famous types of compact space gardens. Some supplies you will need are:
Screws
Drill
Soil
Fertilizers
Seeds or Saplings
Pipes, sticks, or bamboo, depending on the design.
Water supply
Other Things To Know
Permissions 
If you live in a rented apartment, check for your landlord's permissions as some building codes don't allow such things. 
Architect Consultation
Consult an architect as ideas like bucket garden can be too much weight for your structure. 
Storage
This is another essential thing, as you will need storage space for supplies like the manure or fertilizers. 
Gloves
Gardening gloves and shovels are another need as they will help you in caring for the plant. 
Takeaway
The ideas in the article are some of the best ideas when it comes to hanging gardens. These vertical garden ideas are also wallet-friendly, helping you create your garden within the budget. 
You will also find other things like tips, equipment, and more that will help you to have your very own vertical garden.