Trendy Winter Outfit Ideas for Women to Step Up the Fashion Game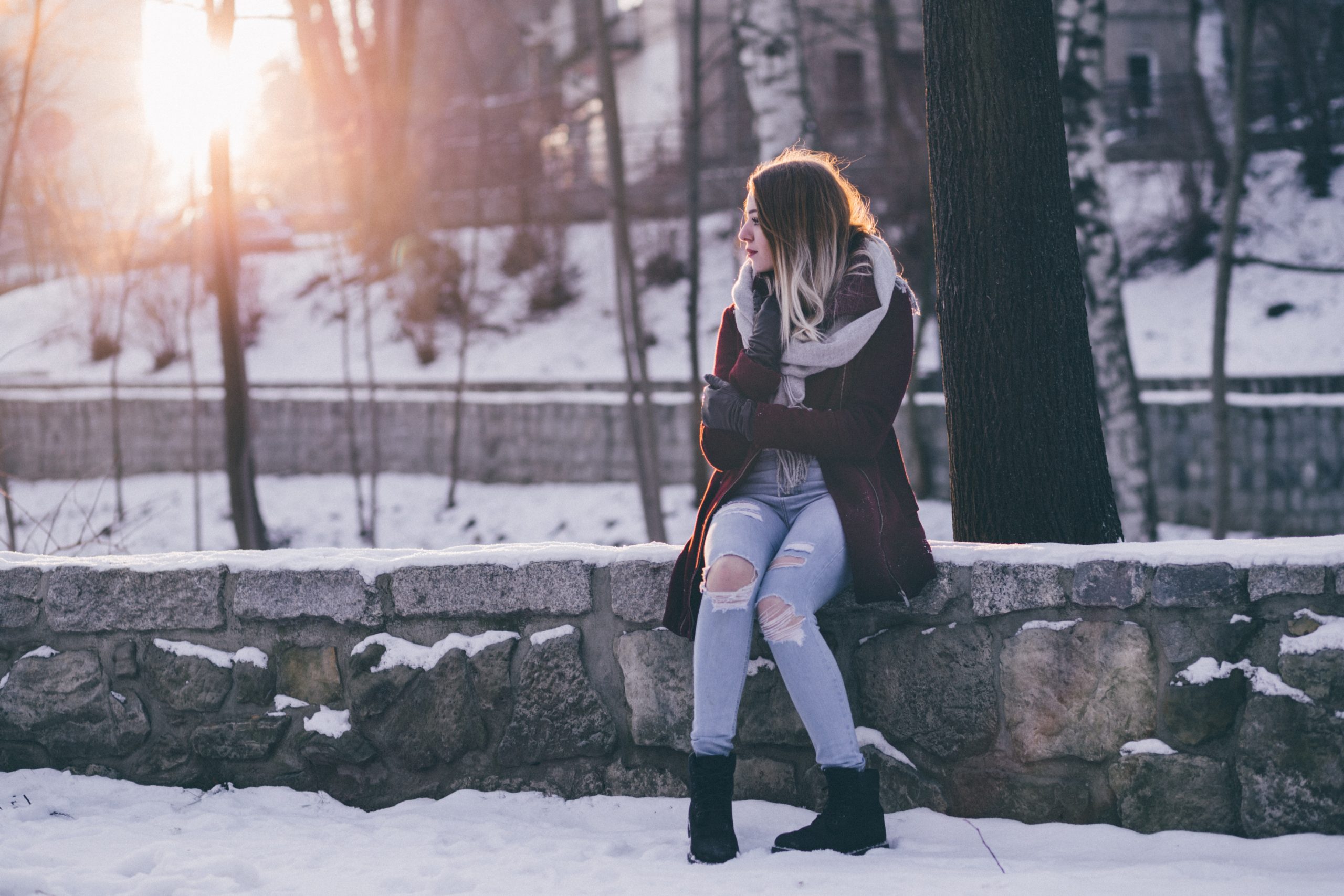 Finally, "Winter is Here!" and if you think that styling up in winter is boring, then you are wrong. You can beat the cold with undeniably amazing fashion trends that come with winter. Pull out your favorite jackets, boots, and staple coat to make your winters fashionable. Continue reading the article for fantastic winter outfit ideas.
Even when the temperature drops, everyone wants to look astonishing and not walk around like a marshmallow. There are tons of fashion inspirations that will not only keep you warm but will also look stylish on the slush-covered streets.
Winter Outfit Ideas
Winter is the perfect time to experiment with clothes and styles. It offers endless amounts of styles and clothes that you can mix and match to create perfect winter outfits for all occasions.
Look Adorable with Cute Winter Outfit
If you love to look cute, then winter is the perfect weather for you. In cold months, we all want to cover as much skin as possible for a cute outfit. But you do not need to do that anymore. You can look cute in winters with women's winter fashion ideas to create a cute look. You can attain the look with a cute dress and knee-high boots. You might have a little bare skin on display, but trust me, you will look cute.
In order to keep yourself warm, you can wear bike shorts under your cute dress. It will help to avoid exposing your thighs to chilly weather. If you want to create combinations with winter clothes for women, then you can wear a mini skirt, knee-high boots and complete the look with a matching full-length coat.
Relax with Casual Winter Outfits
Trust me; you can experiment the most with your casual wardrobe during winters. With the requirement to add layers, you can create endless options and styles with simple winter fashion ideas.
In order to keep your legs warm in winter, wear thigh-high boots with your favorite jeans or midi-skirt. You can also opt to wear long sleeve shirts under jackets and jumpers to add extra warmth while looking stylish.
Experiment Formals Winter Work Outfits
It is quite easy to dress up for work during the winter months. Generally, the more skin you cover, you look more beautiful and elegant. You can wear the classic matching pantsuit. Trust me; it never goes out of style. For a more formal look, pair a classy jumpsuit with killer heels, and complete the look with a trench coat. If you have an amazing budget, you can opt for top luxury fashion brands to raise your fashion game.
If you want to look a little more girly, you can wear a pencil skirt and a pair of stockings. Complete the look with a white or black blouse, a check coat, and boots.
Go Clubbing with Winter Club Outfits
We usually sacrifice the cold feeling on our toes and fingers to look stylish when hitting the club during winters. When you are inside a club, all that crowd and body heat will warm you up. So, you can wear your little black dress or slip underneath your coat, then remove the coat when you are inside. To complete the look, you can opt to do acrylic nails at home.
While styling for parties, always remember that thigh-high boots are a sexy choice on a crisp evening. You can also wear your strappy heels with winter clothes for women to look stylish.
Be the Limelight in Sexy Winter Outfits
If you think you can not look sexy in winter, then you are wrong. With sexy winter outfit ideas, you can achieve your best look. The best way to attain a sexy look is to wear a trench coat. There is something sexy about trench coats which makes people wonder what is present underneath. Complete the look with snakeskin bot or leather pants.
You can also wear the trench coat with your knee-length black dress and complete the look with heels. There is nothing sexier than a little black dress and thigh-high boots.
Stand Out in the Crowd in Concert Outfits for Winter
If you have to go to a concert, then you must be planning to leave your trench coat at home. But boots are a must if you want to keep your feet warm. It is always a good idea to choose your dress according to the music and vibe of the concert.
Whether the music or vibe of the artist is old school, rock, or grungy, you would want to dress accordingly. You can wear flared corduroy pants with a matching jacket. If you want to look cute, you can wear white or black jumpsuit with lace-up boots.
Another best winter outfit idea to look amazing in a concert is to wear shorts with a jacket and complete the look with your shoes. In such an outfit, you would surely stand out in the crowd.
Look Workaholic in Formal Winter Outfits
When it comes to women winter fashion, longer hemlines are a must. But long sleeves are also an amazing choice. If you have the talents to brace the cooler air or if the event is getting organized inside, then you can show a little skin. Otherwise, you can opt for a coat as it is formal enough to keep you on for the event. If you opt for showing a little skin in formal dresses, then make sure to accessorize.
Flaunt With Winter Date Outfits
It is important to look presentable and easy-going while being flirty and feminine on date night. Opt for wearing a knitted dress and pair it with sneakers if you have a date during the daytime. In case you love pants, then wear a nice pair of jeans. Wear an elegant coat over a cute blouse to create a perfect winter look. Complete the look by adding heels.
If it is a dinner date, you can wear a skirt with a top and a pair of heels. Now you must be thinking that a coat would ruin the look, but you are wrong. You can create a chick look by choosing a perfect coat according to your style.
Look Elegant in Winter Wedding Outfits
If you want to look classy and stylish at a winter wedding, then it is a good idea to wear a cute coat and then accessorize with elegant earrings. Add a pair of eye-catching shoes and a large clutch to complete the look.
You can also wear a plain, detailed dress and accessories to create a perfect wedding look. Otherwise, you can also wear a wide-leg trouser and pair it with fancy heels. Trust me with this look; you will look elegant.
Be Presentable in Winter Outfits for Interview
We all want to look presentable and stylish for an interview. Trust me, in winters; it is super easy to create a perfect interview look. The easiest and basic winter outfit idea for an interview is to wear a matching pantsuit. It is not necessary to wear traditional pantsuit. You can opt for an interesting design and unique fabric. Make sure to pair it with boots and heels to complete the look.
Otherwise, you can simply opt for a pair of black pants, a white blouse, jewelry, and your favorite heels. Trust me; you can never go wrong with this look.
Tips to Dress Up Perfectly in Winters
Great winter clothes or cute winter outfit ideas are not enough to create perfect winter looks. You need to make sure to dress according to the occasion. Below mentioned are some tips to dress in winter.
Add layers as they will not only keep you warm but will also act as an element to your outfit and makes it more stylish.
Make sure to dress according to the occasion.
Always remember to accessorize to complete the look.
Invest in cozy jackets or trench coats to create a stylish winter look.
Winter is the best time to experiment and mix and match the styles to create exciting looks.
Final Words
Winters are the perfect time to experiment with your wardrobe. You can create stylish looks with winter outfit ideas. Opt for clothing styles that not only keep you warm but also allow you to stand out in the crowd. Make sure to dress according to the occasion. If you have some winter fashion ideas, then share them with us by dropping comments.