Best Puppy Pads To Toilet Train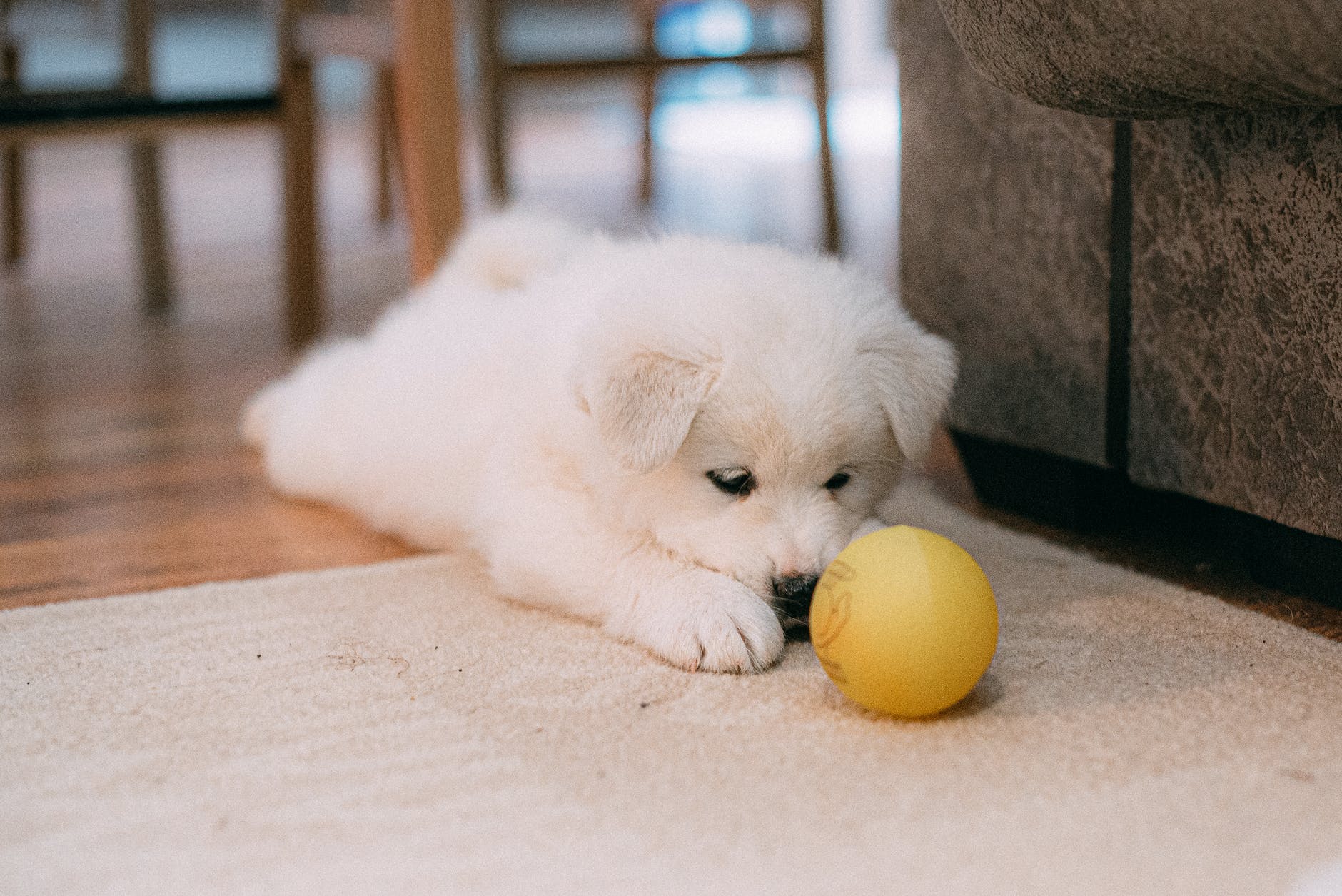 Bringing home a new puppy is super exciting, but not to forget the troubles that come along. The biggest downside is getting the puppy toilet trainer so that you do not have mess all-around your house. If you are a new pet parent and are in search of the best puppy pads, you have come to the right place.
Don't know what puppy pads are? Well, puppy pads are designed as a measure to confidently toilet train your pup. To avoid any inevitable accidents, you can place pads in the corner of your house and train your furball to use them when he needs to pee.
Fortunately, there are plenty of options when planning to buy the best puppy pee pads in the market. Let's check them out.
Best Puppy Puppy Pads To Pee Train your Pet
Here we have listed some of the best puppy training pads you can get your hands on. All of these come in different price ranges, sizes and also feature different technology. You can buy as per your requirement.
AmazonBasics Dog and Puppy Pads
Amazon Basics boasts great product quality at the most affordable prices. Another best pick from AmazonBasics is puppy pee training pads. They have vast options in terms of richness, sizes, and design so that you create the best toilet solution for your little furball.
These puppy pads are regularly sized, making them ideal for puppies and other small breed dogs. For medium-large dog breeds, you can buy bigger pads. It has a plastic lining that prevents your floor from soiling. However, some customers have reported leaking, so you can use them as a protection layer instead of guaranteeing a solution. Also, keep changing the puppy pads regularly, and you will not experience any problem.
These pads contain pheromone scented baked attractants meaning training your puppy won't be a struggle. Encourage your pup to sniff and praise when he does that. Try this a few times, and when you see him peeing on the pad, reward.
The process shouldn't take long, and you don't have to worry about your floors even if your puppy is left at home alone.
Read More- These Are Must Have Dog Bark Collar To Train Pets
American Kennel Club Training Pads
Another popular pet puppy training pads are from the American Kennel Club that comes with a pack of 150 pads to toilet train your puppy indoors without much hassle. Like any of the best puppy pads, these come in various sizes and scents options.
It is composed of 8 layers which give the maximum protection against dog pee soiling your floor. These feature quick-drying gel, and as soon as the pee hits, it is immediately absorbed.
You also get extra plastic layering designed to stop the pup from tracking paw prints around the house and minimizing leakage. However, these pads do not come cheap, but they are great value for money.
These puppy pee pads are suitable for 50 pounds dogs. Always remember that puppy pads are just offering protection; they are not 100 percent guarantee to leakage.
Pet Parents Pawtect Pee Pads
If you hate the hassle and extra expense that comes along with disposable puppy pads, then we have the best washable dog pee pads for you. These washable dog pee pads from Pet Parents are an eco-friendly alternative to paper.
You will get an array of choices from 7 different sizes and shapes of puppy pads. These pads measure 18 x 24 inches, and all of them are reasonably priced. These are perfect for puppies and small breeds. If you have a larger breed of dog, you can find bigger pads as well.
These puppy pee pads are made from WickQuick, a proprietary fabric, which quickly absorbs when the pee hits. This will prevent your pup from tracking wet paws throughout the house after he is done.
Always remember to wash these pads regularly, and you have your cost-effective toilet training pads on the rescue.
Four Paws Wee-Wee Pads
Next on our list of best puppy pads is Four Paws wee pads. This company holds a reputation for making high-quality pet products at affordable prices. These pads are packed with Leak-Proof technology with five layers of protection in the pads to keep the pee contained in one place.
If you have been sick of training your pup and it is difficult getting them to the pads, you will love these attractant baked pads. Once your furball starts to use it, everything will be fine. These pads are oversized and make a neat fit for many breeds and sizes of dogs.
Customer's reviews are mostly positive about these pads. However, these may not be most effective in controlling tracking. Overall you can definitely give puppy pee training pads a try.
Glad Training Pads
Next in line is Glad Training Pads, which come in multiple packs of 24 to 300 pads. These pads feature five layers of protection that can stop even a vast bulk of pee. It also contains pheromone attractants that will entice your pooch to use these pads when you introduce them to the first.
Once the pup pees on pads, the activated carbon starts working to control the odor. You can even use these pads as an effective crate liner as well. For a reasonable and versatile, effective method of toilet training, these are not the best puppy pads but are decent enough to do the job.
Simple Solution Training Pads
Simple Solutions puppy training pads deliver pads that deliver what they promise. You get a fuss-free, no-frills approach to a housebreaking Rover that too at an affordable price.
These pads have six layers of protection and make some of the most eco-friendly economy pads. This iteration is two times more absorbent. If your dog is small, he can use this pad several times a day before needing a replacement. If you have bigger canines, you will have to replace the pads frequently.
The attractants baked will help you to start your dog using the pads and encourage them to do so every time. The biggest selling point of this pad is the pee indicator. It will turn green when it's time for swapping.
These puppy pee pads can hold upto six glasses of liquid while neutralizing foul smell from dog pee. Try it once; we bet you will be impressed.
Read More- Best Types of Dog Training Methods
BarkBox Odorless Puppy Pads
BarBox is popular for making efficient puppy pee pads. If you have a dog that chews a lot, these might not be the rights pads to use. If yours is not a power chewer, keep reading.
You get an option to choose from regular or large size and charcoal or basic options. The charcoal ones are packed with charcoal to neutralize the foul smell of dog pee neatly.
This pad design is multipurpose, like using them as travel pads, crate liners, and it can also be used to train puppies, adults, and senior dogs. These best puppy pads are highly absorbent and feature gel technology which turns the pee to gel as soon as it is absorbed.
These puppy training pads are efficient as long as yours does not chew aggressively.
ASPCA Dog Training Pads
ASPCA has some of the best-scented pads, which make them ideal for house training. These pads are available in regular and XL size in a pack of 100 pads. You can also choose smaller and more affordable packs. Also, you get an option to pick a scent from fresh, mountain, or citrus. Be careful as some users have reviewed that the scent is very overpowering.
These pads contain attractants inside, which will draw your pup towards it, making toilet training a lot easier. It features six layers of protection to give a super-absorbent pad packed with gel technology. Also, these pads can prevent furballs from tracking wet paw prints to your clean house.
Frisco Dog Training Pads
Frisco has some of the best puppy pee training pads. Yes, you will be paying a higher price but will also get a value pack of 150 pads which is 50% more than standard packs.
The pads have a quilted upper layer along with five layers beneath that help to contain the pup's pee safely rather than trickling it all over the floor. This pad also has a leakproof plastic lining which makes a winning package overall.
You can even use these pads as crate liners when going on a trip with your pup. These pads are spacious enough to cover even bigger dog breeds with 22 x 23 inches.
The Proper Pet Reusable Pee Pads
Another best washable dog pee pads are from The Proper Pet, which reduces the headache of buying disposable pads every month. This Proper Pet store is full of products that make a pet parent's life easier, and this mat is a fine example.
You can choose from three different sizes of mat small, medium and large mats. This is a multi-layered pet that is highly absorbent and dries down really quickly. This mat can hold more liquid as compared to other washable dog pee pads. However, washable mats leave a smell behind if left unattended for a long time, so keep rotating frequently.
You also get a training guide free with this mat, which will make the entire process a lot easier, even if you are a first-time pet parent.
Hartz Home Protection Unscented Dog Pads
Hartz is a mid-range priced decent quality puppy training pad containing a pack of 100. So how do they perform?
These pads are packed with FlashDry technology, meaning it turns the pee into gel to lock in the moisture efficiently and keep your floors protected from dog pee. Infused with a mild lavender scent brings a refreshing change instead of other heavy scented puppy pads.
These pads have a total of six layers, which allows quicker absorption making sure your floor is not soaked in pee when you come home from a long day of work. However, the one drawback of this pad is that you will have to replace them more often. Overall, you are getting a good deal.
Read More- Best Smelling Dog Shampoo To Give Your Dog A Pleasant Aroma
GO BUDDY Super-Absorbent Dog Pads
GoBuddy puppy pads come in packs of 50 or 100. Customers get the choice to pick between scent-free or lemon-scented. These pads have 5-layer protection to keep the pee off your floor. The layers are sequenced as fabric, tissue, pulpy cotton, polymer, and waterproof backing. These pads are sized at 22 inches, fit enough to accommodate most dogs. Like all the best puppy pads, these come with a built-in attractant to entice your dogs into using them. Once he starts the routine and is comfortable, you can forget about wet floors.
Although the brand also offers a guarantee with your purchase which is valid for 90 days and covers defects related to materials and workmanship.
Paws and Pals Puppy Pads
You can get plenty of pet products on Paws and Pals, and these puppy training pads continue to win over our hearts with great quality and keen price. These are available in packs of 30, 100, and 150 pads.
These pads are meant only for puppies who need to toilet train, and you can even use them to line crates. The pads have a tissue locking layer with four other layers that offer maximum protection to your floor from dog pee.
The best part is that these pads are tear-resistant, which makes them perfect for power chewers. These pads do not have big sizes to accommodate large dogs; however, these can suit small-medium breeds easily.
Bulldogology Premium Puppy Pads
So we are ending the list of best puppy pads with this stunner from Bull Dogology that is available in packs of 100. Training a new pup can be very difficult, and getting him used to peeing on the pads when you are not home is a real task. To solve this problem, these pads feature inbuilt attractants to simply the problem.
These pads are more absorbent than any standard training pad, and the liquid turns into a gel quickly as the puppy pees. Sized at 24 x 24 inches, this increases your chances of having dry floors while giving a possible target to your pup.
Although some customers have reviewed their poor performance regarding leakage. However, considering the reasonable price of this bumper pack, you are getting a good deal overall.
Do you know what the best part about Bulldog Ology pads is? If you are not satisfied, you can avail 110% refund. This is something you will not find anywhere else.
Final Words:
We hope you like this puppy pad guide to choose the best puppy pads for your furball. You should always stick to the pee pads that have the most positive reviews and the brand you can rely on. Puppy pads are available in different sizes, scents, and features, so choose one that fits your needs right. Before you leave, do not forget to leave a comment and tell us about which puppy pee pads do you use from this list.