Peaky Blinders And Their Famous Caps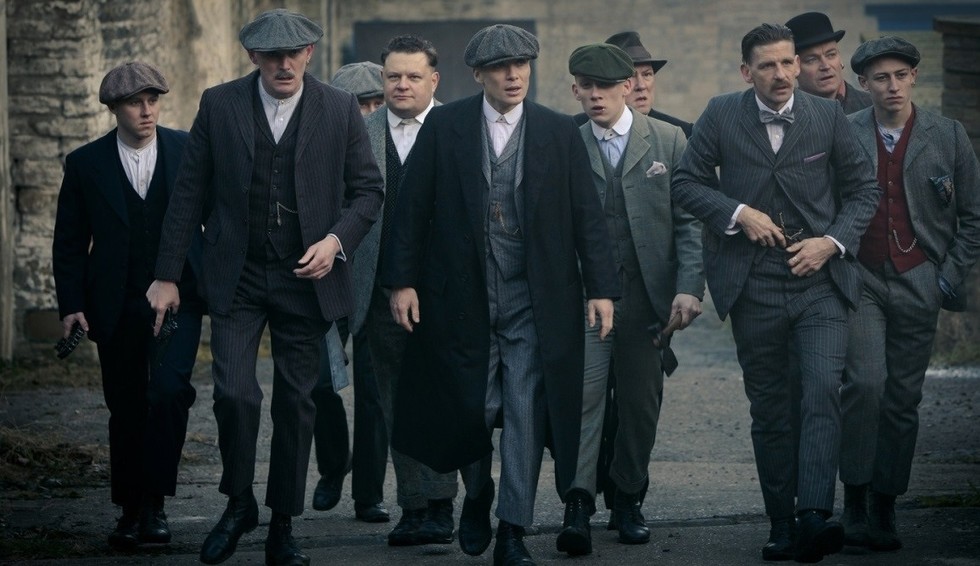 Everyone who has seen Peaky Blinders must know and be in love with their caps. Right?
Peaky blinders is a television series based on British period crime. It is the story of Shelby, a gangster family. The caps of the Shelby family are the most popular part of the whole series, as they keep sharp razor blades embedded in those caps.
This fictional series is based on the real urban youth gang of the same name, who lived in the 1890s, looking for power and money after the first world war. The shoot was done in Birmingham, England.
Creator- steven knight
Writer- steven knight, Toby Finlay
Director- otto Bathurst, tom harper, Colm McCarthy, Tim militants, David Caffrey, Anthony Byrne
Producer- Caryn mandabach, Greg Breneman, steven knight, Cillian Murphy, Jamie Glazebrook, frith tiplady
Distributor- BBC studios, Endemol shine group
Original network- BBC two, BBC one
Composers- Martin Phipps, paul Hartnoll, Dickon Hinchliffe, Antony genn, martin Slattery, anna calvi
Opening theme- "red right hand" by nick cave and the bad seeds
Peaky Blinders Cast
Characters – portrayed by
Thomas Shelby – Cillian murphy
Chester Campbell – Sam Neill
Polly gray – Helen McCrory
Arthur Shelby jr. – Paul Anderson
Ada Shelby – Sophie rundle
John Shelby – joe cole
Finn Shelby – Alfie Evans meese, harry Kirton
Grace Shelby – Annabelle walls
Alfred "Alfie" Solomons – tom hardy
Lizzie Shelby – Natasha O'Keeffe
Johnny dogs – packy lee
Linda Shelby – Kate Phillips
Michael gray – Finn cole
Gina gray – Anya Taylor-joy
These are some of the main characters of peaky blinders.
Thomas Shelby
This series follows the story of Thomas Shelby; that is why the main character of Peaky Blinders is Thomas Shelby (Cillian Murphy). Thomas Shelby is the leader of the family and the owner of the Shelby company. He is a man who uses his intelligence and power in business.
Thomas Shelby was from a very poor family and was a kind and hardworking boy with sympathy for the socialist movements in his early life. However, with the first world war, everything changed for Thomas, just like for everybody else.
The war left a great impact on Thomas, which turned him into a gangster.
Read more- Marvel Legend Thor- Everything About God Of Storm
More about peaky blinders
Peaky blinders is an amazing portrayal of the Shelby family and their life. There are six seasons of the series, with each season unlocking a different set of interesting incidents.
Here is a brief about each season for the series:
Season 1
In 1919, in Birmingham, England, the leader of the Peaky Blinders, Thomas Shelby(Tommy), finds that his business has come under the scrutiny of Belfast Chief Inspector Chester Campbell, who has been sent to clean the city of crime.
Episode 1
Birmingham 1919. Thomas Shelby controls the criminal organization named as peaky blinders, but Thomas' dream was to go beyond running the streets so, when the carate of the guns goes missing, Thomas uses this opportunity to move the world around.
Episode 2
Thomas fixes a horse race to get in touch with the local kingpin Billy Kimber. He starts fighting with the gypsy family, the lees, but the Campbell was given a mission to find the missing guns, so the Campbell came to Birmingham in between this chaos to find the lost guns.
Episode 3
Tommy wants to get close to Billy Kimber, so he decides to win the Cheltenham races. At the same time, Grace comes to Birmingham and starts living in Tommy's bar as a waitress, but in reality, she is sent to find guns with Campbell.
Episode 4
Shelby gets the offer to give guns to the IRA in exchange for money. Here Campbell also tries to put a lot of pressure on Thomas to return the guns. 
Episode 5
Thomas accepts the deal of the IRA chief in exchange for the guns.
As Thomas starts to trust Grace, he reveals the place where he has hidden the guns to her, which eventually reaches to the ears of Campbell.
Episode 6
After finding those guns, Campbell decides to clean up the crime in Birmingham, and his motive changes to destroying the Shelby family. At the same time, after betraying Thomas, Grace decides to leave Birmingham.
Season 2
The Shelby family is expanding their business North and South. While maintaining their stronghold on Birmingham, England. It began in 1921, and it ended in June 1922.
Episode 1
After two years, in 1921, Thomas reveals about the expansion of their successful business in London to his family. Here, aunt Polly is determined to find out what exactly happened with her children.
Episode 2
Sabinis attacks Thomas, but suddenly Campbell comes to the rescue. Ada was rescued by the men of sabini. After getting discharged, Tommy (AKA Thomas Shelby) visits Alfie Solomons while Arthur kills a man in the boxing ring.
Episode 3
Thomas receives a letter written by Grace and goes to meet her. At the same time, the Irish gangs destroy the Thomas club. Amidst this all, Arthur is being threatened by the mother of the boy whom he killed in the boxing ring.
Episode 4
Arthur went to a club in London and fought with the owner and announced, "this palace is under the new management by order of the peaky blinders. Thomas trains a new horse for the race. After a few days, Billy Kimber attacks on Finn and tries to kill him, but Thomas arrives at the right time and saves Finn's life.
Episode 5
Tommy's powerbase gets obliterated in London by the men of Billy Kimber. Arthur goes to meet Solomon, but Solomon attacks him with the men of Billy Kimber.
Episodes 6
At this time, Tommy has to decide one thing either his business or his image. With confusion in his mind, Tommy decides to leave this decision for later and decides to kill Billy Kimber.
Season 3
In this season, Tommy goes international and is pulled into the glamorous and dangerous world of international intrigue in 1920s Britain, putting his entire organization and family at risk.
Episode 1
Tommy marries Grace and gathers his family for dinner, but at the same time, he invites a man related to his business, which turns the entire Shelby family against him.
Episode 2
Thomas gets to know about Polly's children and tells Polly that her daughter is dead but his son "Michael Gray" is alive. So, Polly requests Tommy to get her son back to her, and Tommy goes to Michael's home and gives him the address of Polly's house. The next day Michael comes to the house and gets to know about her real mother.
Episode 3
Micheal gets to know about the peaky's business and becomes the family member of peaky blinders. Thomas tells everyone not to fight and maintain the silence, but at the same time, Arthur gets close to Linda and becomes a dad.
Episode 4
Polly goes for confession in the church and tells her father about Thomas' business and plans. Due to her confession, the member of billy Kimber gets to know about Thomas's business and comes to kill him.
Episode 5
After the death of Grace, Thomas gets mad at his family and at Kimber's man. So, he decides to not to talk to anyone about his business and his life, which leads to his fight with John.
Episode 6
Arthur and John decide to move away from Birmingham and leave the business.
Season 4
Series 4 begins in December 1925. Tommy Shelby OBE has acquired unprecedented legitimacy.
Tommy receives a letter on Christmas and realizes that the Shelbys are in danger. Shelby's family discovers the New York Mafia is arriving to get retribution for deaths occurring in 1924.
Episode 1
Thomas gets to know that the New York mafia has arrived in Birmingham, so he sends a letter to his whole family to invite them on Christmas.
Episode 2
Thomas calls Arthur and asks him to come to the party and call John, but Arthur refuses, so Thomas sends Micheal to John's house, and the men of the mafia arrive there and shoot John, due to which John dies. After this, Shelby's family reunites again to take revenge.
Episode 3
Thomas again starts his business with his whole family and makes a plan to kill the New York mafia. He asks new gangsters to unite with him in bringing a revolution.
Episode 4
The name of the new york mafia is Luca changretta; Thomas sends Polly to meet him and try to fall in love with her, but this plan fails, and the mafia attacks on Michael.
Episode 5
Thomas finds himself stuck from all sides, but he decides not to give up on the idea of taking revenge and comes up with a new plan.
Episode 6
Tommy sends Micheal to London to gather funds and keeps the money saved, and arranges a boxing match. However, in the match, Arthur finds some suspicious activities and goes to fight with the suspicious person, which gets him injured heavily.
Season 5
The Season 5 takes Grace's "haunting" to a whole new level, including several scenes of her apparition confronting Tommy all in white like some sort of youthful banshee. The Wall Street crash of 1929 took a big hit to Shelby's fortunes.
Episode 1
After Arthur gets injured, Thomas announces in public that Arthur is dead. When the mafia gets to know about this, he goes to kill Thomas and acquire his business.
Episode 2
Micheal wastes all the money and marries gina. Gina steals some money from London without Micheal's knowledge which leads to the entire family blaming Micheal.
Episode 3
Mr. Mosley arrives in Birmingham and desires to get Thomas business.
Episode 4
Mosley tells Tommy about Michael and Gina, and Thomas gets angry with Michael, but on the same side, he also does not want Mosley to interfere in his business.
Episode 5
Thomas decides to kill Mosley, so he again makes a plan and tells his family. All were ready for the plan except Michael and gina. But there was a friend of Finn who stays with Finn every time so, after a few days, Finn tells his friend about Thomas's plan.
Episode 6
In reality, Finn's friend is a man of money. So, when everything is set, and Thomas is about to kill Mosley, suddenly the scene of the plan changes, and Thomas does not succeed in his plan.
Frustrated with all this, Thomas puts the gun on his head. Though whether he killed himself or not is left as a mystery, which is to be revealed in the sixth season of the series.
Season 6
The sixth season is expected to be released in 2021 or 2022.
Read more- Ariana Grande: As Beautiful As A Doll
Final words
Peaky blinders caps and their dressing style is famous all around the world, and many people are fans of peaky blinders and Thomas Shelby.
Peaky Blinders is a mix of fiction and reality about the real Shelby family. As we already mentioned that the cast has confirmed about the upcoming of the final season in 2021-2022.
If you have never watched the series, what are you waiting for? Go watch the series with your gang and let us know about your reviews on this wonderful crime thriller Peaky Blinders, and don't forget to mention what else amazed you in the series other than Peaky Blinders most famous caps.