Chestnut Mushroom Recipes That Are Finger Licking Good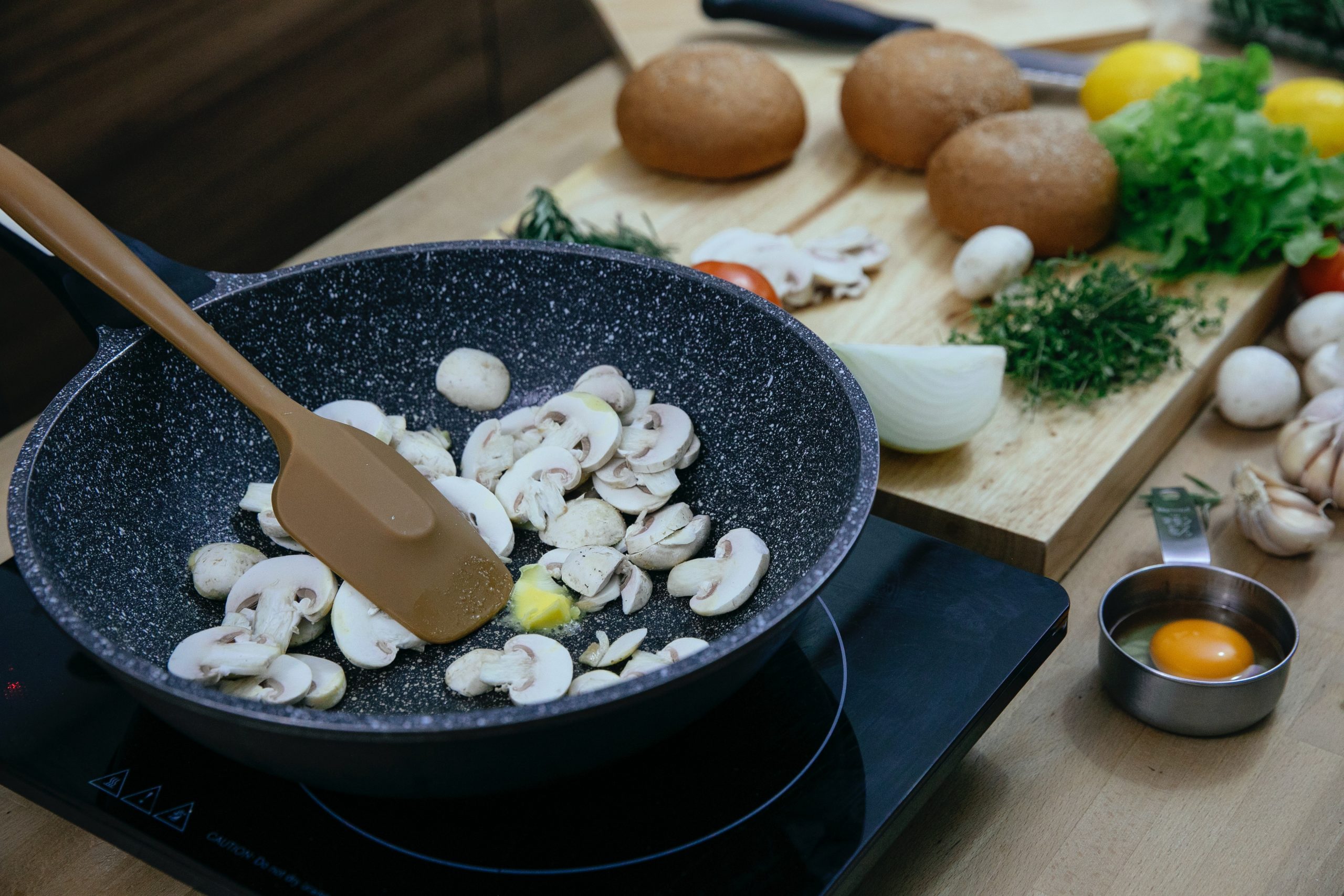 Once considered as an exotic ingredient, mushrooms have now been rated as the new superfoods. Mushrooms are super versatile and can work their magic in every dish. If you are a mushroom lover, then the chestnut mushroom recipe is a must-try for you.
This post will talk about what chestnut mushrooms are, how they taste, and some amazing chestnut mushroom recipes.
What are Chestnut Mushrooms?
Chestnut mushrooms belong to the Agaricus family. These brown cap mushrooms look similar to white button mushrooms and can be easily found in the fall and summer seasons.
Chestnut mushrooms are available in two sizes- small & medium. The brown to gray convex cap, which is attached to a thick and dense stem, has a velvety and smooth texture with a little sliminess. The cap gets wrinkles and dries as it ages. The gills located beneath the mushroom cap are white to cream-colored.
Chestnut mushrooms have a hearty texture and flavor as compared to white button mushrooms. They have a woodsy and clean aroma with meaty richness and sweet, nutty flavor that works with almost all recipes.
Chestnut mushroom recipe works best when simmering and sauteing, and these are quite popular among home cooks and chefs for using in different stews, soups, and casseroles.
You can serve them raw or grilled, stir fry, toast, and even poach in the microwave. Overall these are versatile and can be used in pasta dishes, salads, omelets, and so much more.
There is a pool of chestnut mushroom recipes that are worth exploring. Below we have mentioned some of our most favorite mushroom recipes that you must try.
Read More- Best Fried Rice Recipe With A Twist
Best Chestnut Mushroom Recipe Worth Trying
Spanish-Style Mushrooms with Garlic
Ingredients:
Olive oil
Chestnut mushrooms
2 tbsps. parsley
Two cloves garlic
Salt and pepper
Directions:
Clean mushroom with water and slice evenly. Saute the mushroom pieces in olive oil until all the liquid has evaporated. Meanwhile, you can chop parsley and garlic.
When mushrooms are cooked, add chopped garlic and parsley along with salt and pepper.
Turn heat to high flame and add a dash of white wine or sherry. Let the alcohol evaporate.
Mix everything and turn off the heat. You can serve this dish hot or after it is cooled down, along with toasted bread on the sides.
Mushroom and Porcini Risotto
Porcini are a popular type of mushroom with great flavor. This chestnut mushroom recipe will tickle your taste buds for sure.
Before you cook, remember to soak the porcini mushroom in lukewarm water for 30 minutes. Drain and chop them while saving the soaked water aside.
Ingredients:
Porcini (around half a packet)
One medium onion
Butter
Chestnut mushrooms (180 grams)
1 cup Arborio rice
1-2 cups of vegetable stock
100 grams of grated parmesan
Salt and pepper
Directions:
Take a medium-sized skillet or pan and add butter. Saute chopped onions while slicing the mushrooms. Once the mushrooms have cooked and start to get golden, add chestnut mushrooms and continue cooking until they turn golden brown.
Now add Arborio rice to the pan and cook for one minute. Make sure to coat every grain of rice with butter. Add vegetable stock and mushroom soaked liquid to rice and let them cook for 10 minutes.
Keep aside some of the liquid. When rice is cooked, take off the pan from heat.
Add more butter, half-grated parmesan, and pepper to the pan.
Stir everything nicely and adjust seasonings if required. Let them sit for a while until you are ready to serve.
Top with more grated parmesan when serving.
Garlicky chestnut mushrooms on toast recipe
This simple chestnut mushroom recipe is perfect for a fancy breakfast or quick lunch during the workday.
Ingredients
2tbsp olive oil
300g chestnut mushrooms, trimmed and chopped
Two pieces of thick toasted bread
2-3tbsp roughly chopped flat-leaf parsley
Two cloves of garlic, crushed
salt and freshly ground black pepper
a knob of butter
Method
Take a medium-sized pan and heat oil. When the oil is hot, add mushrooms and cook for about 5 minutes until they get golden.
Add garlic to mushrooms and cook for 1-2 minutes. Add chopped parsley and mix with pepper and salt.
Make a fresh bread toast. Put it on a serving plate and spread the mushroom mix over the top.
It's ready to serve.
Pop the hot toast on a warm plate, spread with butter if you want, and spoon over the hot mushroom mix.
Creamy Mushroom Soup
Ingredients:
½ medium onion, chopped
2 cups cooked chestnut mushrooms
1 celery stalk, chopped
One carrot, finely chopped
8 cups mixed mushrooms, chopped
One clove garlic, chopped
1 tsp. chopped fresh rosemary
4 cups chicken stock
1 sprig of fresh thyme
Freshly ground black pepper.
1/3 cup crème fraîche
Chives, sliced for garnish
4 tbsp. butter
Directions:
In a medium saucepan, heat butter over medium heat. Add mushrooms and saute for five minutes. When cooked, keep a few of the mushroom pieces aside for garnish.
Add carrots, onions, garlic, and celery to the pan and season with salt pepper. Cook the veggies for 10 minutes. Keep stirring occasionally.
When the veggies turn tender and light brown in color, add chestnuts and cook for four more minutes.
Add chicken stock, rosemary, thyme to the saucepan. Allow the mixture to come to a boil and lower the heat.
Cover the saucepan partially and let the mixture simmer for 30 minutes. When cooked, puree the soup with an immersion blender or a regular blender. Now add in black pepper and creme fraiche.
Taste the mixture and adjust salt and other seasonings to taste.
Serve it hot and garnish with mushrooms and some fresh sliced chives.
Balsamic Mushroom Spaghetti
Ingredients:
6 tbsp. balsamic vinegar
One onion
250 grams chestnut mushrooms
150 grams plain spaghetti
3 tbsp. olive oil
Half clove garlic
150 grams chicken fillet
40 grams parmesan cheese
2 ½ tbsp. chives
½ tbsp. fresh parsley
Directions:
Chop garlic and onion and cut mushrooms into quarter-size pieces. Clean chicken fillet and cut into small strips or cubes.
Take a large pan to boil water and add spaghetti.
Heat 2 tablespoon olive oil on a burner in a large skillet and saute garlic and onion for three minutes.
Add chives, chicken to the skillet and season with pepper, salt, and parsley.
Keep stirring the mixture for five minutes and let the chicken cook completely.
Remove the chicken from the pan in a different bowl.
Heat the remaining oil in a skillet and add mushrooms. Cook for five minutes, and now add the balsamic vinegar.
Season the mushrooms with salt and pepper.
Drain the cooked spaghetti and put it on a serving plate. Top it with chicken, mushrooms, and parsley.
Garnish with grated parmesan cheese before serving.
Read More- Cornmeal Substitute You Can Find In Your Kitchen Cabinets
Mushroom Stroganoff
Ingredients:
Two cloves of crushed garlic,
2 tbsp. tomato puree
200 grams of peeled, roasted mushrooms, halved
3 tsp. Paprika
400 grams of mixed mushrooms, sliced
450 ml vegetable stock
4 tbsp. crème Fraiche
1 leek, sliced
Some fresh parsley
Directions:
Take a pan on medium heat and add oil and leeks. Cook for five minutes until they become tender.
Add paprika and crushed garlic, then cook for one more minute.
Now add chestnut mushrooms and other mushrooms to the pan.
Continue to cook on medium heat and keep frequently stirring for five minutes.
Add vegetable stock, tomato puree to the pan and stir nicely. Turn up the heat and boil the mixture. Let it cook until the mixture thickens.
Turn off the flame and stir the creme fraiche gently. Add parsley. Garnish the recipe with left-out parsley and serve it with rice or pasta on the sides.
Mushroom, chestnut, and squash filo pie
This delicious mushroom veggie pie is meant to be shared with everyone. It tastes even better when served with cold salad or vegetarian gravy.
Ingredients
3 tbsp extra virgin olive oil
250g/9oz chestnut mushrooms, sliced
1 red onion, sliced
300g butternut squash peeled and cut into chunks
75g curly kale, shredded, tough stalks discarded
150ml oz vegetable stock,
50g ready-to-eat dried apricots, quartered
180g chestnuts, halved
75g/2½oz walnuts, roughly broken
½ tsp dried chili flakes (optional)
85g/3oz goats' cheese, cut into small pieces
sea salt and freshly ground black pepper
For the pastry
Four sheets filo pastry
2 tbsp extra virgin olive oil
handful chopped fresh parsley, to garnish (optional)
Instructions
In a large non-stick skillet, heat 2 tablespoons of oil and fry mushrooms for 4-5 minutes on medium heat. When they turn golden, transfer the mushrooms to a plate and put the pan back to heat.
Add remaining oil to the pan and lower the flame.
Fry the onions and squash for 5 minutes or until the onions turn brown and squash tender. Keep stirring occasionally.
Add kale and vegetable stock to the pan and let it come to a boil. Simmer the mixture for 3 minutes while stirring regularly.
Add apricots and heat the mixture for 2 minutes. Remove the skillet from heat and add walnuts, chestnuts, and reserved mushrooms. Add chili flakes and season with salt and pepper. Let the mixture cool for 40-60 minutes.
Preheat the oven at 190 C; meanwhile, ready the baking tray by ling with baking paper. Place filo pastry sheet on the tray and brush oil. Add another sheet on top to make a cross shape at right angles. Brush more oil and then place a third filo pastry sheet diagonally, brush oil. Place the fourth sheet in the opposite direction.
Spoon fillings in the center of the pastry and flatten the circle. Scatter goat cheese on top.
Put excess pastry sheets around the filling while leaving a little gap on top, scrunched loosely.
Brush a little oil over the pastry and bake for 25-30 minutes.
Garnish with parsley and serve it hot.
Read more– Best Oregano Substitute For When You Are Out Of Your Stack
The above-mentioned chestnut mushroom recipes are worth trying to satisfy your palate. Which chestnut mushroom recipe are you going to try first? Do not forget to share your experience with us in the comments below.