How To Make A Smoothie At Home- Healthy Smoothie Recipes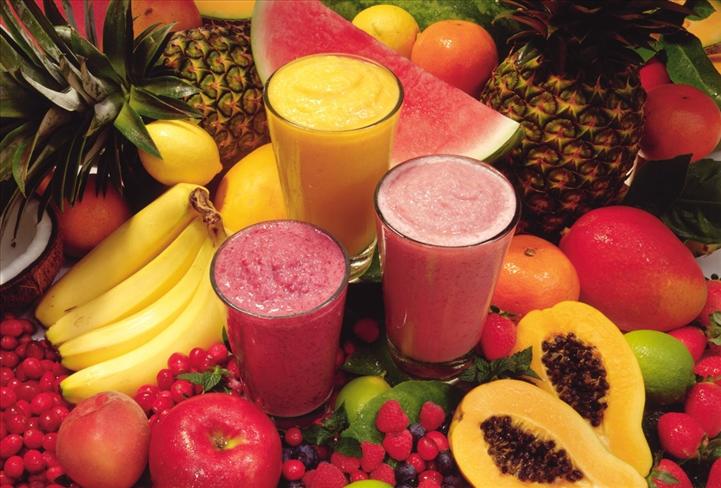 We all love creamy and thick smoothies! But do you know how to make a smoothie? Don't worry; we have listed the delicious and healthy smoothie recipes to savor different flavors' tastes. 
Healthy smoothies are prepared with fresh yogurt, milk, nuts, seeds, fresh fruits, juices, and scented flavors. 
Check out the different types and smoothie recipes to enjoy the healthy and creamy taste! 
Types of Smoothies 
Here we have classified smoothies into three categories that are healthy and nutritious. It includes- 
Green smoothies
 Green smoothies are prepared with green vegetables and fresh fruit blended with juice, water, or milk. 
They have more vegetables than regular smoothies and contain less sugar or sweetness.
Fruit smoothies 
The name suggests; a fruit smoothie consists of more fruits than a normal smoothie. Fruits are blended with yogurt, water, milk, juice, or ice cream. 
Protein smoothies
Protein is rich in proteins. It is prepared with nuts, seeds, Greek yogurt, cheese, protein powder, and other healthy ingredients. 
Scroll down to know more about the smoothie recipes and ingredients. 
How to make a smoothie at home- Healthy smoothie recipes
The healthy and nutritious smoothies include whole foods, little or no sugar, and a balanced amount of healthy fats, protein, carbs, and fibers.
If you want to try healthy smoothies, you must look at these delicious recipes you can even make at home.
Get ready to savor the taste of fresh fruits and creamy flavored smoothie recipes, which includes- 
Smoothie of green ginger 
For the ginger green smoothie, you must collect the below-mentioned ingredients in required amounts- 
One tablespoon of roughly chopped fresh ginger 
2 cups of fresh baby spinach
One sliced or frozen large ripe banana
Half cup of non-fat or low calorie vanilla Greek yogurt
Two tablespoons of almond butter without any added sugar
small avocado 
4–6 ounces of almond milk without any artificial or added sugar 
Instructions
All you need to do is pour all these ingredients into the blender.
Now blend it until the mixture become smooth or consistent. If it's too thick, you can add further almond milk. 
One glass of 590 ML will provide you-
Protein: 21 grams
Calories: 513
Total carbs: 56 grams
Added sugars: 6 grams
Fiber: 10 grams
Fat: 25 grams
Tropical berry beet smoothie
For Tropical berry beet smoothie, you must collect the below-mentioned ingredients in required amounts- 
Two tablespoons of hemp hearts
fresh lime juice squeeze 
1/4 cup of roughly grated or chopped raw beets
4–6 ounces of natural coconut water without any added sugar 
frozen mixed berries at least one cup 
half a cup of frozen mango 
Half cup of plain and low-fat Greek yogurt
Instructions
All you need to do is pour all ingredients into your blender and blend it until it becomes consistent or smooth.
If you want to add a bit of sweetness to it, try mixing 100% real juice. You can also mix unsweetened yogurt to make the smoothie tastier. One glass will provide you-
Protein: 22 grams
Fat: 13 grams
Calories: 380
Added sugars: 0 grams
Total carbs: 52 grams
Fiber: 8 grams
Smoothie of Peanut butter banana 
Peanut butter banana smoothie is a great way to start your day. It is a long-lasting smoothie that can help you provide instant energy. You must make this with no hydrogenated oil and no added sugar. 
Ingredients
One banana
One tablespoon of natural peanut butter
Milk of choice, such as low-fat, almond, or flax milk
For the little sweetness, you can add natural honey.
Whey protein smoothie
Whey protein is rich in potassium and protein, an ideal drink for runners or athletes. It will help you provide instant energy, build muscles, and repair damaging muscles of your body. 
Additionally, this is a perfect way to refuel your body after a hard workout.
Ingredients
One scoop whey protein powder
One cup of milk
take out a cup of chilled ice, if you want it cold 
One cup of yogurt
One or two banana
Banana colada smoothie
You can make a refreshing banana colada smoothie to replace alcoholic beverages. It is best to welcome your summers. 
Ingredients
Coconut cream 
Two bananas
Pineapple chunks or juice 
Three cups of crushed ice to make it cold 
You can sprinkle coconut flakes as toppings if you want to impress your guest after pouring them inside the glass. You can also add Greek yogurt for more creaminess and protein content.
Mango papaya smoothie
Mangoes are a rich source of vitamin A, antioxidants, and iron to help indigestion. When mangoes are consumed with papayas, digestion becomes smooth and easy. For papaya mango smoothie, you must grab all these ingredients- 
One papaya 
One mango 
1/4 tablespoon of almond extract
Two cups of plain yogurt
Two tablespoons of fresh lime juice 
Three tablespoons of honey to add some sweetness 
Blueberry antioxidant smoothie
Blueberry is a powerhouse of antioxidants. You can make a blueberry antioxidant smoothie with these simple Ingredients-
Half cup of plain yogurt 
One cup full of blueberries
One tablespoon of condensed milk
One cup of low-fat milk
Tomato smoothie
Tomatoes have multiple health properties packed with vitamins K, A, and C. It promotes blood sugar regulation, healthy skin vision, and fights cancer. You can make it with these simple ingredients- 
Two cups of ice 
Two cups tomatoes
1/4 cup apple juice
Half cup of tomato juice
Half cup carrots
hot sauce
1/4 cup of celery
Kale smoothie
Kale is rich in antioxidants, vitamin A and fibers. It is a superfood that has a tough texture. You can make this from these simple home ingredients-
One cup of blueberries
Two bananas
Five leaves of kale
a few slices of cucumber
Raspberry avocado smoothie
The raspberry and avocado smoothie is a perfect combination of cream and tartness. In addition to loads of potassium, this drink helps you offer healthy values of antioxidants, fibers, and vitamin C. you can easily make at home with simple ingredients-  
One avocado 
3/4 cup of raspberry juice
3/4 cup orange juice
Half cup of raspberries
Banana strawberry soy smoothie
Consume banana strawberry smoothie to take a fair amount of protein and sweetening flavors. You can make at home with these simple ingredients- 
One cup of plain soy milk 
Two cups of fresh strawberries 
Two tablespoons of honey
One banana 
Final Words 
Smoothies are the famous snack and meal option that is tasty plus nutritious. 
The more healthy ingredients you blend, the healthier the smoothie becomes. Nutritious smoothies are prepared with healthy ingredients such as dry fruits, fresh fruits, creamy nuts, and other dairy products. You can easily make it at home by following the smoothie mentioned above recipes. 
Enjoy it with cream, ice, and savory flavors!
Comment down below if you found this article helpful.