Best Art Deco Style Bedroom For Your House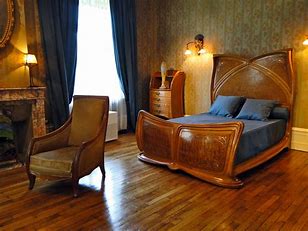 Just imagine that it's a party at your place and people entering your house are gonna review your house too. As soon as they enter the bedroom, they say, "Oh my God! I have never seen such a beautiful and artistic bedroom". Well, that sounds great, but you must be thinking about how is that possible? Well, the answer to your question is simple, i.e., an art deco style bedroom. 
These bedrooms have a classy style which makes your bedroom completely different and something out of the box. Therefore, you just have to read the following article for making your bedroom of a new world or modern era. So just read, connect, and explore.
What Is Art Deco Style Bedroom
Art Deco also sprang from the 1920s in Western Europe and the United States and became a significant style in the 1930s. Sometimes they are also termed as modern styles. The name of the exhibition was taken from 1925. The first exhibition of style was held in Paris when the International Exhibition of Decorative and Modern Industrial Art was held.
Art Deco design represented fashionable modernity. Her products comprised both personally created luxury things and mass-produced goods. Still, the goal in either instance was to generate a sleek and anti-traditional elegance symbolizing richness and refinement.
Dramatic Headboard Art Deco Style Bedroom
The French designer Dorothée Meilichzon produced dramatic, handcrafted headboards inspired by Milanese frames in this Art-Déco-influenced bedroom at the Henrietta Hotel in London. She employed the classic Art Deco flair to frame a pair of tall blade lights to frame the bed.
Bold Geometry Art Deco Style Bedroom
This elegant suite created by Elodie & Arnaud in Paris in the Hotel Rose Bourbon buildings is inspired by the daring geometric patterns that distinguish Art Deco style. The same pattern is carried from the bathroom to the bedroom wall in the black and white marble mosaic giving a focus and consistency. Bright brass and an organic brass-framed mirror enhance luminosity, velvet tapering adds a luxurious touch, and natural timber offers warmth.
Maximalist Art Deco Style Bedroom
This superb Art Deco fantasy of a dormitory by interior designer India Mahdavi for the Paris Thoumieux is a modern maximalist style. The designer combined Art Deco wallpaper with carved wooden headboards, heavy-sided, antique lights, and a mixture of leather materials, marble components, and bamboo, which provides the space a feeling of decay and character.
Powder Pink
Milanese interior designer Britt Moran and Dimor Studio's Emiliano Salci built Art Deco style rooms like exquisite private residences at Hotel Saint-Marc in Paris. They employed a mix of old furniture, custom-made art, and decorative items produced by craftsmen in Murano, Italy, flowers, and classic designs to create a colorful, sophisticated, streamlined ambiance.
Curves And Symmetry Art Deco Style Bedroom
It is one of the most creative designs for the bedroom. There are circles, different lines, and so on. It will not only stun the guests but will even astonish you once it is finished.
In this magnificent Art Deco-inspired bedroom at the Londoner Henrietta Hotel, French interior designer Dorothée Meilichzon employed a combination of materials, including mirrors, texturized panels, and hand painting. The circular forms and curves create a sensual environment that honors one of Art Deco's characteristic features.
Mixed Metals And Monochrome
Tavia Forbes and Monet Masters from the interior design company Forbes + Masters developed an approachable look at modern art deco glam with a current and fresh touch in this dormitory. "Lush fabrics and reflecting surfaces let the room be covered by light," the designers explain. "This room provides a depth and warmth for the simple monochromatic color scheme by blending metals."
Unapologetic Curves Art Deco Style Bedroom
An authentic Art Deco furniture or reproduction item such as this curved, white dresser is a simple way to incorporate a touch of Art Deco flair into every environment by Tavia Forbes and Monet Masters of the interior furniture company Forbes + Masters. The Art Deco lines combine nicely with modern pieces in the middle of the century, creating an eclectic contemporary home with a historical node.
A Panache Dash
In the Hotel Panache in Paris, French interior designer Dorothée Meilichzon has introduced a contemporary touch to the art-deco decor with whimsy cane headboards, globe-pendant lighting, and a mix of geometric forms and patterns. Built as the Flatiron building in New York, the designer added several angles in triangular mirrors, triangles, and corner cabinets, inspired by the structure itself.
Lush Velvet
The French interior designer Dorothee Meilichzon developed an eclectic Art Deco decor at the Henrietta Hotel in London with luscious details such as a curved, velvet-padded bed and a personalized terrazzo-patterned Carrara marble tapestry. And to blend it in, she added a 1970 touch with Pierre Paulin-inspired custom-made sleeves covered in pink velvet raspberries.
Shades Of Blue Art Deco Style Bedroom
This elegant Art Deco suite by Milanese interior designers Britt Moran and Emiliano Salci, from Dimore Studio, is an engulfing blue cocoon at Hotel Saint-Marc in Paris. Sculpted globe bedside lamps and meticulous metal headboards provide textures and intrigue. Design features as well as doors in the mirror, brass, and lacquered wood panelings.
Wall Decor
The French designer Dorotheée Meilichzon emphasizes the walls of that room at the Grand Pigalle Hotel, Paris, to generate a significant aesthetic effect in a very narrow area, adding bold, antique sconces and an art deco-styled wall-mounted small desk.
Echoes Of Art Deco
The nice cane headboard in a Boston-based high-rise bedroom design, Desiree Burns Interiors, looks fresh and modern. Still, the rounded edging of the interior is a subtle node of the age of Art Deco, which lends to a contemporary space a touch of texture and tenderness. The style of half of century reading lights and the classic black and white bedside tables complete this appearance on either side of the bed.
Soothing Blues Art Deco Style Bedroom
Includes custom marble and wooden workstations, specialized headboards covered with Frey fabric, retro glove lights, and a relaxing blues palette to set up this calmly streamlined look in Art Deco style of French designer Dorothee Meilichzon at Hotel Bachaumont in Paris.
70's Flair Touch
This retro-modern room suite, designed by Tavia Forbes and Monet Masters, has boutique hotel vibes. Moreover, it also has "retro 70's Glam flair," the designers say, "with deep black textured walls, brilliant brass accents, low-slung lounge decorations, and a bold combination of textiles and graphical prints set by a dramatic custom bed."
Pattern Upon Pattern Art Deco Style Bedroom
A fascinating method of exploring a combination of patterns and finishes is to interpret contemporary Art Deco. Geometrical wallpaper and floor tiles are matched with teal blue walls and shiny green shower tiles in this high-spirit room of French interior designer Dorothée Meilichzon in the Paris Grand Pigalle hotel, with polished metal accessories.
Final Words
Art Deco also sprang from the 1920s in Western Europe and the United States and became a significant style in the 1930s. Sometimes they are also termed as modern styles. However, some of the best art deco style bedroom types are echoes of art deco, soothing blues, and pattern patterns.
I hope you liked this article. For more such articles, stay connected to us. Don't forget to drop your review i the comment section.