Top 10 most beautiful houses in the world 2021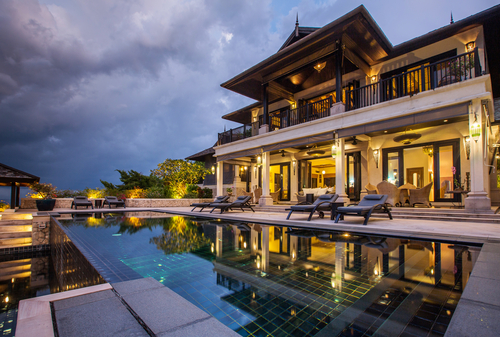 The journey of a thousand miles starts with the first step. Similarly, it takes small steps to build up to something as big and beautiful as these homes! From mansions worth millions on sprawling acres all the way down to cozy condos in dense urban centers, no matter how much living space you have, if you're surrounded by beauty, then that is enough for most homeowners.
We compiled this list using various sources from around the world-from Fortune Magazine's Top 10 Luxury Homes 2018 guidebook (1) all the way over to Architectural Digest magazine's 30 Most Beautiful Houses Between $5 Million – 5 Billion 2017 edition (2). Each has its own unique charm but also shares one thing: they are stunningly gorgeous.
And you never know, it could be the perfect addition to your new design for next year. So without further ado, let's dive right in!
Dracula Palace, Romania
In between the lush green trees, one can find a large estate known as Bran Palace. This place is perched to overlook the city of Brasov and holds an important past for Romania's history. Known by many around the world as Dracula Castle due to Bram Stoker's novel "Dracula," it was formally used in 1920 as King Ferdinand I's headquarters and seat of power during his reign over modern-day Romania
Known more famously throughout Europe at Dracula Castle thanks to Bram Stoker's original work on vampires, this old building had housed royalty since its opening back in 1420 when Vlad Dracul (the father) first claimed ownership under Romanian rule. In fact, until recently, this castle served primarily just that.
Updown Court, UK
This pristine white building is surrounded by beautiful lush greenery with a minimum crowd surrounding it. This 103 room mansion located in Surrey was privately owned and not very far from London's bustling city life, an ultimate paradise for luxurious yet peaceful living! With 22 exclusive bedrooms, which come complete with private pools on the property plus 5 other pools to choose from as well if you're looking for that perfect setting of peace – there are plenty of opportunities available here. The house also comes equipped with an amazing cinema hall, garage space for 6 luxury vehicles (or any number of your personal cars), or a helicopter landing pad should you be inclined at some point during your stay!
Antilia, India
The Ambani family, one of the wealthiest in Mumbai city and India, was able to construct their own personal skyscraper. This building is considered an architectural marvel with its whopping 27 floors and 3 helipads for helicopters (and you thought your house had enough parking spots!). The entire plan is based on Vastu Shastra, which this affluent dynasty has passed down through generations from generation to generation. There are 168 car garages housed within the structure that also contains 9 elevators, ballrooms, theatre's large swimming pools, perfect for those hot Indian summers!
Villa Leopolda, France
The Royal Palace of Belgium, built in 1902 by the Belgian King Leopold II, is a true gem that deserves its place on any list of most beautiful houses. Located at the French Riviera with stunning views and ever-so heavenly surroundings, this property has everything one would want from an elegant home. Though there are only 11 bedrooms and 14 bathrooms, it makes up for these shortcomings, with pristine garden space requiring 50 gardener's efforts to maintain!
The beauty found within The Royal palace of Belgium was constructed back in 1902 by none other than King Leopold II himself, who spared no expense when designing his masterpiece, which features lavish design elements like marble floors or intricately decorated ceilings, all expertly crafted over time to be nothing but extraordinary. This awe-ins.
South Coogee, Australia
One of the levels of this beautiful property is a large swimming pool that has been in construction for many years as it's designated to be used only during summer. The owner takes advantage by having five bedrooms and two living rooms while being close enough to feel all the sea breeze!
Versailles – Florida, US
The Westgate Resort's owner has one of the most lavish homes globally, taking inspiration from France's Palace of Versailles. The 80,000-square foot house was built over a 10-year span and consisted of 14 bedrooms with their own kitchens that can be used at any time for guests or members alike to enjoy.
The Manor, California
Designed in 1988 by TV producer Aaron Spelling, The Manor is the largest home of Los Angeles County. It initially sold for $85 million to an unknown bidder and was later put into the market with a price tag of $150 million. In June 2019, it finally went under contract when someone purchased it at an undisclosed amount – setting a new record as California's highest sale ever!
Starwood Estate, Aspen
One of the most spectacular properties in America, with a breathtaking view that can't be beaten. You'll get everything you need for your next vacation: 5 bedrooms and 8 bathrooms to accommodate large groups or families; an unobstructed mountain vista from every angle thanks to our state-of-the-art media room, fitness center, gourmet kitchen complete with top appliances like Wolf & Subzero refrigerators (plus wine/cigar tasting area); plus private massage table and ping pong table right inside!
The master bedroom features separate baths for him and her that are large enough not to feel cramped. The closets outside his bathroom have a glass-enclosed pool inside them, which is perfect if you want some peace of mind while getting ready in the morning or need an escape from your spouse during their bath time after fighting with each other all day long. This property can be rented at various times ranging anywhere between one night up to full month increments!
Clifton 2A, Cape Town
This villa is situated at the foot of the Lion's Head Mountain and is designed under the project of Santa Studio from South Africa. This remote building has been postponed for many years. Still, it remains one of America's most scenic buildings despite its hard-to-reach location because every inch makes you believe that your life could be a work by Monet or Renoir–so beautiful in every corner!
One Hyde Park Penthouse, UK
You can live like royalty in one of the world's most expensive homes. This $160 million penthouse is located in Knightsbridge, London, and comes with heated marble floors, walk-in wardrobes, and a 21-meter pool! It has been designed by Rogers Stirk Harbour + Partners who also collaborated on top hotels such as Mandarin Oriental Hotel, which provides 24 hours security for this luxurious home that features an extensive library, among other amenities.
This luxurious new community is home to billionaires, celebrities, and business people. It has 80 residences – many of which are multi-million dollar homes with all the most expensive amenities.