Best Luxury Smartwatch To Buy In 2021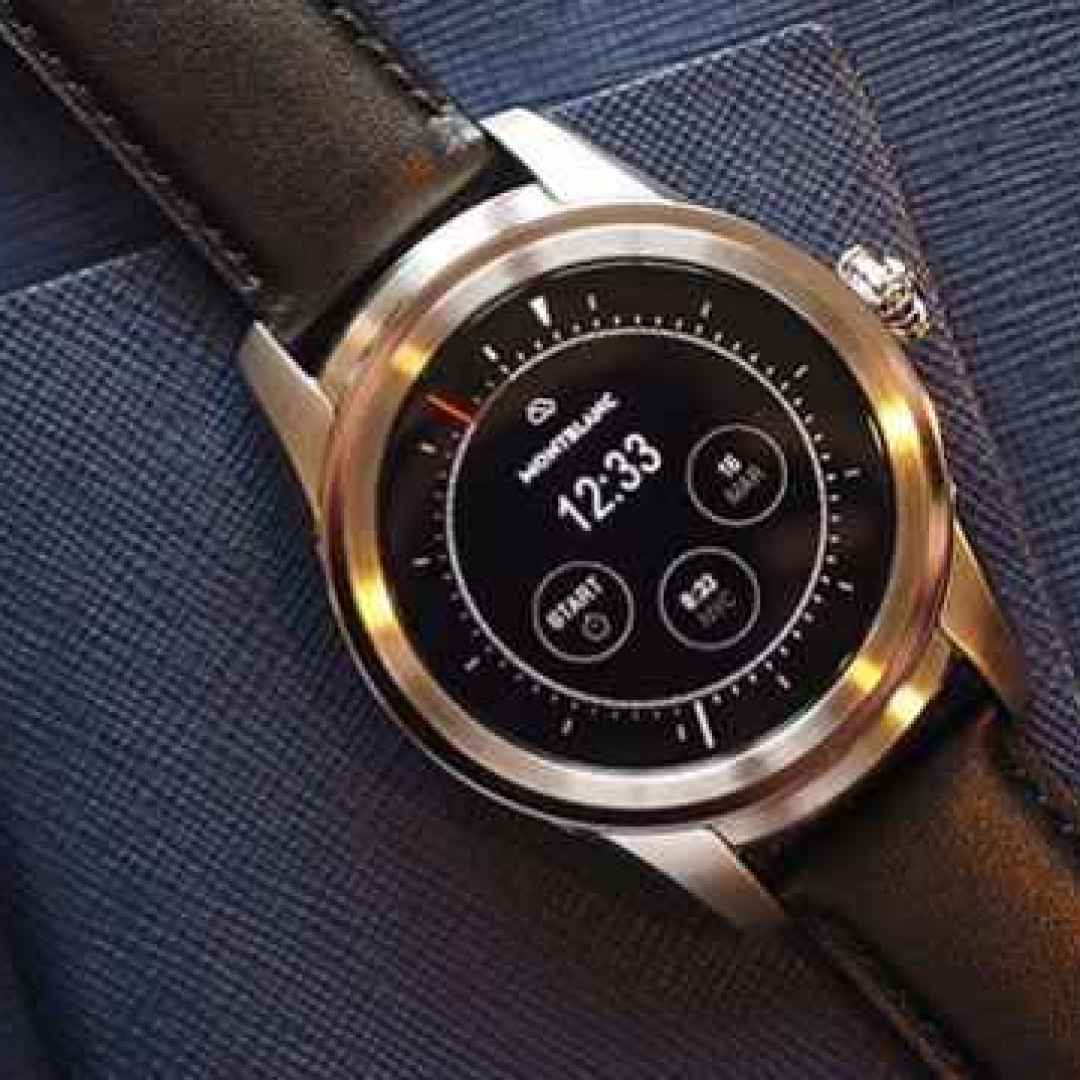 Looking for something that combines technology and luxury? If yes, then a luxury smartwatch can be the right choice for you. 
In today's world, a watch is more than just a timepiece. Smartwatches in modern times offer a host of various useful features. The good thing about them is that there are many luxury smartwatch brands that offer classy and stylish timepieces with a host of features. But choosing the right one which suits all your news can be sometimes confusing as there is an array of options available.
To help you with this, we have selected some of the most luxury and stylish timepieces for you, which offer top-notch features along with looks in the article below.
Best Luxury Smartwatch Options
These are some of the best luxury smartwatches on offer, which are best of class in terms of features as well as looks which you get.
Apple Watch Series 6
Apple is like the brand ambassador of luxury when it comes to getting top-notch technology and features. The new apple watch series 6 is the latest addition to the apple watch lines, and it offers the top of class luxury along with a host of features.
This watch can even save the life of the wearer as it tracks the irregularity in bodies like heartbeats and can send an SOS. In addition to this, you can easily integrate it with your Apple iPhone and complement it. Using this watch, you can also make and take voice calls along with using Siri. It also lets you attend and reply to the notification from your phone and also has apple pay which lets you spend money easily.
Other features of this watch include a 28 hours battery life, along with other tracking options like health and heart rate.
Key Features
Stylish Design
Integrates best with iPhone and has the widest range of app compatibility.
Excellent and in-depth tracking of health and fitness, including O2 levels, ECG, and Sleep.
Offers immense storage of 32 GB.
Family set up to share and track activities.
Built-in Cellular options and GPS.
These are some of the things about the apple watch series 6, which makes it one of the best luxury smartwatch options. What's even more is that Apple is a renowned brand, and thus, you can trust them for quality and durability.
Garmin Fenix 6 Pro Solar
This watch from the famous Garmin brand is something which can be the best smartwatch for men and women. It is rugged and offers a host of features, and that too with some looks to catch the eye.
The watch comes with a 1.4-inch display which has the ability for harnessing energy from the sun to give it a power boost. It also offers advanced pulse ox, heart readings, altitude acclimatization, and reading for Sleep as well. Other than these amazing features, it also offers pace advice along with effort estimates based on VO2 Max. all this makes it an awesome option when it comes to getting a rugged and feature-loaded watch for Men and Women.
This watch is especially good for persons who love to ski as it offers more than 2000 preloaded maps of resorts.
Key Features
GPS
Garmin pay
Smart notifications
Military-Grade resistance to things like temperature, shock, and water.
Preloaded maps for using offline.
21 days of battery life.
Wifi and Bluetooth connectivity.
These are some of the features and things that make this one of the best luxury smartwatch options when you want a combo of features with style. What's even amazing is that this watch is extremely durable due to its rugged design and gives manly looks to the wearer.
Samsung Galaxy Watch 3
When it comes to a luxury smartwatch, then Samsung is a heavyweight in this high-end industry. The latest offering from the brand is Samsung Galaxy Smartwatch 3. This Samsung watch has a name change from its predecessors, which were named Samsung gear. The name change gives the watch closer ties to the tablets and smartphones.
This Samsung watch offers an elegant and sleek design that appears to be luxurious and appealing. The company offers this watch in two variants of a thick 45mm silver variant and a discrete variant of 41 mm in enticing black color. A feature of this watch that makes it stand out is that it offers wireless charging. Other than this, it also features an intuitive screen along with LTE connectivity.
Overall, the watch combines top-of-line features and smart functionality, making it one of the best luxury smartwatch options to buy for men and women. The good thing is that it comes with the trust of the Samsung brand, so you don't need to worry about durability.
Key Features
You can text, call or stream music.
Option to monitor heartbeat, ECG, and other health features along with a function to share the PDF of the tracking reports.
Compatible with apps like Spotify, Uber, Strava, and other third-party apps.
AMOLED display with touch.
Tizen OS 5.5
8GB storage.
Gorilla DX+ glass
Dual-Core Exynos 911 along with a 1.15GHz processor.
In short, this Samsung watch is the best luxury smartwatch that is available on the market that you can buy.
Garmin Fenix 6X Sapphire
Do you want a utilitarian, rugged smartwatch? If yes, then the Garmin Fenix 6 Sapphire will not fail in exciting you with its features and looks.
This luxury smartwatch is specifically built for an active and outdoor lifestyle. It offers blood oxygen level and heart rate monitoring features along with a wide array of other smart features. This watch also lets you track sleep and altitude acclimation. Other than this, there is also training status, load balance in training, cycling, and running dynamics in the watch.
What's even interesting is that the watch also offers a solar variant which you can get if charging is a problem for your lifestyle. The watch also offers navigation capabilities that let you create and follow hiking routes. In addition to this, it also offers a Garmin Pay facility along with on-board storage for music.
This luxury smartwatch for men and women is also compatible with both iPhone and Android phones.
Key Features
Easily readable in the sunlight.
Bigger display that is always on.
Music storage.
Advanced sleep tracking and heart rate estimations.
Power manager.
Mobile compatibility with Garmin Connect.
Connect IQ.
All these hosts of features, along with the trust of the Garmin brand, makes this one of the best luxury smartwatch options to buy. This is especially a good option if you are an outdoor enthusiast.
Montblanc Summit 2
The Montblanc summit 2 is truly a classic luxury smartwatch that shouts a refined and appealing style.
In this smartwatch, premium material and attention to the details make it a perfect blend for a sleek timepiece. This sleek timepiece and its beauty may even be mistaken for a traditional timepiece. It curves perfectly around the wrists, leaving no gaps to make it look awkward. So, you can easily match this luxurious beauty with a formal outfit, and it will not look out of place.
This watch comes with a high-quality leather strap that makes it extremely comfortable to wear. What's even interesting is that despite having a minimalist look, the Montblanc summit 2 resists scratches and shock. While you may not find an array of apps on this watch, it gives you an option to fully customize it using the play store. Its generous screen, which is AMOLED, is easy to use and view.
The face of the watch remains completely animated while the watch goes in ambient mode. However, this watch will not satisfy the performance athletes with its activity tracking and features. But it is a perfect piece for those who want to track regular workouts in the gym. Other than this, it also offers apps like time shifter, travel info, and world timer making it useful for those who travel a lot.
Key Features
AMOLED display.
8GD storage.
Wear OS from Google.
Several materials and design combinations.
All these make the Montblanc summit 2 a classic luxury smartwatch option for those who have a refined taste.
Michael Kors Access
The Michael Kors is an icon in fashion, and we all know it. Thus the Michael Kors access will not disappoint those who want a luxury smartwatch with a sleek look. It combines next-generation tech excellently with an iconic silhouette.
The watch offers a black tone case of stainless steel along with classic lines, which makes it look intriguingly beautiful on the wrist. Another good thing is that this watch is slightly lighter and smaller in comparison to other watches on this list. This makes it a comfortable option to wear for both men and women. It's 41mm face diameter also makes it look classic and attractive anywhere.
The watch is powered with Wear Os from google, and it also offers various payment methods. This watch is also pool-ready with swim-proof tech on offer, along with reliable fitness and daily activity tracker. One downside of this watch is that its battery drains faster in comparison to other watches on the list. But in the price range of this watch, it is an acceptable downside.
Key Features
AMOLED display.
Silicone strap and stainless steel case.
Wear OS from Google.
4GB memory.
Overall the Access runaway is a great choice for someone who wants a luxury smartwatch at a less expensive price.
Breitling Exospace B55 Connected
The Breitling has done an excellent job as it has incorporated technology into its luxury watches.
This luxury smartwatch from Breitling comes with all the features which everyone, whether they are an aviation specialist or diving specialist, will love alike. The watch offers water resistance up to a level of 100meters along with timer markings for giving peace of mind during a dive. Its features are also an amazing thing for the people who are in the aviation sector.
The watch offers a count up and down timers, a perpetual calendar, an option for 7 alarms and 2 time zones. In this watch, you also get the connected feature which, when you switch on, will let you pair it with both IOS and Android. Once you connect it with any of the OS, it opens up a world of additional features of the watch. A notification delivery system for the watch is also an amazing thing, along with customization availability for all features.
Key Features
Water-resistant up to a level of 100 m.
Highly customizable.
Scratch proof.
The app is compatible.
All these amazing features of this luxury watch make it a great option for both men and women alike.
Garmin Delta D2 Aviator
You don't need to be a pilot for admiring the Garmin Delta D2 Aviator luxury smartwatch. This watch, available in three styles and sizes, is a watch with unrivaled functionality under the traditional aviator skin.
Aviation sector people will love the features like waypoint reference, mapping, and flight logging feature of this watch. For those who are fitness fanatics, this watch offers fitness monitoring, training meters, and activity trackers. The material of this watch is also very durable and is especially used for making it extra rugged. All this makes it a perfect companion wherever you go on land, air, or sea.
Its features include. Garmin Pay, which lets you pay at nearly any place. The watch also offers a stylish and soft silicon band that offers top-of-the-line comfort. You can also replace this band with a leather strap for a more classic outlook.
Key Features
AMOLED display.
The battery life of up to 12 days.
Music storage
Domed Sapphire crystal
16GB memory
NEXRAD weather
All of these amazing features of this Garmin watch make it a great option when you want a luxury watch that is loaded with technology.
Final Words
In modern times nothing is more battery than a luxury smartwatch when you want a combination of luxury and technology in a single smart gadget. 
Luxury timepieces have always been a craze among those who want top-notch fashion and style accessories. Thus getting a luxury smartwatch for men and women is something that you can have to add a gem to your personality.