Best Nerf Guns For Kids To Play With Family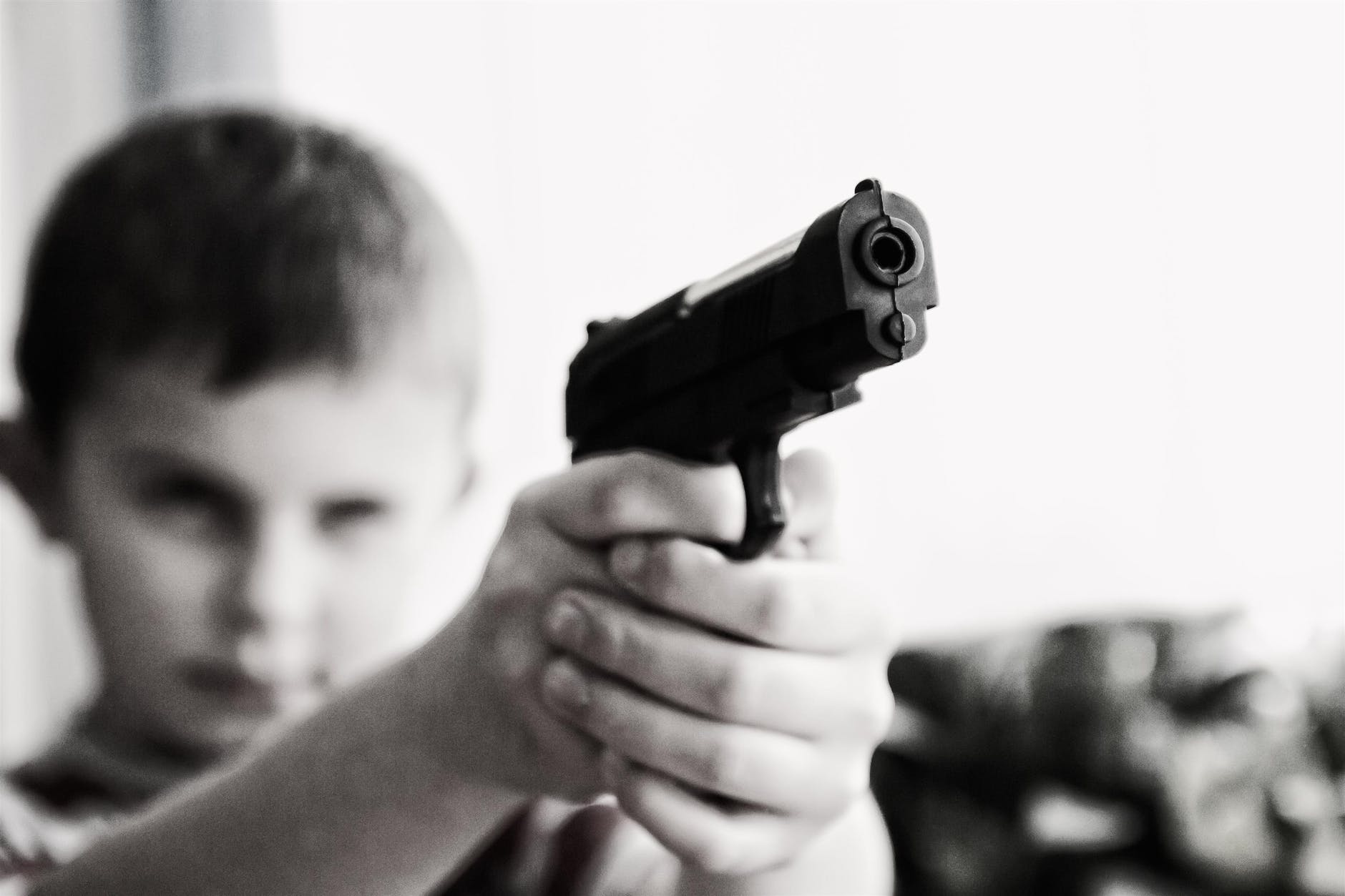 What is your favorite childhood memory during summer vacations? My favorite is definitely playing with the Nerf guns. To help you experience unlimited fun, we have gathered the best Nerf guns for kids and adults to choose from. There is something suitable for every age, budget, and preference.
No matter which one you pick, the best thing about a nerf gun is that it can be enjoyed both indoors and outdoors throughout the year. Not only this, there are so many different varieties with unique features that will cater to an audience of multiple ranges. Nerf guns are a real gold mine.
Now check out these amazing and super cool nerf guns and start your very own Nerf Arena at home.
Best Nerf Guns For Kids and Adults
Check out some cool Nerf guns for young boys and girls available in the market. You can pick one that suits your budget as well as the age group of your kids.
NERF Dual Strike Blaster
Kids, especially boys, love to nerf guns, and this NERF Dual Strike Elite is the best for kids. If you are a dad who loves to play with nerf guns, trust me, you will not regret this one.
This gun has a comfortable grip that fits different hand sizes perfectly, and the lazer will let you aim for the right target. It features single-action shooting that will not require clear jams and two storage slots, allowing you to carry three Nerf bullets at one time. You can even shoot Nerf suction cup bullets with this Nerf gun.
The only problem with this Nerf gun is that they are very strong and can hurt if shot at very close range.
Nerf MicroShots Zombie Strike Crossfire Bow
If you are looking for the best nerf guns for young boys or even toddlers, then Nerf Micro shots are the right pick. Such small nerf guns are easier to handle for tiny hands. It has a comfortable grip and has a relatively easy-to-use slide. This nerf gun includes two darts and a blaster. The only two major problems you will encounter with this nerf gun are that the little ones may find it difficult to push the trigger, and also, the darts bend very quickly, becoming useless.
Strongarm Nerf N-Strike Blaster
If you are looking for strong and cool nerf guns for the kids, you should definitely check this one. This amazing Nerf gun can fire 6 Nerf Elite darts in a row from this quick draw and shoot up to 90 feet. This Strongarm Nerf gun has six rotating barrels, which are easily flip open for dart loading and works manually without any batteries.
Keep moving the slide back and forth to slam fire six darts in rapid motion while holding down the trigger. This gun is tried and tested for distance and approved for quality and performance checks. It is made with flexible foam and hollow tips. The best part is that it comes in recyclable packaging, which is hassle-free and easy to open.
Read More- These Are The Best Toy Phone For Kids
Nerf Rampage N-Strike Elite Toy Blaster with 25 Dart Drum Slam Fire
Want to try the best high-capacity nerf gun for adults? Nerf Rampage 25 Dart N-Strike will not disappoint you. It can hold 25 darts and comes with 25 official Nerf Elite foam, which gives you enough firepower to win the nerf battles. It features slam-fire action for rapid-fire dart blasting to hit the targets using its fire action by holding down the trigger and sliding the handle.
You will be the prime controller of this hand-powered blasting nerf gun and can shoot up to 90 feet with flying darts. The gun includes 25 official Nerf Elite darts which are designed, approved, and tested food quality and performance constructed with flexible foam and hollow tips.
Nerf Centurion Mega Toy Blaster with Folding Bipod
It's time to take your Nerf battles up a notch with Nerf Mega guns perfect for kids and adults. This 1-meter long gun comes with 6 Nerf Mega darts and six dart clips designed for extra power.
Now you can stabilize the blaster to set the perfect shot by simply folding the bipod attached to Centurion Nerf blaster's tactical rail. It is equipped with bolt-action priming meaning now you can fire darts upto 100 feet using this long-range power blaster. The darts and dart clips are tested and approved for quality and performance. They are constructed using flexible, hollow tip foams.
The best thing is that you do not require batteries to operate this, and it is shipped in a simple to open recyclable packaging.
Nerf N-Strike NanoFire
If you want to nerf guns for your 3-year-old, then our ultimate favorite choice is Nerf N strike Nano Fire. The small nerf guns for young boys are easy to hold and work with. This nerf gun can be comfortably handled with different hand sizes, and children can easily pull back the trigger at the bottom to shoot. This might be small in comparison to your other nerf guns but is mighty with two bullet storage options. It comes with regular Nerf bullets but can also work with suction cup bullets by Nerf.
However, the small size of these nerf guns will not be exciting enough for teenagers who wish to have big fireworks. It can only shoot up to a small range which can hurt the other person.
Read More- Best Engaging & Fun Animal Books For Kids
Best Automatic Nerf Guns:
Now that you know about the best manual nerf gun options available in the market let's check out some super cool automatic Nerf guns.
Nerf N-Strike Elite Jolt
If you are looking for cool, nerf guns but something cheaper, this small pocket-sized Nerf gun is perfect for beginners and kids. It retails for only $7, making it a spot-on gift for your friends.
However, this is a single-shot blaster which has to be reloaded after every shot with new nerf darts. It is still punchy enough not to be taken lightly. You can easily carry it around with you for some target practice when you are out and about.
These nerf models' small size makes it perfect for last resort; this discreet sidearm blaster is all you need for a last-minute resort.
Nerf Fortnite AR-L Elite
This is what a Nerf power-couple gun would look like if ever there was one. Blending the most popular video game with boys' most loved toy, this Nerf AR-L Elite is perfect for true fans.
This model is based on the Assault Rifle and has all the characteristics of the series with its oversized- proportions and bright colors. The inside features of this gun are what will impress you the most. The AR-L Nerf gun comes with motorized technology to fire darts at a faster pace than normal.
This makes it one of the cool nerf guns out there if you can stock up the batteries.
It also features flip-up sights to be braced against the shoulder. Not to forget, it comes with ten dart clips and 20 darts for quick reloading.
Read More- Best Baby Moccasins For Girls And Boys
Nerf Rival Hypnos XIX-1200
If you are a nerf gun professional, then definitely get your hands on Nerf Rival Hypnos model. These might not be the best Nerf guns for kids and toddlers, but adults will love them. Although this is an expensive model in comparison to other nerf guns, they are loaded with high-impact pellets and are motorized to offer greater punch.
You can take full advantage of all the features you ever dreamt of with this Nerf Rival Hypnos. You can fire rounds at a speed of 100 meters per second. It also comes with a trigger lock and clip to release fast-changing of ammo. No, it does not end here; it also comes with a folding stock for times when you have to keep it low.
This Nerf gun is perfect for taking your Rival Arena games up a notch. If you want to fight through intense competition and win, you should definitely get your hands on Hypnos XIX-1200.
Nerf Modulus Demolisher 2-in-1
The best 2-in-1 Nerf gun is finally here. Why only have a blaster or rocket launcher when you can enjoy both at the same time? This 2-in-1 nerf gun combines a standard rifle with a bigger design and comes with an attached pump-action secondary shooter under the motorized main barrel. This means that now you can lay down any suppressing fire before shooting a big foam rocket to make your opponents come down on their knees.
Combine all these super cool features with removable stock for an ultimate customizable blaster experience. This is an all-rounder nerf gun for the best gaming experience.
Nerf Fortnite TS-1
Fortnite crossing and Nerf is a match made in heaven. This battle royale is both wacky and imaginative when it comes to the design of weaponry. This memorable toy stands out from all the others in the entire blaster range. You can easily recognize them even from a distance as game items. These are not your usual cheap reskins that comes with a fresh coat of paint.
The TS-1 is the perfect example inspired by Fortnite's Tactical Shotgun and is practically a live example of the gun you see in the game. There are many different versions of the gun to choose from, but every single of them is a pump-action heavy weight that comes with plenty of stopping power.
Because these nerf guns use large Mega darts, it is easier to hit targets, making it one of the best nerf guns for kids and new warriors.
Read More- Best Superhero Movies For Kids Of All Ages
FAQs about Nerf Guns for Kids aged 3, 4, 5, and 6-Year-Olds
How far does a Nerf gun for a young kid shoot?
Small nerf guns can shoot upto a range of 10-20 feet, whereas large single shooters can cover a distance of upto 70 feet. A rifle-style nerf gun can shoot up to 40-50 feet maximum. You can pick a gun suitable for your child's age and safety.
Can you play with a Nerf gun indoors?
Who says you cannot? The guns and darts are not strong enough to break the walls or windows etc. there is a high chance that a knick-knack or Tv might get broken if hit with a strong nerf gun. An unfinished basement or empty room is an ideal location to play with a Nerf gun indoors.
How much do Nerf guns for young kids cost?
The starting price of a Nerf gun is less than $10 and receives the highest customer ratings as well. For a reliable and good-sized gun, be ready to pay at least $20-30.
What is the minimum age of a child to start playing with a Nerf gun?
Often parents do not give nerf guns to young children because of safety concerns. However, mostly Nerf guns are available for different age groups between 3-6-8 or more. In case you give a Nerf gun to a young child, make sure to let them play only under your supervision.
Can a Nerf gun be dangerous?
Yes, not only Nerf but most toys can be dangerous if not played with carefully. Small pieces or parts of foam can be easily torn off, which can act as a choking hazard. This is why kids under three years of age should not be allowed to play using a Nerf gun.
The other possible risk associated with these cool nerf guns is eye damage. Nerf dart can prove to be very dangerous for eyeballs. This is why it is recommended to wear eye protection whenever doing a Nerf battle.
Do girls like Nerf guns?
Yes, of course. In fact, Nerf has a separate range for all the female Nerf warriors out there named Nerf Rebelle. They make pretty nerf guns and bows decorated with Fuschia, blue, pink, purple, and gray colors to keep the young girls happy.
Final Words
Nerf guns for kids are a great way to bond with families. If you fear getting hurt with the darts, you can wear Nerf shooter for yourself. Also, remember to buy an extra pack of Nerf bullets. These best nerf guns are great for kids and adults who like to have fun-filled Nerf Arena Battles.
If you find this article helpful, do not forget to leave a comment below!