5 Best Floor Pillows For Stylish Decor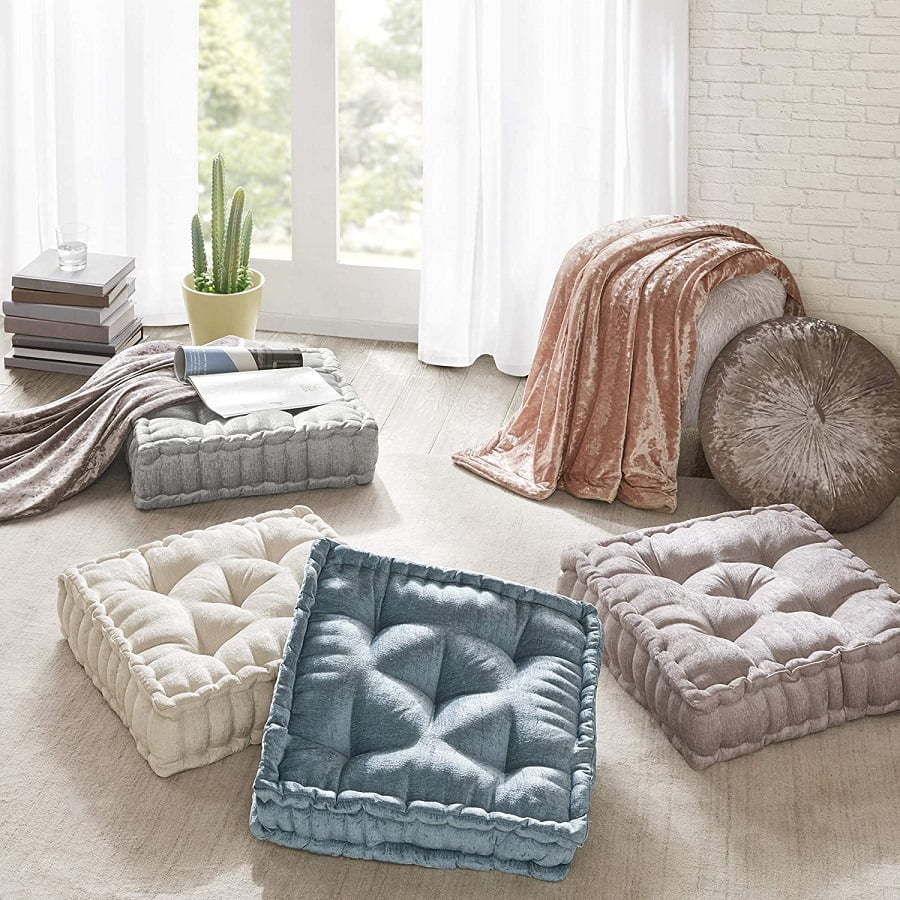 Floor pillows are a great way to add style to any room in the house and comfort. These small pillows are great for lounging around and a good option to add extra space to your living room in place of the traditional sofas and chairs.
Floor cushions are trendy, affordable, and versatile, and they will help you add a touch of style with comfort to your house. Floor pillows come in many different sizes, shapes, and colors and are suitable for people of all kinds and ages. 
While large cushions are appropriate for lounging, the small ones are designed mainly for purposes like resting your feet, etc.
If you are looking for trendy and comfortable floor pillows for your house, you have come to the right place. We have made a list of the 5 best of all floor pillows to choose from; go through it and find the best one for yourself. Stay tuned
Factors to consider while buying a Floor Pillow
Floor pillows are an amazing way to add extra seating to any place. While floor cushions are mainly designed for lounging and offer a comfortable soft corner to read and hang out, they may not be suitable for aged people who require moving from one place to another.
Buying a suitable Floor pillow for your house can sometimes be tricky, but when carefully chosen, a floor pillow can add extra charm to an empty room. 
Below are some things that you should keep in mind while choosing a floor cushion. Keep reading
Fabric 
Fabric plays a crucial role in determining the right type of floor pillow for your home. Today floor cushions are available in various materials ranging from velvet and cotton to leather and fur. The fabric you choose should depend on the environment of the room where you want to place it and also o the existing decor scheme of your house. This will ensure that the pillow doesn't look odd in the room.
Another factor that will help you choose the right fabric for your floor pillow is whether you want it to be waterproof or not. If you plan to place the floor cushion somewhere near water or outdoors, or you have kids, you must opt for a waterproof cushion made with leather or faux.
Size 
Floor cushions come in many different shapes and sizes, and choosing the right one depends mainly upon the size of your room and the purpose. Large cushions are designed to fit in big rooms and halls where ample space is available, and these types of large cushions can be used for lounging by both adults and kids. On the other hand, the smaller ones are suitable for closely packed smaller rooms with less space and are generally used for small pets or resting feet. 
Whatever the size you choose, it will also depend on how you want the room to be filled.
Shape
There is no right shape when choosing a suitable floor pillow for your house; it mainly depends on your personal preferences and the kind of comfort you expect from a floor cushion. While large cushions can be added to kids' play areas or playrooms for them to lounge on, the round ones can be used to hard angles of a room with several straight lines.
Unlike these two poofs, stuffed-like pillows can be used as stools and easily serve purposes like holding things and resting feet.
Style
The style of floor pillow you choose should always match the style of your house or at least the interior of the room that they are to be kept in. this will make sure that the pillow looks like it belongs in the room and is not odd. Floor pillows come in a wide variety of styles that you can choose from. For instance, a large cushion made with a kilim would be ideal for a room with a boho style interior and decoration. In contrast, a tufted velour floor below is suitable for a traditionally styled kids' room.
5 Best of all Floor Pillows
Asuprui Unstuffed Floor Pillow
One of the softest floor pillows on the internet, this one is the right option for you if you want a soft and comfortable pillow to lounge on. The Asuprui Unstuffed Floor Pillow has a 2.4-inch pile on the front and is made of sheepskin. With a backside made of non-slip faux suede, this one is perfect for bedrooms, living rooms, and offices. This easy-to-clean round cushion can also be used as a meditation pillow or a yoga pad. 
The Asuprui Unstuffed Floor Pillow features are amazing; go try it yourself.
House of Hampton Floor Pillow
This one is best for people looking for something inexpensive and a pillow that will cater to all their needs on a budget. The house of Hampton square pillow cushion comes in a stylish velvet cover and provides the desired comfort. We love the idea of an on-budget floor pillow as you can get a couple of them and throw them around your house.
Aify Patio Floor Cushion
The Aify patio cushion is one of the best outdoor floor pillows that provide great comfort and support. Made with soft, breathable polyester material, this one comes in a two-pack. It is filled with a 7D pp cotton fabric suitable for providing a good amount of support required for a comfortable experience.
The Aify pillow cushion comes in a wide variety of color options that you can choose according to your aesthetics. It comes with a 100 percent satisfaction guarantee, and we are sure you'll love it.
Victoria Zane Floor Pillow 
Designed to give maximum comfort, the Victoria Zane Floor pillow comes with a larger height to reduce the amount of pressure on your knees and back and give you an amazingly comforting experience. Best for meditation, it can give you the right posture required for long deep meditation sessions.
Try this Victoria Zane floor pillow for an extremely comfortable meditating experience.
Shubhlakshmi Fashion Mandala Floor Pillow 
Looking forward to adding a pop of color to your living room or a boho touch to your bedroom, this Mandala Floor pillow from Shublakshmi Fashion can be the right pick. With a mandala design, this comfortable pillow is made of 100 percent cotton. Perfect for resting head and feet, this eye-catching decorative pillow is filled with cotton and available in various colors.
Who doesn't like mandalas? Having mandala art on your favorite floor pillow is like a blessing. Give yourself a relaxing treat with this Mandala Floor pillow from Shubhlakshmi Fashion.
These are some of the Best Floor pillow options that you can get for your house and add a touch of style and comfort to your boring living room. Keep in mind the points mentioned above while buying a floor cushion for yourself. Let us know how you like the article.
Until then 
Happy shopping.
Read More-Why To Buy The Best Mop For Laminate Floors?