Best Baby Tummy Time Mat For Fun Experience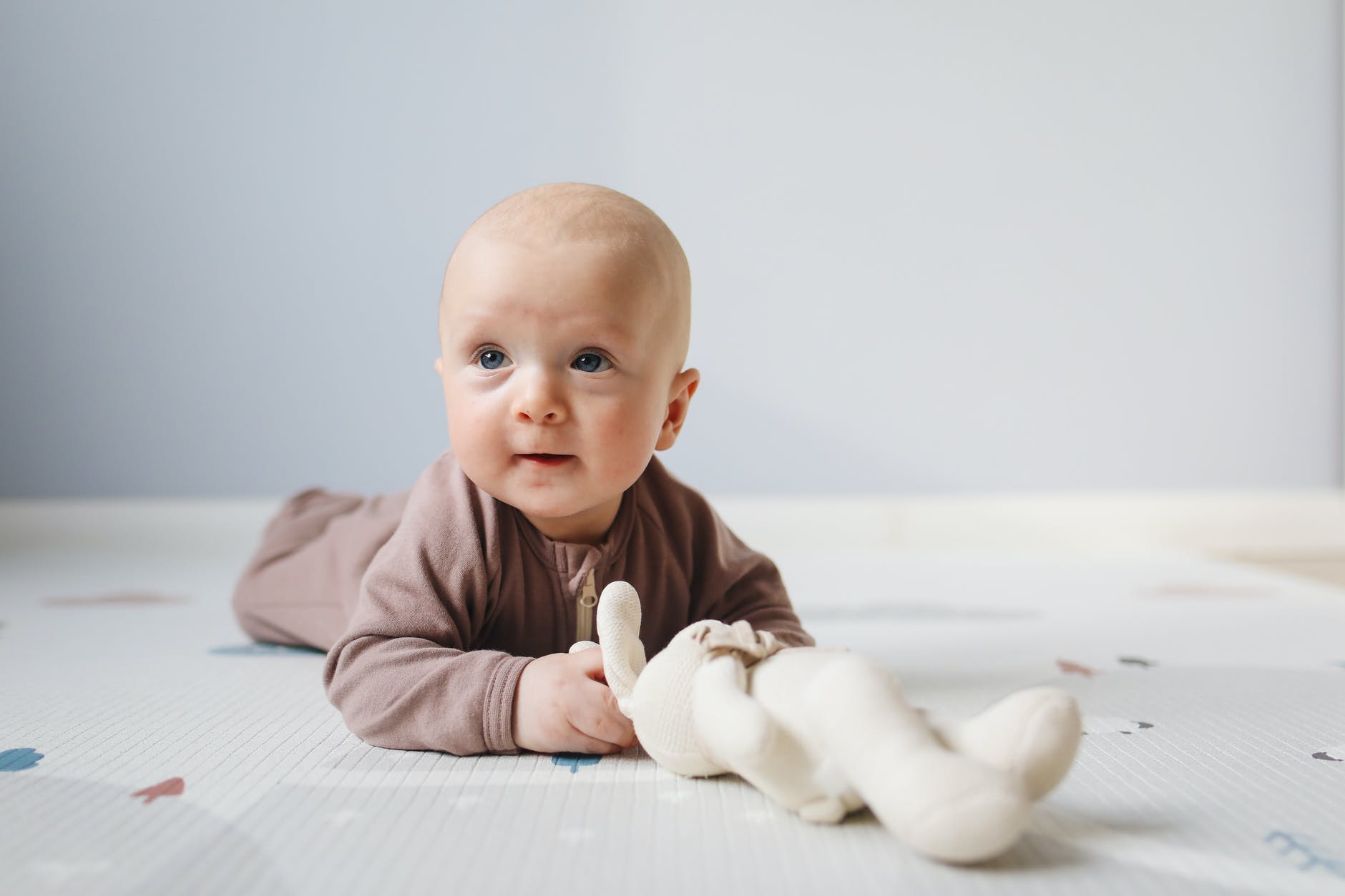 Babies can be very fuzzy when we introduce them to tummy time initially. It can be an uphill battle to keep the babies chilled-out. Babies are used to spending time on their backs, and putting the face down can be a bothersome experience. As we all know, tummy time is an essential part of a baby's development; we have come up with a list of the best baby tummy time mat products to make the process a little easier and more fun.
Having an interesting and comfortable mat can be a great way to help your baby enjoy tummy time. We have only included well-researched, tested, and best-reviewed products that parents swear by in this list. All these tummy time mats are fun, comfortable, and safe for kids. It's time to cradle your child while they learn to enjoy tummy time.
Baby Einstein 5-in-1 World of Discovery Learning Gym
This baby, Einstein's tummy time mat, is the perfect companion for young babies. It features many tummy time hanging toys, mirrors, pillows to support them and encourage tactile exploration. This tummy time gym features 20 minutes of global-themed music for keeping the Lil ones entertained. After your baby is done playing, you can simply fold it from the sides into a ball pit, giving them ten colorful balls to play with.
According to AAP, tummy time should be when your baby is alert, awake, and supervised. (source)
Bright Starts Tummy Time Prop and Play Mat
Are you looking for a perfect tummy time playmat? If yes, then Bright Starts Tummy Time should be your first pick. It is always recommended to put your babies on a soft surface featuring colorful toys and patterns to entertain instead of using a simple carpet.
This Bright Starts tummy time mat is a plush, soft quilted mat that features a rattle, mirror, and many other toys. The pillow that comes with the mat is good for providing support to infants and newborns.
One good thing about this baby tummy time mat is that it allows soothing tactile development. It is not a very large mat and will not cover a lot of your room floor space. You can easily toss it in the bag when visiting grandparents.
One good news for all the moms; this is a machine washable mat and is also very reasonably priced.
Sassy Floor Mirror
As babies get older, their vision develops, and they enjoy looking at different faces. Giving them a tummy time mirror can be a perfect distraction, and he will become acquainted with the little person in the mirror. However, when giving the Lil ones a mirror, it is important to pick one that is safe and does not have sharp corners that can harm them. Sassy Floor Mirror is the perfect pick for tummy time play mat. It is made with a soft frame that is completely safe for babies even if put too close. This mirror also features a rotating, clicking bee and spinning ladybug ball to increase the baby's curiosity and help develop his visual and tactile skills.
Baby Einstein Take Along Tunes Toy
The best way to distract a fussy and cranky baby during tummy time is by playing soothing music. This Take Along Tunes is the best-selling musical toy from Baby Einstein.
Covered with colorful lights that move with the musical rhythms, this musical toy will be a great companion for infants in their growing years. Babies will be easily able to switch between ten different songs ranging from Chopin to Mozart using the large toggle button.
It comes with a caterpillar handle and is very lightweight in design, which makes it easy to grasp and play with. Parents will love the volume control button that comes with it. The little one will be able to enjoy this tummy time musical toy even in their toddler years during the stroller walks and car rides.
Baby Einstein Glow & Discover Light Bar Toys
If you are looking for the best electrical baby tummy time play mat, then the Glow and Discover From Baby Einstein is the right pick. For a cranky baby, using the power of electronics might prove to be the best way of keeping them entertained.
This tummy time mate will help to stimulate the sensory skills of the baby while keeping them distracted. The buttons automatically light up when the baby touches it, and it speaks in Spanish, French, and English language.
When a baby is enjoying tummy time, this mat will lie flat, and once they sit, it will turn into a fun prop. This toy is perfect for kids three months old or above.
Infantino Prop-A-Pillar Tummy Time & Seated Support
A tummy time pillow can turn it from grueling to bearable because the pillow helps to provide support and also keeps the baby at a comfortable angle. You can take the pillow out from under their arms during the tummy time mat when they get used to this position.
This Infantino tummy time pillow comes with a mirror and two toys to keep them engaged. Once your baby gets old enough to sit, you can convert this mat into a seat to work their core muscles.
Read More:- Best Baby Teething Gel For Sore and Tender
Ocean Tummy Time Toy
Make tummy time more fun by introducing sea friends to your baby with Ocean Tummy Time Toy from Crate & Kids. This toy features a hidden lobster, crinkly octopus leg, rattle fish, and so much more to keep your baby engaged and alert.
It comes in a soothing light blue color which will suit every nursery. The only thing that mothers will dislike about this toy is that they are not machine washable; you can only spot clean.
Boppy Original Newborn Lounger
Did you know that your Boppy Lounger can be converted into a tummy time tool? This lounger will provide enough support to the babies and give them an extra boost when they are developing back and neck muscles. Once the baby gets strong enough using Boppy support, you can take it away.
It comes with a cloth handle which makes it easier to take on the go. The best part about this lounger is that it is easier to clean, and the cushion is machine washable. This lounger comes in many colors and patterns to match every nursery.
Tiny Love Meadow Days Super Play Mat
Tummy time mats can start to bore babies as they get a little older. But a mat like Tiny Love Meadow that comes with tons of interactive toys and visual interest areas can be a lifesaver. Your little one would love to stare at his face in the mirror, flip over ears, tug the tails when they build their strong muscles. This baby tummy time play mat will be perfect for growing babies.
MAGNIFIER Tummy Time Baby Water Mat Infant Toys
Are you willing to try something different than these usual mats? Then try tummy time water mat from MAGIFIRE. These tummy time toys are perfect for when the baby is old enough to hold themselves up for long periods. This is when they get bored of usual tummy time mats and need something different to catch their attention.
This tummy time water mat will completely change the game. This is the most popular product on Amazon, with more than 12,000 positive reviews. Babies love the sensory play of this squishing mat and watching everything move around inside. They can happily poke at a fish for hours.
Mary Meyer Bestever Baby Mat
If you are looking for a tummy time mat that can also be used as a set of cherished love, then Mary Meyer is the right brand for you. This mat is super soft and large for the babies to lay on and small enough to be washed easily and double as a prop in the playroom for older babies. This baby mat is oh so lovely and cushy that you would want to turn into a baby yourself.
Fisher-Price Llama Grow-with-Me Tummy Time Play Pillow
This is not a true tummy mat but a prop pillow that can also transition into a lovely toy when the baby gets a little older. This Llama comes with many sensory toys, and the softness of this Llama is something on the next level.
Washable Replaceable Baby Gym Activity Center Play Mat
There can be no better gift for a new mother than a washable tummy time mat. This baby gym playmat will make an exceptional companion for tummy time as well as on-the-back activities. It is washable, large, and comes equipped with two mat covers and removable accessories-what more can you ask for? The toy attachments are super fun, engaging, and sweet. You kids will fall in love with tummy time gym.
Toys Wooden Baby Play Gym
Yes, tummy time mats are super fun and important for kids' development; however, they can sometimes make your living room interior unattractive. This wooden baby play gym is rustic, chic, and understated, which will look great in your living room and will be equally fun for your little one to play with. This comes in many different subtle colored charms and toys in varied textures, which are beautiful to look at and fun to play with.
Final Words:
Tummy mats have a very important job to do- get babies ready for sliding on bellies and make them start crawling. Tummy time is essential for babies so that they can develop strong shoulder and neck muscles. Interesting and fun tummy time mat toys can help to keep the baby distracted during this annoying phase (babies hate being on their tummies). A tummy time toy, the mat should be easy to clean, carry around and fold. It should feature various types of accessories for kids to pull, grab, and press. Try out these popular tummy time play mats for your babies and share your reviews in the comments below!