Chia Seed Recipes That Are Perfect For Breakfast To Dinner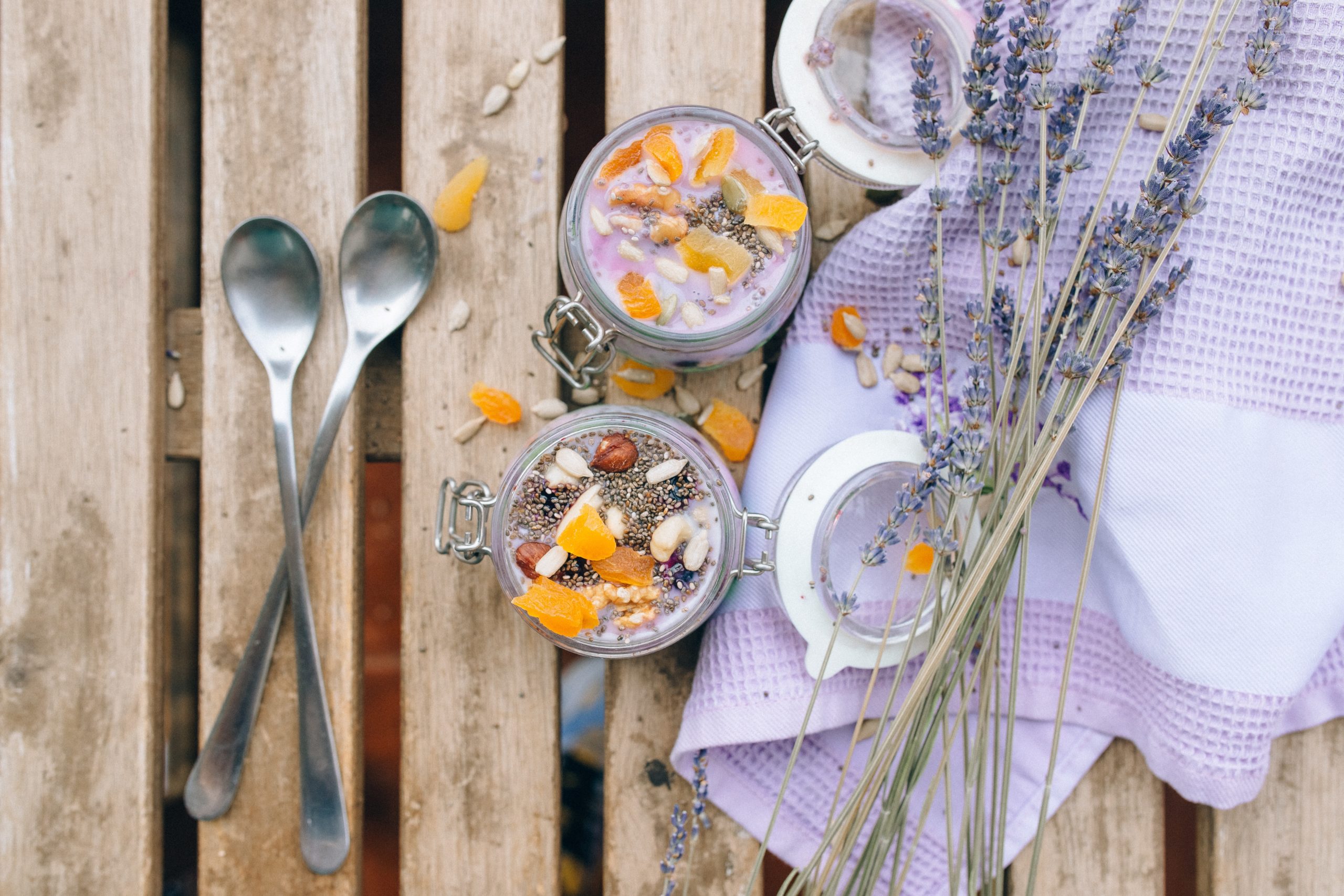 These chia seed recipes will become your staple in breakfast, lunch, and dinner. Nutrient-dense tiny chia seeds are loaded with protein, fiber, and omega-3s that help in slow digestion and steady energy stream.
This pantry staple is the best substitute for protein bars and makes a crunchy topping in your smoothies and pudding bowl.
Here are some amazing recipes made with chia seeds.
Chia Seed Recipes:
Hazelnut Granola and Chia Pudding Bowls
This delicious chia pudding recipe is made with rooibos tea and honey-sweetened granola; both are worth enjoying on their own as well as together. This can turn into a healthy chia breakfast recipe or a midnight snack bowl.
Ingredients
MAKES 4
GRANOLA AND CHIA PUDDING
3cups old-fashioned oats
½cup skin-on almonds
½cup coarsely chopped skin-on hazelnuts or pecans
¼cup raw pumpkin seeds (pepitas)
1Tbsp. ground cinnamon
¼cup raw sunflower seeds
½cup unsweetened coconut flakes
½tsp. kosher salt
¼cup virgin coconut oil
½cup honey
1tsp. vanilla extract
3cups brewed rooibos tea, cooled
½tsp. flaky sea salt
¾cup chia seeds
Dressing
4cups plain Greek yogurt
2tsp. Honey
4Tbsp. Apricot jam
½tsp. vanilla extract
Chia seeds (for serving; optional)
Direction:
Preheat the oven to 300 degrees. Toss hazelnuts, oats, coconut flakes, almonds, sunflower seeds, pumpkin seeds, kosher salt, and cinnamon in a large bowl.
Now take a small saucepan over medium heat and add vanilla, honey, and oil. Whisk together for about 2 minutes to combine properly. Pour this mixture over the oat mixture and toss to combine well. Spread a rimmed parchment-lined baking sheet and sprinkle sea salt on it.
Bake the granola for about 10 minutes. When done, take it out from the oven and stir everything together. Put it back into the oven and bake for 8-10 minutes until it is crisp and golden. Remove it from the oven and mix again. Let it cool down on a baking sheet.
Combine chia seeds with tea in a jar or airtight container. Shake everything to mix and let it sit for about 5 minutes. Shake again, let it sit for another 15 minutes.
You can store this chia pudding for about 10days in the refrigerator.
For serving, mix honey, yogurt, and vanilla in a small bowl and divide it into four shallow bowls. Top each bowl with 14 cup granola, 1 tbsp jam, and ¼ cup chia pudding. Sprinkle some more chia seeds on top.
Tropical Trifle With Coconut and Rum
Another one of the most delicious and healthy chia pudding recipes is this trifle. Fresh fruits paired with chia seeds, what more can you want in a dessert?
Ingredients
4 SERVINGS
113.5-oz. can unsweetened coconut milk
3Tbsp. Chia seeds
½tsp. vanilla extract
2tsp. granulated sugar
2Tbsp. dark rum
2Tbsp. fresh lime juice
Kosher salt
2ripe mangoes, cut into pieces
1star fruit, sliced
2ripe but firm bananas, sliced
2Tbsp. light brown sugar
4oz. Marie biscuits or Nilla wafers
Direction
Combine chia seeds, coconut milk, vanilla, granulated sugar, and one pinch of salt in a medium-sized bowl. Cover the pudding and chill it in the refrigerator for 2 to 12 hours.
Meanwhile, combine lime juice, rum, brown sugar, and a pinch of salt in a medium bowl. Add bananas, mangoes, and star fruit, keep tossing occasionally and let it sit for 10 minutes to an hour.
Crush biscuits coarsely and divide them into four different glasses. Top the biscuits with fruits and liquid mixture and then half pudding. Keep repeating the layers.
Chocolate-Cashew Chia Pudding
There are plenty of recipes with chia pudding, and all of them are delicious in their own way. This chia seed pudding recipe is our favorite, and it will become your favorite too. Who says you cannot have chocolate for breakfast? Now you can with this delicious chocolate chia pudding breakfast recipe.
Ingredients
4–6 SERVINGS
CHIA PUDDING
7oz. Medjool dates (about 13), pitted
⅔cup raw cashews
3Tbsp. cocoa powder
1tsp. ground cinnamon
2tsp. vanilla extract
1½tsp. kosher salt
3cups cashew milk
½cup white chia seeds
MAPLE YOGURT AND ASSEMBLY
2cups whole-milk or coconut yogurt
¼cup pure maple syrup, plus more for serving
Flaky sea salt
Ground cinnamon (for serving)
Direction
CHIA PUDDING
Blend cashew milk, dates, cocoa powder, salt, vanilla, cashews, and cinnamon in a blender at high speed until a smooth paste is formed. Transfer the date milk into a jar. Add in chia seeds and cover the lid. Keep it in the refrigerator for about 6 hours.
MAPLE YOGURT AND ASSEMBLY
Mix yogurt and ¼ cup maple syrup in a medium-sized bowl. Transfer it into a jar or a resealable container.
When serving, you can alternate between the layers of maple yogurt and chia pudding in a glass. Drizzle plenty of maple syrup all over and sprinkle with sea salt. Dust some cinnamon on top.
Rose and Yogurt Panna Cotta
Have you ever tried chia pudding panna cotta recipes? If not, you should definitely check out this one. This unconventional panna cotta is made with tangy yogurt to offset the sweetness of the rose syrup.
Ingredients
8 SERVINGS
½cup raw pistachios
1¼cups heavy cream, divided
1½cups plain Greek yogurt
1envelope unflavored powdered gelatin
1Tbsp. rose syrup
½cup golden raisins
½cup sugar
1Tbsp. basil seeds (tukmaria) or chia seeds (optional)
Blackberries (for serving; optional)
Direction
Preheat the oven to 350 degrees. Toast pistachios on a baking sheet and keep tossing until it is golden brown on both sides. Let it cool down, and then chop coarsely. Keep the nuts aside.
Take ¼ of the cup of water and whisk gelatin in a small bowl to combine everything well. Let it sit for about 15 minutes.
Mix rose syrup, yogurt, and ½ cup cream in a medium-size bowl to combine everything well together. Heat sugar and 3⁄4 cup cream in a small-sized saucepan on medium and occasionally keep stirring until sugar is dissolved. Which gelatin mixture and then pour yogurt and whisk everything to combine properly.
Divide the panna cotta mixture into eight small bowls or coffee mugs for serving. Put them on a baking sheet and chill for about 2 hours.
Scoop one spoonful of basil seeds if using into a small bowl and out the water, then cover. Let it sit for 10 minutes.
Top the Panna cottas with basil seeds, blackberries and resigns when serving. You can also use pistachios.
We hope you like our chia seed recipes collection. These chia seed recipes can be used from breakfast to dinner and then midnight snacks. These are completely healthy, so you do not have to worry about gaining weight.
Also, before you leave, do not forget to tell us your favorite chia seed recipe in the comments below.