Tuscan Architecture: Everything You Need To Know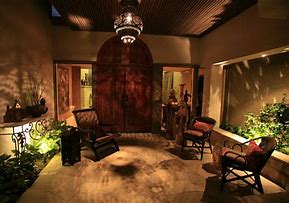 Have you ever thought that your tiles, roof, and the whole house could be created in such a way that it fantasizes people to be at your house forever? Now you must be thinking that it would take a lot of money. Well, the answer is not money. Instead, it is Tuscan architecture. It is a form of architecture that includes travertine, marble, limestone, and terracotta roof tiles.
In the further article, I will let you know everything about Tuscan architecture, whether it is some of its types or its elements. You will grab each and everything regarding this topic. Therefore, just read, connect, and explore.
Tuscan Architecture And History
It has been home to the Etruscan people, a working, agrarian society even before Tuscany became known for its olive, wine, and other agricultural goods. Etruscan people dominated central Italy long before the Romans came to power, created a flourishing civilization, and developed their architectural style and construction skills. The territory has been controlled over time by the Roman Empire, although Etruscan features have remained popular.
The architectural tastes of the Etruscan people are usually considered to have been inspired by Grecian construction. Still, one important distinction is that whereas Greek buildings were exclusively built of stones, the Etruscans erected wooden structures. Why? Their temples had been built of wood, and tradition had also been transferred to their dwellings.
Much of the architectural style comes from materials accessible in a certain location, and there is no difference in the Tuscan style. Timber buildings generally featured façades made of calcium, travertine, or sandstone with marble sculptures and accents; Terracotta clay roof and floors; stuccos walls; and Tuscan farmhouses recycled wooden beams.
The Etruscans also contributed to architecture with a traditional column form and design and the lovely Tuscan houses that we see today. These columns are called a Tuscan column or the Tuscan order. Unlike highly ornate Doric, Ionic, and Corinthian columns, these columns are incredibly easy to use. The round or square base of Tuscan columns may have plain bases, shafts, and caps. They are also usually broader and more distinguished from the other three traditional columns.
Must Include Design Elements of Tuscan Architecture
Even while certain Tuscan-style components have been updated, many of Tuscan old school homes' original architectural and decorative characteristics maintain their residences today. These are some of the important elements:
Exterior Feature
Thick, stone walls on the exterior part: are utilized outside a Tuscan home in the following walls: chimney, sandstone, travertine, and marble. This makes the dwelling fuse with the natural environment. They are the main part of Tuscan-style architecture. The accent above doors, arches, or windows is commonly seen on collapsed marble.
Terracotta roof and floor tile: Terracotta is highly common in warmer temperature construction materials – and natural terracotta tile bread is reasonably easy to produce. In Tuscan houses, which is another design feature that ties it to its surroundings, you will commonly find terracotta roofing and ground tile.
Outdoor living areas: Due to the warm weather, air movement was a requirement in Tuscany. Outdoor living areas, such as courtyards, entrances, or loggia, are available to many Tuscan classic residences.
Decorative iron elements: in Tuscan-style homes, romantic wrought iron portals and doors are commonly observed.
The outdoor living room or garden may provide additional texture and warmth to the iron wall hangings or ornamental accessories.
Interior Feature 
Stucco: is another frequently easily accessible building substance – traditionally comprised of water, sand, and lime. Plaster, stucco, and other materials. In addition, white stucco walls are great for warm regions since they can keep the cold air during the day and warm at night. In the Tuscan style, hand-colored elements on the inside walls are not unusual.
Textured ceilings: Vaulted ceilings, bordered or paneled, lend to the interiors of Tuscan houses warmth, texture, and natural features. Wooden interior beams from antique Tuscan farms or barns have traditionally been restored.
Terracotta tiles: are usually the predominant form of flooring in a Tuscan villa, although glass and stone tiles are often combined to create mosaics. Many contemporary Tuscan household owners are swapping hardwood terracotta tiles for more warmth. For decades, Tuscan architecture has remained quite popular in the United Areas today, particularly in warmer states, such as Florida and California.
Color
In contrast, the Tuscan design depends very much on a narrow band of earthy hues, like certain architecture styles that tolerate a wide range of colors:
In ceramics and décorating tiles, blues—sky blue, cerulean and deep blue, and accents may be found in
Greens – the greens of the undulating hills of Tuscany, the greens of the vineyards,
Natural, colorful clay, terracotta, and healthy soil. Ochres and reds
Oranges and yellows – raw Sienese, bright Sienese, and yellow oranges that remind people of sunsets.
The style of the dwellings of Tuscany implies approaching life honestly and directly. You will enjoy simplicity in the strong walls of a Tuscan home, gather around a vast farm to share your family moments, and feel the leisurely pace of a lifetime in line with the elegant arc of a Tuscan sun setting.
Tuscan Style Examples
Modern Tuscan Architecture Home
This is a wonderful example of a modern Tuscan-style house with an appealing outside of stone and numerous lovely architectural features. It has two stories and a beautiful, natural plant surrounding environment to match the home appearance.
The stone facade offers an old-world atmosphere with unique design elements, such as the arched window and a wide entrance. This property has a strong, timeless feeling without compromising modern comforts.
Fountain
If you want to include some genuine Tuscan feelings for a house, the outside courtyard is vital. It is an important feature to display a rustic charm while providing a calm environment near nature. You can even add some ornamental grasses near your fountain too.
It is strongly suggested to decorate the courtyard. The builders of the Tuscan house love fountains since they are attractive centers. A water well provides a feeling of a lovely oasis in a warm atmosphere. It can be easily a part of your Tuscan farmhouse architecture.
Wrought Iron
Typically a traditional interior in Tuscan architecture should be made of iron with some exquisite decorations. An excellent example is the railing on these stairs. Other elements may contribute to ancient vibrations.
Wood is generally fitted to the floor but may also be found in ancient beams on the ceiling. A Tuscan house has a lot of rustic appeals, as this modest interior space demonstrates.
Tuscan Architecture Entry Tower
Some Tuscan villas have a typical entrance tower that is the tone of the rest of the structure to enhance their feeling of grandeur. The guests may get more readily immersed in the aesthetic thanks to natural elements. For example Silestone and positioned highlights such as an antique lamp. They add beauty to your Tuscan architecture.
This type of Tuscan house may offer you a good sense of a lost age. This aesthetic appeal is sought after by those who love a rustic Mediterranean appearance.
Tuscan Architecture Soaring Ceilings
Typically, a genuine, Tuscan home has extra-high ceilings to accentuate the impression of permanence that natural stone dominates. The result is a cathedral look lighted by several windows and artificial light sources, such as a modern candlestick.
In the entrance, floating ceilings are most likely to produce an outstanding first impression. With the backyard link, the entry to the home is also more accessible. Moreover, it creates a pleasant combination of interior and outdoor spaces. It is a common part of contemporary Tuscan architecture.
Final Words
Tuscan Architecture is a form of architecture that includes travertine, marble, limestone, and terracotta roof tiles. It includes some of the key elements which complete it. The elements are of two types: exterior and interior.
I hope you liked this article. For more such articles, stay connected to us. Don't forget to drop your review in the comment section.