Healthy and Delicious Vegan Keto Recipes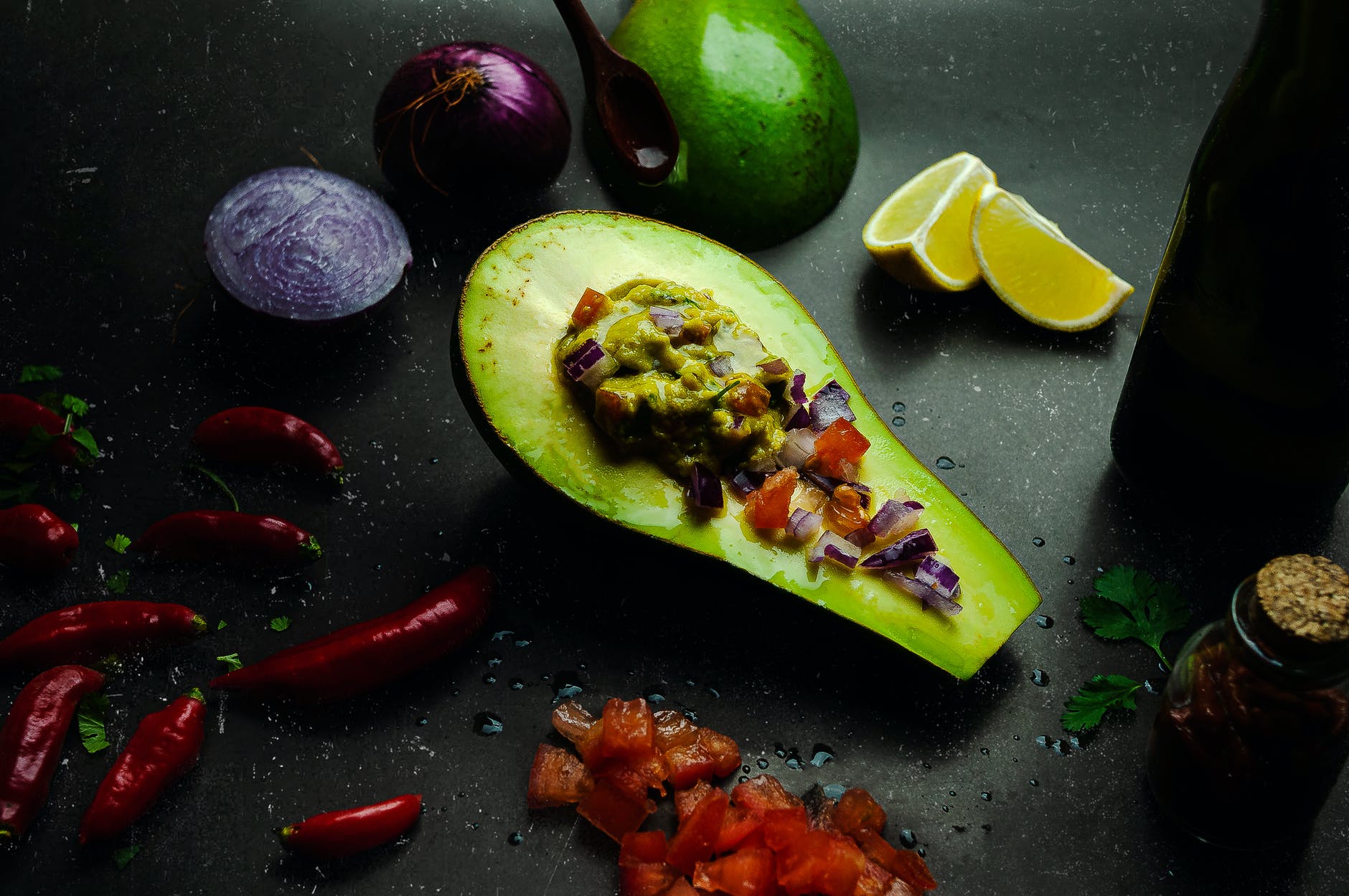 If you are struggling with being a vegan and following a keto diet, we will help. Following a ketogenic diet while being a vegan may seem like an impossible task. But hey! Trust me, it is not. There are plenty of vegan keto recipes that are high in protein, fat and rich in nutrients offering the best of both worlds.
You may not get to try bacon and eggs like other non-vegans, but we have plenty of tofu, avocado, and almond butter recipes that will make your stomach happy.
Let's check out our list of easy vegan keto diet recipes. We have everything from the best vegan keto breakfast to lunch and dinner recipes:
Ratatouille
This classic French countryside dish is one of the best vegan keto diet recipes with lots of healthy vegetables.
INGREDIENTS
2 medium eggplant, diced into 1/2
kosher salt
2 bell peppers, cut into 1/4″ spears
Freshly ground black pepper
2 tbsp. extra-virgin olive oil, divided
1 large onion, chopped
1 bay leaf
1/2 c. dry white wine
2 zucchinis, sliced into 1/4 "coins
1 tbsp. tomato paste
2 c. halved cherry tomatoes
3 cloves garlic
pinch of crushed red pepper flakes
1 tsp. dried oregano
Bunch of fresh basil
Crusty baguette (for serving)
DIRECTIONS
Take a colander and place eggplants in it, and toss some salt. Let the eggplants sit in the colander for 20 minutes, and then pat it dry to get rid of excess moisture.
Take a large pot or a dutch oven and heat 1 tbsp. Oil. Add eggplants to the pot along with some paper and salt. Cook them for 6-7 minutes until they turn golden in color.
Add the remaining oil into a pot. To the pot, add bell peppers, onion, and bay leaf. Cook them until onions become tender, and also make sure to keep stirring in between.
Add tomato paste to the pot and stir it for about 1 minute. Add white wine to the cooker and cook until half the liquid has evaporated.
Stir zucchini and then cook teh dish for about 4 minutes. Now add cherry tomatoes, garlic, and oregano.
Season the dish with salt, pepper, and red pepper flakes. Keep occasionally stirring until the tomatoes cook properly.
Now it's time to add eggplant back to the pot and combine by stirring slowly.
Before serving, garnish it with basil leaves and serve with a baguette.
Whole Roasted Cauliflower
This is one of the most love keto dinner recipes- the whole roasted cauliflower adds drama to the presentation and also tastes delicious.
INGREDIENTS
2 pt. cherry or grape tomatoes
4 cloves garlic, smashed and peeled
1/4 tsp. crushed red pepper flakes
1/2 tsp. kosher salt, divided
4 tbsp. extra-virgin olive oil, divided
1/4 tsp. Freshly ground black pepper
1 medium head of cauliflower (about 2 1/4 lbs.)
1/8 tsp. paprika
1/4 c. chopped fresh flat-leaf parsley
DIRECTIONS
Keep the oven rack in the middle and preheat the oven to 400 degrees. Put garlic and tomatoes in a large baking dish and drizzle 3 tbsp. Oil. Now sprinkle ¼ tsp pepper, salt, and red pepper flakes. Toss nicely to coat.
Trim off the large leaf from cauliflower and also trim the stem to sit flat. Keep the tomatoes aside and keep the cauliflower in the middle. Rub the leftover olive oil on cauliflower. Sprinkle salt and paprika.
Roast the cauliflower for about an hour or until the cauliflower is tender enough to be pierced with a knife.
Sprinkle some parsley over the cauliflower and slice it into wedges.
Once done, serve it with garlic and tomatoes.
Arugula Salad
If you are looking for easy keto diet recipes as sides to your dinner, then this salad is all your need. This salad may look boring, but it is the perfect dish to add greens to your diet.
INGREDIENTS
FOR DRESSING
2 tbsp. lemon juice
6 tbsp. extra-virgin olive oil
Kosher salt
4 c. arugula
Freshly ground black pepper
Shaved Parmesan for garnish.
DIRECTIONS
For the dressing: Take a medium-sized bowl, and whisk olive oil and lemon juice together. Season with salt and pepper.
Take another bowl for the salad and dress arugula with the salad dressing, then top with Parmesan.
Instant Pot Vegetable Soup
The instant pot is a house of magical Recipes. But did you know you can also use it to make delicious vegan keto diet soup recipes? All you need is some vegetables and set the timer. Voila! You are done.
This delicious keto soup is loaded with bell pepper, cauliflower, zucchini, and cabbage.
INGREDIENTS
2 c. chopped cabbage
1 medium onion, chopped
4 garlic cloves, minced
1 tbsp. extra-virgin olive oil, plus more for serving
Kosher salt
1 red bell pepper, chopped
Freshly ground black pepper
1 tbsp. tomato paste
2 c. small cauliflower florets
1 (15-oz.) can kidney beans, rinsed and drained
2 carrots, peeled and thinly sliced
1 medium zucchini, chopped
2 celery stalks, thinly sliced
1 (15-oz.) can diced tomatoes
4 c. low-sodium vegetable broth
2 tsp. Italian seasoning
3/4 tsp. paprika
Freshly chopped parsley, for serving
DIRECTIONS
Take an instant pot to saute the vegetables. All garlic, oil, and onion. Season the vegetables with pepper and salt. Cook the vegetables for about 5 minutes and keep stirring occasionally.
Add tomato paste to the pot and stir slowly for about 1 minute. Now add all the remaining ingredients and combine them well.
Lock the lid of the pot and set it on low to medium flame for cooking on 12 minutes. Once done, turn the steam valve to release the pressure.
Stir the soup gently and season with pepper and salt.
Garnish it with parsley and olive oil before serving.
Best-Ever Guacamole
Who doesnt love a bowl of guacamole with chips? This is one of the best and easy keto Guacamole recipes. The flavor of avocado truly shines in this recipe.
INGREDIENTS
3 avocados, pitted
Juice of 2 limes
1/4 c. freshly chopped cilantro, plus more for garnish
1/2 small white onion, finely chopped
1 small jalapeño minced
1/2 tsp. kosher salt
DIRECTIONS
Take a medium bowl to combine lime juice, onion, cilantro, salt, and jalapeno.
Mash the avocados but keep them slightly chunky. Season it with salt if required.
Garnish the guacamole with cilantro before serving.
Keto Avocado Pops
Whether you are a keto or not, you should definitely try the Avocado pops. You can substitute real sugar with agave and maple syrup.
INGREDIENTS
3 ripe avocados
Juice of 2 limes (about 1/3 cup)
1 tbsp. coconut oil
3 tbsp. Swerve/ maple syrup
3/4 c. coconut milk
1 c. keto-friendly chocolate
DIRECTIONS
Combine lime juice, swerve, coconut milk, and avocado in a food processor or blender. Blend until you get a smooth paste to mold into a popsicle.
Keep them in the freezer overnight.
Take a medium bowl and combine coconut oil and chocolate chips. Microwave them to melt the mixture and let it cool at room temperature.
Dip the frozen popsicles in the chocolate and serve.
Chocolate Keto Protein Shake
If you are looking for a healthy and protein-filled vegan keto breakfast, then all you need is this Chocolate Protein Shake. Forget about the protein bars; this shake is loaded with almond milk, chia seeds, hemp seeds, and almond butter. This protein shake will boost your energy and also keep you full for longer.
Fun Fact- Cocoa is rich in antioxidants and has many health benefits, including energy boost. (Source)
INGREDIENTS
3/4 c. almond milk
2 tbsp. almond butter
1/2 c. ice
2 tbsp. unsweetened cocoa powder
1/2 tbsp. pure vanilla extract
2 to 3 tbsp. keto-friendly sugar substitute to taste (such as Swerve)
1 tbsp. chia seeds, plus more for serving
2 tbsp. hemp seeds, plus more for serving
Pinch kosher salt
DIRECTIONS
Combine the above-mentioned ingredients in a food processor or blender and make a smooth paste. Pour the shake into a glass and garnish it with hemp or chia seeds.
Healthy Carrot Cake Bites
These super healthy and nutritious carrot bites had to be included in our vegan keto recipes list. This recipe is fit for paleo, vegan, low-carb, keto, gluten-free, oil, and sugar-free diet.
A perfect guilt-free treat!
INGREDIENTS
1/2 cup coconut flour
2 Tbsp unsweetened applesauce
1/2 tsp vanilla extract
1 tsp cinnamon
1/2 cup + 1 Tbsp water
4 Tbsp granulated Lakanto Monk Fruit Sweetener
1 medium carrot finely shredded
4 Tbsp reduced-fat shredded coconut
INSTRUCTIONS
Take a large mixing bowl and combine water, coconut flour, vanilla extract, and applesauce together. Stir properly.
Add lakanto, cinnamon, and carrots to the bowl and stir nicely to combine everything. Keep the dough in the refrigerator for 15 minutes.
Take a small bowl to place shredded coconuts. Take out the dough and roll into 15 equal-sized cake balls. Cover the balls with shredded coconuts and coat them evenly.
You can store the carrot balls in the refrigerator for a week.
VEGAN SPINACH AVOCADO DIP
This low calorie and healthy spinach avocado dip are free of dairy. You do not need cream and mayo to make this dip. You will fall in love with the creamy texture of this delicious spinach avocado and garlic.
INGREDIENTS
1/2 cup Fresh Spinach Leaves-blanched in boiling water for 2 minutes, squeezed, drained
1 Garlic clove crushed
2 Avocado about 2 cup of mashed avocado
1/4 cup fresh cilantro chopped
3/4 cup Coconut Yogurt or cream cheese
1 tablespoon Lime Juice
3 tablespoon Extra Virgin Avocado Oil
1/2 teaspoon salt
1 tablespoon Extra virgin avocado oil to drizzle on top
INSTRUCTIONS
Trim the spinach leaves and place them in a mixing bowl covered with boiling water. Keep it aside for 2 minutes.
After 2 minutes, drain the water and rinse Spinach with cold water using your hands. Squeeze excess water.
Take a food processor with S-shaped blade attachment. Add mashed avocados, Spinach, coriander, crushed garlic, coconut, lime juice, yogurt, pepper, and salt.
Process everything for about 2-3 minutes on high speed until smooth.
Transfer it to a bowl. Drizzle with extra virgin avocado oil if you prefer.
Refrigerate the Spinach for 30 minutes or maybe overnight to blend the flavors before serving.
Keto Smoothie
Blackberries, raspberries, and strawberries are low in carbs compared to other smoothie fruits like pineapples, bananas, and mangoes. You can add fat to your keto smoothies recipe by adding coconut milk. This is a perfect vegan keto breakfast.
INGREDIENTS
1 1/2 c. frozen strawberries
1 c. frozen blackberries
2 c. coconut milk
1 1/2 c. frozen raspberries, plus more for garnish (optional)
Unsweetened shaved coconut
1 c. baby spinach
DIRECTIONS
Take a blender and combine all the smoothie ingredients, except shredded coconut. Blend to make a smooth mixture.
Divide the smoothies between cups and top it with coconut and raspberries.
Final Words:
Following a vegan and ketogenic diet together may seem unrealistic. But here we are with some amazing vegan keto recipes to make everything easier for you. You can also take a Ketogenic valley keto supplement in case you are unable to maintain a proper keto diet.
Share some love and drop your suggestions in the comments section below!