Creative And Cool Ways to Decorate Home with Books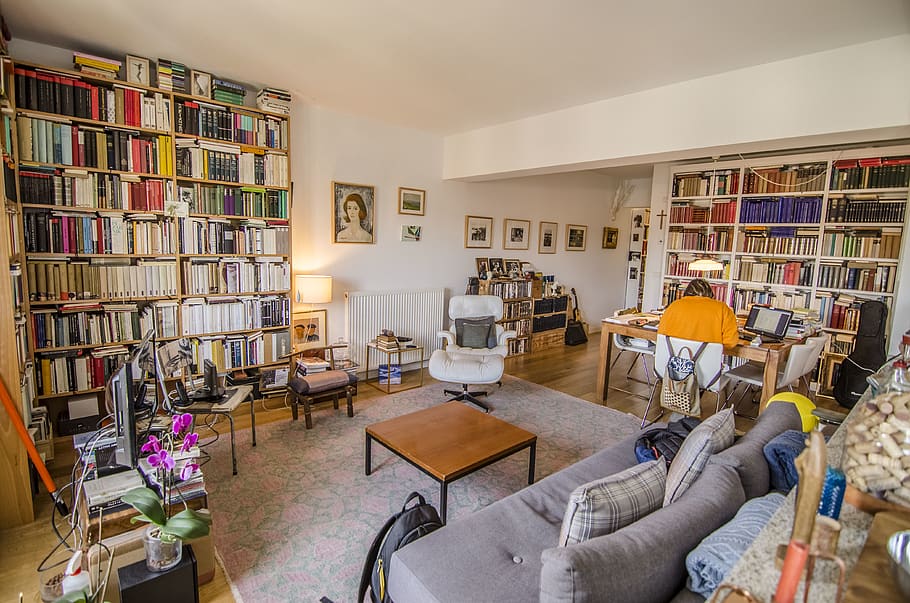 Despite living in an undeniably digital age of e-readers, books still hold a large part of life for many of us. Figuring out where to store this ever-growing collection can be complicated at times. Luckily decorating with books is one of the most fun and common way of styling houses.
You can still keep your home looking stylish, modern, and uncluttered while using books to decorate. But where to store them? If your bookshelves are already quite full, why not have fun and try new ways of decorating your house using books.
Wondering how to decorate with books? Then we have got you covered. We have listed some cool and creative ideas for decorating the house with books.
Cool house decorating tips with books:
Style books with a floral arrangement
The best way of turning the stack of books photo-ready is by pairing them with stylish accessories. Flowers are one such item that looks perfect when paired with books.
When used in vignettes, Flowers convey a sense of authenticity, which gives reality to space. This makes the place more home-like and less exhibit. 
You can stack some books under a flower vase and put fresh flowers.
Books by the Bedside
Styling your bedroom using books is an excellent decoration idea. If your bookshelf is full, try to use the bedside table. The bedside table is a perfect companion for a bookworm. The bedside table allows setting a mini-library for your favorite bedtime stories. You can add accessories like bowls, bedside lamps, etc., to keep it effortless and cool.
Style books in the entryway
How amazing it will feel to be greeted by your favorite books as soon as you enter the home. Entryways make a great place for decorating with books. Display your love for the written word and make the books your backdrops. Pick the right book and skip the oner with paperbacks instead; choose art and design books with hardcover and heavyweight.
Colorful books on the tray
Using a tray is the best way to draw attention and create an impactful decorating idea with books. Books can add a great pop of color, especially if the rooms are neutral. If your room is colorful already, you can use books to connect the colorful moments and create visual depth in the room. 
Pair the books with the same color accessory to connect with the entire room's color theme.
Decorate pedestal using books
This is another trick for smaller vignettes. Use books to elevate another accessory to draw attention away and create layers of scale and height. If you think it looks very colorful, then why not color-coordinate the vignettes like simple black and white.
Above from the floor.
The art of creating a well-styled living room is a trickier aspect. Using the right technique, you can make your living room look modern and classy at the same time. Like art, you can display books on the floor for an unpretentious and authentic feel. 
Use your favorite vintage find, old books, your childhood storybooks, and secondhand paperbacks. If styled correctly, these will give a new life to your living room floor.
Color Code
Arranging books by color-coding is a visually interesting idea. Decorating with books by arranging in the color pattern is one popular way of styling a room. Add a pop of color to your room by placing all the books in a rainbow pattern. 
Get Creative with shelving.
Create book archways with built-in shelving. This shelving option is perfect for bibliophiles. Get creative when decorating your room with books. Put built-in shelving over doorways or under the staircase or any place it can fit. This is a great way of storing books without taking up too much floor space. Built-in shelving is a great option for small spaces.
Think out of the bookcase
One imaginative way of decorating books is by decorating them in a red wagon. Who says you can only decorate with books on a bookshelf. You can use anything to keep your books as long as it looks visually appealing and creative.
Try placing books in baskets with cubby holes or maybe a metal bucket to give a rustic feel to space.
Read More:- Creative ways to decorate Kitchen Wall
Final Words:
You don't have to find ways to store books in the room's existing design. Instead, make them a part of the design. Do you have any fun ideas for decoring your house with books? Let us know in the comments below.