New Kitchen Trends To Try In 2021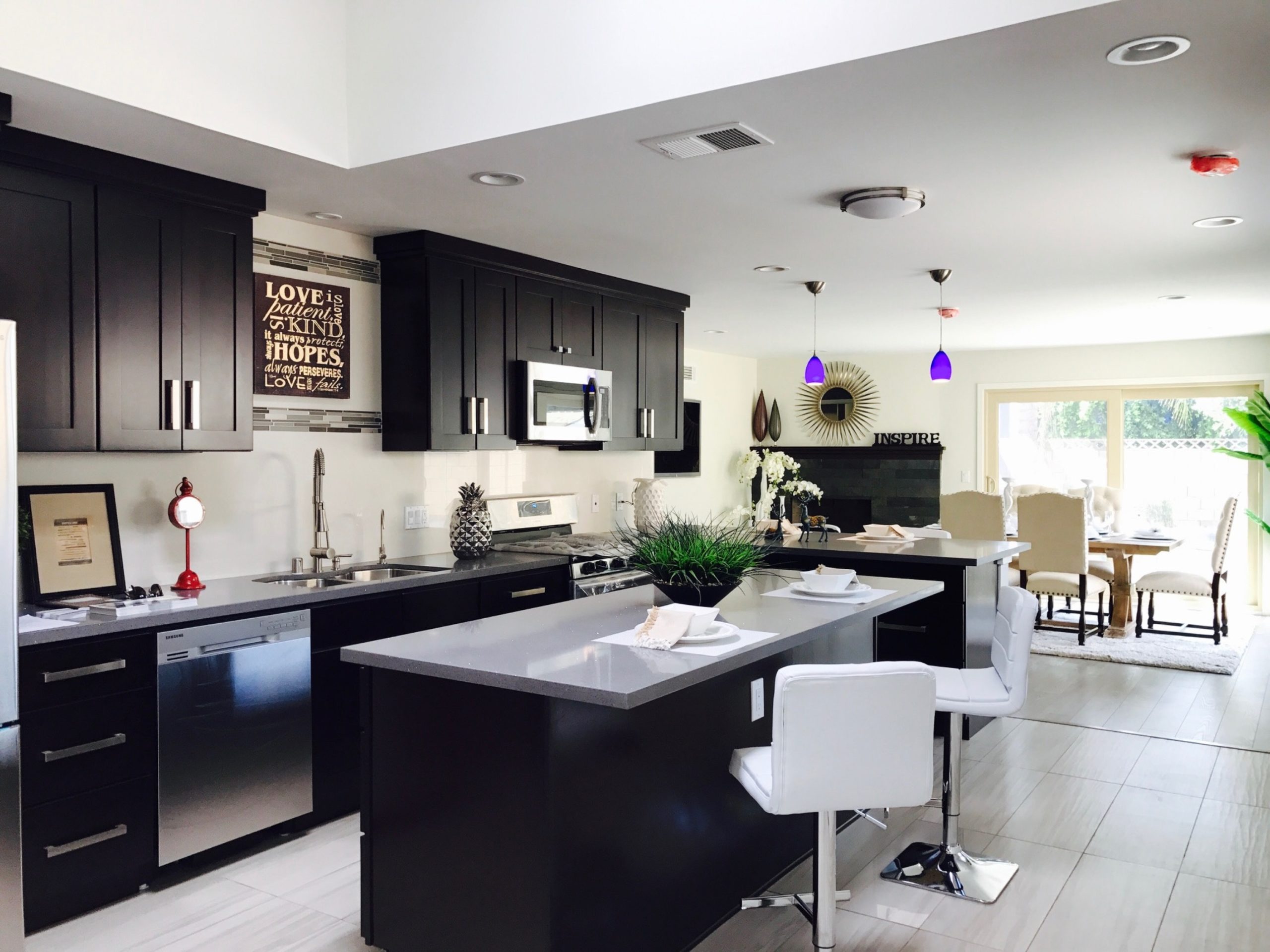 Whether you are planning to remodel an entire kitchen or make small DIY kitchen updates to refresh your space a little, following kitchen trends is a must. Today new kitchen designs are more inclined towards dark and bright colors instead of neutral and white spaces.
From layout to finishing, kitchen design trends are a turning point in 2021. In this post, we have rounded up the best kitchen designs and trends to try in 2021.
Best Kitchen Trends To Try In 2021
Try Going Dark in the Kitchen
The past trends were all about bright and white kitchens. However, 2021 kitchen trends are all about dark shades. People are now shifting from wooden cabinets to dark granites. This year white Kitchen will take a back seat for some time. Instead, you will see lots of earthy walnut shades, beautiful black marble, and midnight greens.
To achieve such new kitchen designs, you can paint your white cabinets with dark colors; as you know, going dark is easier than going light.
Add a Dutch Door
Like many homeowners who have decided to stay put in their old homes and not switch, people are looking for some fun ways to renovate the current house. Now you can make your kitchen more functional by introducing new kitchen designs like the dutch door.  
Instead Of getting rid of your vintage features of the house, update them using new colors and texture and keep them in your house.
Read More-How To Whitewash Wood The Right Way?
Realign Your Backsplash
Another kitchen design trends for 2021 is realigning the backsplashes. If you are bored of the horizontal subway tile appearance, you can realign your backsplash to create a vertical appearance. Imagine an entire slab going up across the kitchen walls for a modern and sleek look. This same applies to tiles too.
Experiment with Open Shelving
Open shelving is not a new concept, but it is a part of 2021 kitchen trends. Homeowners are going through major purging and decluttering movements since last year. The earliest people were afraid of the less storage space that comes with an open shelving system, but now they have realized how beautiful and functional it really is.
Open shelving system will keep you motivated for decluttering throughout, so you only keep the necessities in the Kitchen.
Swap Out the Hardware
If you are planning to create the best bold and attention-grabbing kitchen designs using paint in 2021, take it up a notch by swapping your hardware too. Buy some unique and dramatic hardware like black knobs that blend in beautifully with crisp black cabinets.
Keep it Natural
While experimenting with new kitchen trends sounds fun, do not forget to keep everything natural. This is one of the new kitchen design trends of 2021. Keep the cabinets in natural wood to give a basic look. You can even get a natural wood island along with lower cabinets to create a two-toned look.
Add Art to Your Kitchen
If you have never added artwork in your Kitchen before, now is the right time to do it. In the 2021 kitchen trends, be ready to see art pieces and framed portraits in the Kitchen. This helps to add more personality and also gives a simple makeover without having to renovate the entire space.
If your Kitchen has open shelves, you can put up some popping art leaning against the wall to give a laid-back and casual vibe.
Consider Streamlined Cabinetry
We enjoy a good shaker cabinet; however, there are many homeowners who love to have a more modern and streamline look these days. You can see simple lines with fewer embellishments in the open kitchen concept this year.
Move Away From Open Concept
There was a time when realtors thought that only houses with an open kitchen concept would sell, but not anymore. Homeowners are now embracing the work-from-home culture and like to have more sense of privacy throughout the home. 
This means you can expect the return of formal dining rooms in the Kitchen design trends of 2021. Some families like the concept of an open kitchen, but people who spend more time at home like to have dedicated spaces for everything instead.
Read More- Fish Tank Coffee Table Ideas For Your Living Room
Try Two-Toned Cabinets
Another new kitchen design to try is introducing two-toned kitchen cabinets this year. This not only creates a dimension but also adds visual interest to the Kitchen and brings back a jolt of optimism and colorful personality in the Kitchen.
When you go with a two-toned look, keep the upper side of cabinets light in color as compared to the bottom one. This will help in balancing the space and give a more spacious and open vibe if you have less natural light in your Kitchen.
Ditch the Stainless Steel
Suppose you need to buy more appliances in the Kitchen than stay away from stainless steel look. Now homeowners are choosing appliances in different color options. You can buy a white refrigerator as it blends into the cabinets, which gives it a more large and open look.
If you are more into the vintage look, then choose appliances designed in a retro look. This technique will help in adding more personality to your space without having to give up the luxuries that come with smart appliances now.
Final Words:
If you are looking for some kitchen trends inspiration to remodel your kitchen, this post will give you much-needed inspiration. From cabinets to tile layouts and hardware, we have covered almost everything.
If you like this post, do not forget to leave a comment down below. Also, if you have any suggestions, drop them too.