Types Of Makeup Products & Their Usage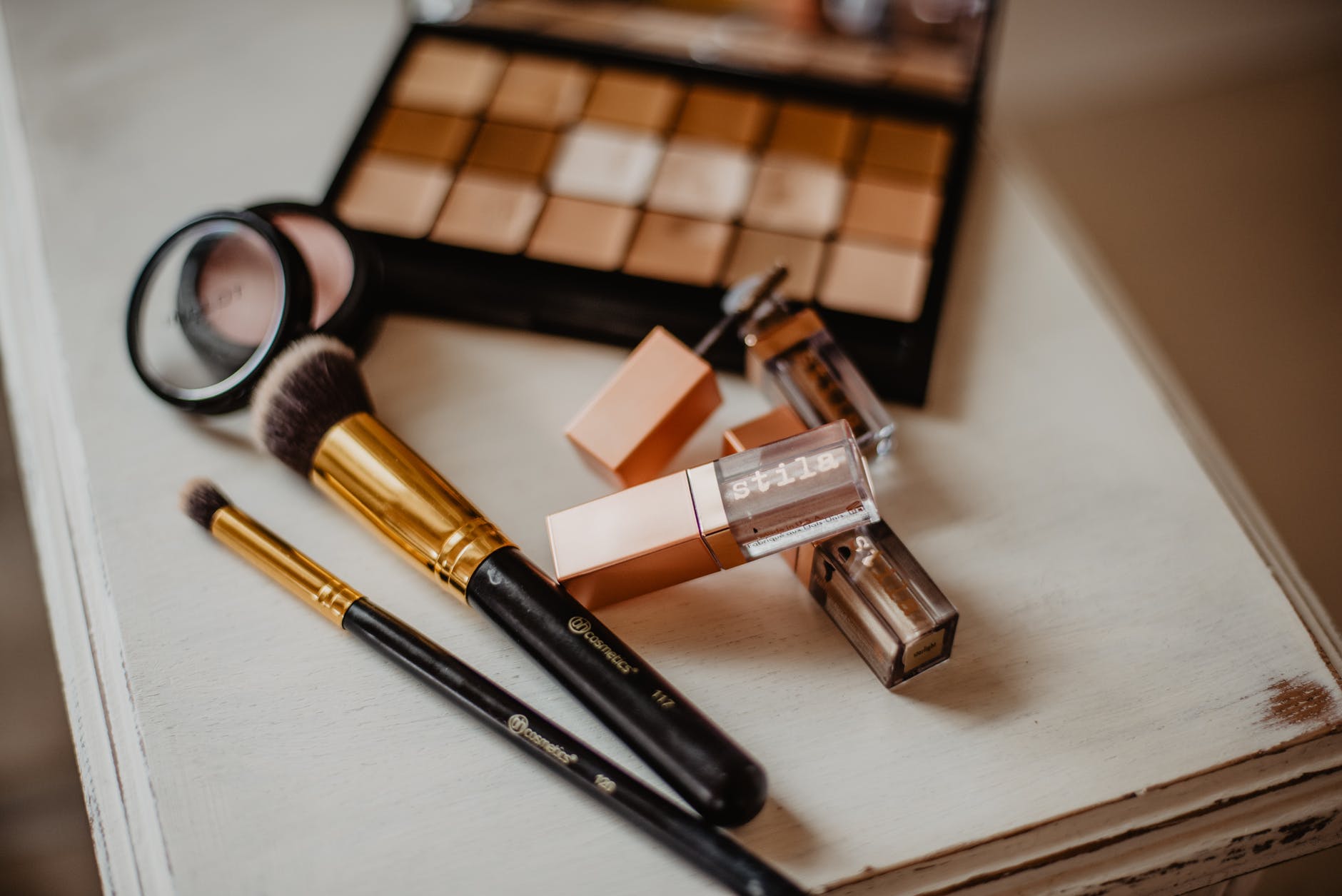 Do you get confused looking at so many different types of makeup products all around you? If you want to know why and how to use various makeup products on your face, then you have come to the right place. Here we have a comprehensive basic makeup products list explaining the functions of each of them in detail.
Different Types of Makeup Products:
Let's take a look at different types of makeup products that are widely popular.
Primer
The first and most important one on our types of makeup products list is a primer. Every makeup artist in the world recommends using a good primer on your face before starting makeup. A primer primes or prepares the face by minimizing pores, uneven texture, uneven skin tone and creates a blank and smooth canvas for you to work on; also, the makeup glides on really smoothly after applying a primer.
There Are different types of primers available for different skin concerns as well as face areas like eyes, lips, etc. primers are designed especially to reduce the appearance of pores, fine lines, increase the longevity of eye makeup and lipstick.
People often overlook this important step in their everyday makeup routine. Primers are one of those makeup products that are worth investing in. Depending on your skin type and concern, you can pick from different formulas available like cream, gel, etc.
Foundation
Another one of the basic types of makeup products on the list is a foundation. Foundations are available in various forms- creams, liquid, stick, and powder. It acts as the base layer for your rest of the makeup and helps create a neutral skin tone. Foundation is the next first step after applying the primer.
When choosing a foundation shade, do not go darker or lighter than your real skin tone. It is meant to match your skin tone and help even out and smoothen the face complexion.
Foundations generally have low-medium and medium-full coverage depending on your skin requirements. You can use a sponge or a brush to evenly apply the foundation all over the face to achieve a flawless finish.
Concealer
People often get confused between two makeup products- foundation and concealer. A concealer has a thicker formula in comparison to a foundation and is applied after the primer and foundation are done. As the name suggests, concealers are used to hide imperfections like dark circles, discoloration, freckles, or blemishes.
While the foundation provides a certain amount of coverage, some imperfections can still peek through; this is why concealer is used. A concealer can perfectly cover up any imperfection and prepare your face as a beautiful canvas for other makeup products to go on top.
You should have two different shades of concealers handy. One that matches your skin tone perfectly-to covers up any imperfection and another one shade lighter- to highlight and brighten the face.
Setting Powder
After you have applied all the makeup product names as mentioned above, it's time to set them in place. A setting powder is used to set the base makeup in place. It is available in two forms- loose powder or pressed powder. You can use a powder brush and even a sponge to apply the setting powder to your face.
The most important areas of the face to set using a powder are under the eyes and smile lines. You must have heard about a makeup trick called "baking." It is basically leaving the setting powder in concerned areas for a bit longer to let it absorb all the wetness and avoid makeup creasing.
After you have set your face, it's time to get down to do some creative makeup looks.
Read More- Best Eyelash Growth Serums To Get Fuller and Strong Lashes
BB Cream
If you dread using so much makeup every day, then BB cream is the best option for you. BB cream is an acronym for "blemish balm" or "beauty balm" cream. It is basically a combination of products like primer, sunscreen, moisturizer, foundation, and concealer.
The first-ever BB cream was invented in Germany, and it quickly took the beauty industry by a storm since it is an easy-to-use everyday makeup product. Now almost every makeup brand in the world has its own BB cream and in several shades. You have varied options to choose from depending on what formula suits your skin and the right shade for your complexion. BB creams often contain essential vitamins for the skin, which provide skin-nourishing qualities.
Rouge or Blush
Blush or Rouge is the oldest of all types of makeup products since the ancient types. This is one of the makeup product names that almost everyone has heard of and knows about.
Rouge first became popular in ancient Egypt, where men and women used to wear it. During ancient times Rouge was made from naturally occurring substances with red pigment like vegetable juice and strawberries.
Now, blushes have become an essential makeup item in every vanity. No look is complete without a good blush. Blushes are also available in liquid, powder and cream form. Depending on your purpose and the look you are going for, you can pick the right blush formula for yourself.
Contour Powder/ Cream
Have you ever heard about contouring? Or are you new to the makeup world? Do not worry, we will explain everything you need to know about what is contouring and what are different types of contour makeup products.
You might have seen people drawing weird patterns using dark and light-colored sticks and then blending it using a sponge. This is the process of doing contouring. Contouring firsts started in the drag community, where people used contouring as a technique to sculpt their faces by adding highlights and shadows.
In the last few years, contouring has become an important part of the makeup routine to achieve a chiseled face look. Contouring is done after the foundation is done. You need to use a 2-3 shades darker cream or powder contour than your original skin tone for the perfectly contoured face.
Highlighter
"It's all about that bling." Yes, a highlighter adds a bling quotient to the entire makeup look. You see all those dewy and glass skin models on Instagram, Facebook, and billboards; you can achieve those makeup looks, too, using a highlighter.
A highlighter is a makeup product that attracts and then reflects lights from the face creating a mirage of shine and brightness. It makes it look like your skin is glowing like a goddess. Like other types of makeup products in this list, highlighter is also available in various forms like powder, cream, liquid, and jelly.
Powder highlighters can be applied on top of makeup, but a liquid highlighter is best used before doing the foundation or on bare skin. Even highlighters come in various colors these days. To choose a highlighter shade that best suits your skin tone, you can do silver jewelry or gold jewelry tests.
If you think gold brings out the best in you, pick highlighter shades with golden undertones and vice versa.
Highlighters are applied on the high points of the face like cheekbones, brow bone, bridge of the nose, chin, and above the cupid's bow. You can even use it around the tear ducts to make your eyes look bigger and brighter.
Eyeliner
Using kohl on the waterline is also an ancient practice like Rouge. People all over the world use kohl in many cultures. Then only one type of kohl was available, but now we have so many brands, types, and colors to choose from that it is almost overwhelming.
In the makeup world, eyeliner comes with various names like liquid eyeliner, gel eyeliner, pencil eyeliner, etc. Liquid eyeliner is the most popular and fairly the most difficult to use for a beginner. Makeup artists mostly prefer using a gel liner because it offers precision and ease of use. Recently felt-tip marker eyeliners are also becoming very popular in the market.
From Arabic eyes to cat eyeliner, one swipe of black line over the lash line can transform your whole makeup game. The most popularly used colors in eyeliners are black, brown, white, nude, and blue. Eyeliners have become a basic product that everyone needs to have in their vanity.
Mascara
Did you know mascara was originally invented to keep the bad spirits and evil eye away? The practice of elongating and coloring lashes dates back to the Victorian Era when women spent hours getting ready and dressing up.
Mascara was earlier made using petroleum jelly, but soon it was realized that this is not a safe formula to use near the eyes. Rimmel was the first brand to create a safely formulated and packaged mascara.
Nowadays, mascara is available in several different formulas ranging from volume-enhancing to lengthening types. Instead of using a plain black mascara, you have options of choosing your favorite color or even clear mascara.
Read More- Best Eyebrow Growth Serum For Thicker Boy Brows
Eyeshadows
From black kohl-rimmed eyes, eyeshadows have come a long way. These heavily pigmented powders are used to create different eye makeup looks ranging from smokey eyes to shimmers and sexy act eyes.
When using eyeshadow, the general rule of thumb is to use a darker color on the crease and using shimmer colors on the light to create your preferred makeup look. For instance, you want to wear a bold lip color; you should keep your eye makeup light.
Eyebrow Pencil/Powder
Thin eyebrows were a raging trend once upon a time. However, now women like fuller and thicker brows, which is why it is the right time to play around with different eyebrow types of eyebrow makeup products.
Eyebrow fillers are available in gel, powder, and pencil forms in various black, brown, and grey shades to match every hair color in the world. Usually, a light color of eyebrow filler is used in the beginning and slowly moves on to a darker shade at the end of the brows.
One eyebrow pencil can completely transform your whole eyebrow look and level up your makeup game.
Eyebrow Gel
Next in line with different types of makeup products in this list is an eyebrow gel. Eyebrow gel is used after filling the sparse areas of your brow with a pencil to set them to place. It works like hairspray but for the eyebrows.
Eyebrow gels are available in both clear and tinted form for people who want to cover grey hair or bulk up the brows. Although an eyebrow gel is not a basic makeup product on the list it can help you give fuller brows that last all day long.
Lip Colors
Lipstick is the most loved and favorite product of every makeup lover in this world. The practice of using lip colors is older than even Rouge. This trend stayed throughout even with the change of eras and culture from Ancient Egypt to Greece and Japan.
Before the arrival of liquid lipstick, bullet lipsticks were popular among people; it stays put even today. Different makeup brands from drugstore to high end have their own variants of lipsticks available in a range of colors and formulas to cater to different customer groups. There are so many options to choose from traditional bullet lipstick to liquid to pencil and crayon lipstick.
Lip Gloss
Matte lips have always been a staple for many years now. With the fame of Kardashians, plumped glossy lips have become a new look to go for. Lip glosses are available in liquid form with a wand to apply. It can be used alone or either in combination with your favorite lipstick shade to add a glossy sheen to the lips.
Unlike lipstick, lip gloss does not dry up to leave a satin finish; instead, they sit on top and may smear when touched.
Setting Spray
The last item on our different types of makeup products list is a setting spray. After you are finished doing makeup and are happy with your look, it's time to fix everything in place so that it lasts all day long. Wonder how models go on with a full face of makeup and smeared lipstick all day long? The trick is using a setting spray.
A setting spray works as a topcoat for your makeup, making it look fresh all day long, reducing the number of touch-ups required during the day. Using a setting spray is the final step in your make routine before you move on to styling your hair.
Whether you sweat or come in contact with water, a makeup spray will keep the makeup in place and prevent it from blurring or smearing. Setting spray is available to give both matte finish and glowing sheen finish. It also helps to settle the setting powder making your face look less powdery.
Read More-These Are The Best Makeup Brands in the World
Final Words:
Now that you know about different types of makeup products and names available in the market, choosing the right one will become easier for you. You can pick makeup products from whichever brand you like and ones that suit your skin the best. There is a huge range of makeup available in the market to suit every budget and need. No matter which brand you buy your makeup from, a classic red lipstick, black eyeliner is a must-have.
Which is the one makeup product that you cannot live without? Tell us in the comments below!